Crepes! Crêpes! Galettes! However you want to call them. You can make them, too!!!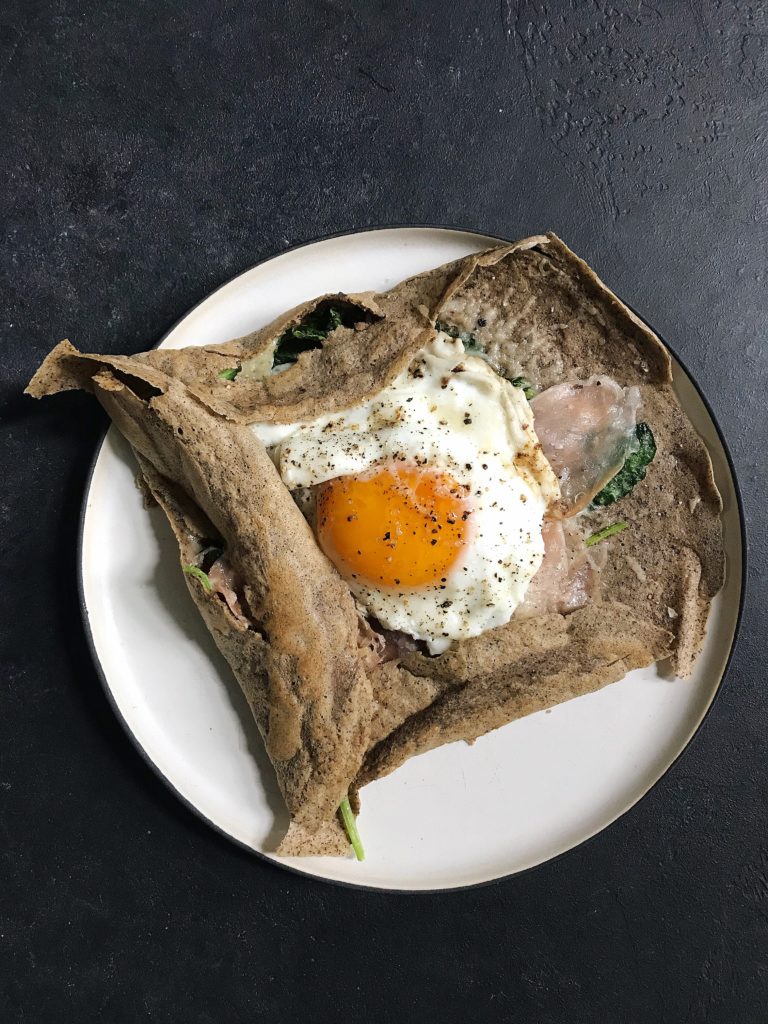 My Galette Beginnings
I've had a serious love affair with crepes ever since my first trip to France. I haven't dug up *all* of my photos of crepes, but this one is one of my favorites - with my dear French professor, Sharon, in Paris. She took me to an authentic Bretagne creperie in the heart of Paris, Crêperie Bretonne. The Brittany region in France (aka Bretagne) is the crepe / galette motherland. The traditional ingredients back in the day were flour, eggs, milk and melted butter, as these were specialties from the region. Buckwheat was introduced around the 12th century and has been used since then (it must be good if it's lasted this long, right?). Ham and cheese are a standard filling, often with an egg on top. At a typical restaurant they will be served with the traditional Breton cider (a dry cider, more like beer), a pairing I find delightful. Nowadays there are lots of different filling and batter options, but read on for that!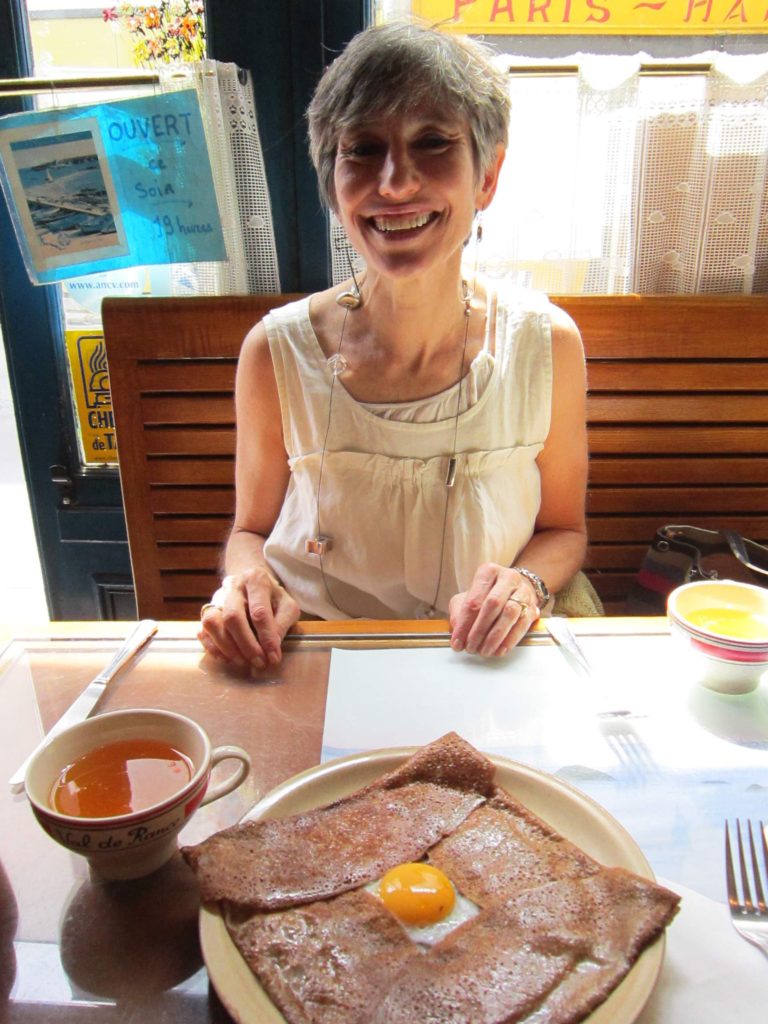 The Batter
It wasn't long after I landed in France and ate my first crepe (probably the first day I could) that I learned that savory ones are actually made with buckwheat! I had long thought the traditional batter worked for both, but boy was I wrong. As you can see in the photo above, these crepes are a darker color than you'd normally expect. That's because they are savory galettes, made with buckwheat flour
. This gives a much heartier, earthy flavor to the batter than you'd find with a traditional dessert crepe. I followed a recipe that uses a blend of buckwheat + all-purpose flour, but I want to experiment with all buckwheat flour next for a gluten-free option.
If you're intimidated by the use of buckwheat flour, don't worry!! It behaves similarly to whole wheat flour and you can use it in a bunch of other recipes. I recently made these amazing buckwheat, oat banana + chocolate muffins and have my eye on these next.
Galette Fillings + Bringing it All Together
Once your batter is made and has sit for a few hours, you're ready to make it! Heat a non-stick pan over medium heat, add a little butter and swirl to coat the pan evenly. Next, add in about ¼ cup of batter to the center of the pan off the heat, swirling in circles to coat the pan evenly. You'll notice it cooks quickly - that's okay! Once it starts to just set, you're ready for fillings!!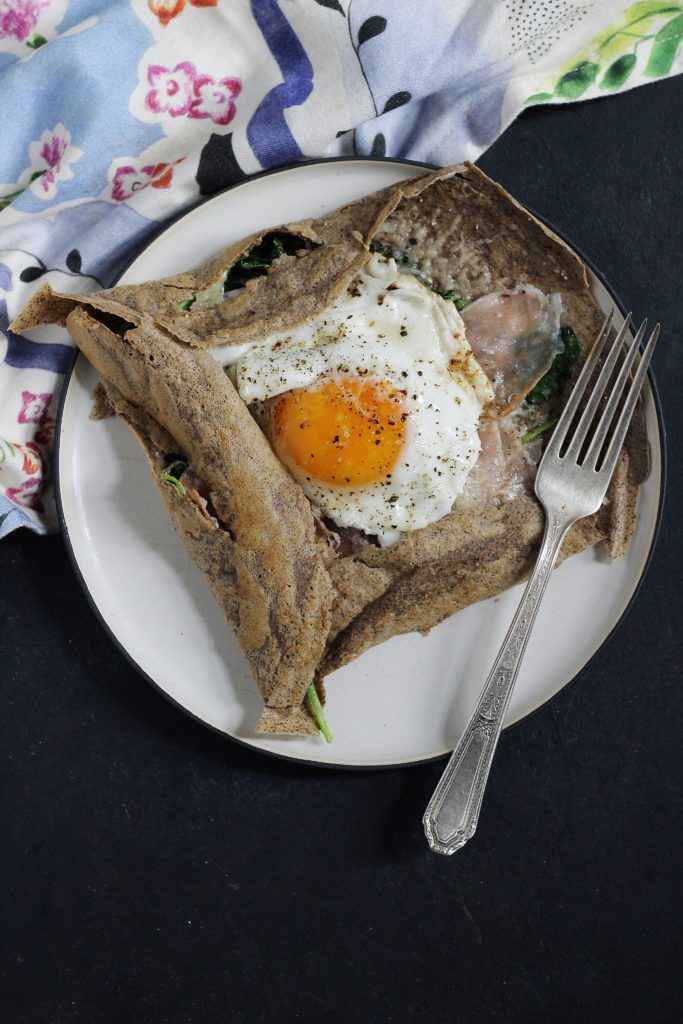 You can fill a galette with anything - it's super flexible. One of my favorites is sauteed greens, prosciutto and cheese with a runny egg on top. The combination of these flavors is pretty unbeatable! Here are some other ideas for fillings:
Sauteed spinach, mushroom + cheese (Emmental would be great)
Satueed spinach or kale, prosciutto + Parmesan + an egg on top
Ratatouille: sauteed eggplant // peppers // onion // tomatoes // garlic - any veggie really! and cheese
Smoked salmon, spinach + goat cheese
Sausage, egg + cheese
The common theme is obviously cheese...it does help keep it together 🙂 You can see from my photo above that the galettes are fairly thin - you don't need a ton on the inside. Be creative and use veggies that you have, and experiment with different kinds of cheese!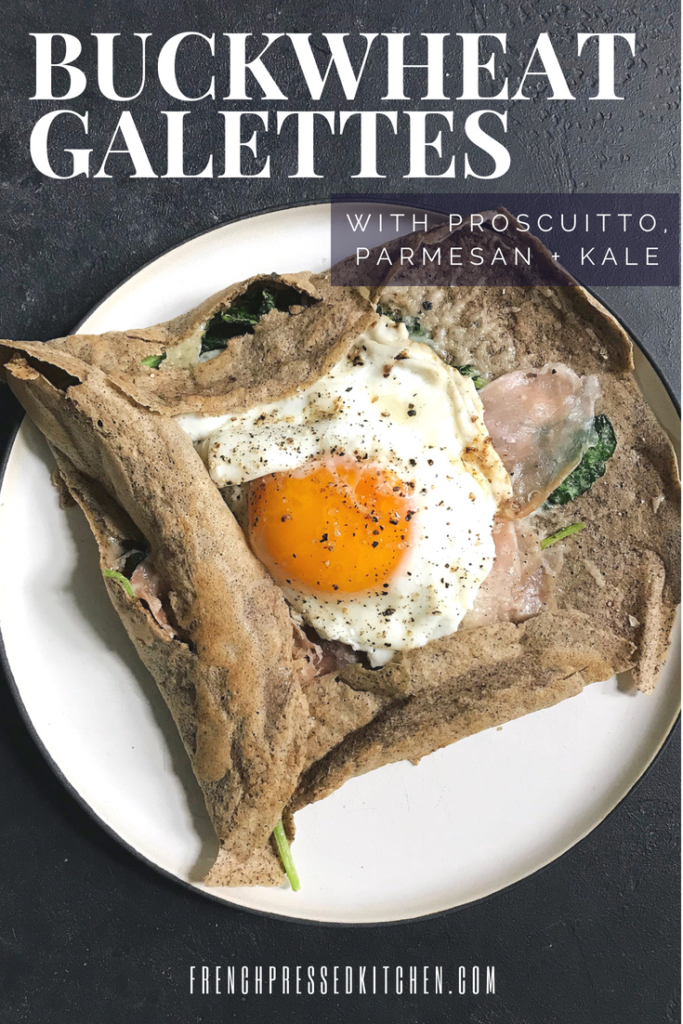 Buckwheat Galettes with Prosciutto, Parmesan and Kale
The perfect base recipe for easy dairy free buckwheat galettes. Add prosciutto, kale, a runny egg and cheese (vegan if you want!) for an amazing meal. Adapted slightly from the NY Times to be dairy free friendly.
Servings
2
servings, plus extra batter
Ingredients
Galette Batter
½

teaspoon

salt

⅔

cup

buckwheat flour

½

cup

all-purpose flour*

see note

1

cup

almond milk

regular would work as well

⅓

cup

water

3

large eggs

2

Tablespoons

avocado oil

canola would also work

Vegan butter

I use Earth Balance or Mikonos
Fillings
2 -3

cups

baby kale or spinach

4-5

slices

prosciutto

1

cup

shredded parmesan cheese

I used parmigiano reggiano, pecorino would also be great

2

eggs
Instructions
Whisk together the dry ingredients in a large bowl. Mix the egg, milk and water in a separate bowl, then add to the dry ingredients until just incorporated. You could also add everything to a blender and mix until well combined.

Cover the liquid mixture and let sit in the fridge at least 2 hours or overnight.

Sautee your spinach or other greens in a pan until cooked to desired consistency. Cook eggs in another pan until yolks are just set and set aside.

Heat a pan (non-stick or crepe pan) over medium heat. Add a bit of (vegan) butter to the pan and swirl to coat evenly. Using about ¼ cup of batter, take the pan off the heat and slowly ladle in the batter to the center of the pan, tilting the pan as you add it to distribute the batter evenly. Cook for about 1 minute, or until batter just sets. At this point you can cook several crepe batters and store them separately until you're ready to reheat them and add toppings. We opted to cook and fill them one by one!

Add the wilted greens, then shredded cheese, then a slice or two of prosciutto, followed by the already cooked egg. Carefully fold over the edges of the batter to keep the heat in (this will help melt the cheese). Remove when cheese looks melted and ready!** (see note). Serve hot!

Keep any leftover batter for later, or use it for dessert crepes 🙂
Notes
* I suspect more buckwheat flour would be just as good. I think whole wheat flour could work as well for a more intense wheat-y flavor!
** I cooked mine a bit too long and they got crispy on the outsides. Still delicious, but for a softer crepe, cook until just set and take it off the heat while it's still soft.