It's been a hot minute since I popped in with a recipe. We've been full throttle in "clean out the pantry" mode, getting ready for our travels to France!! This has meant using up lots of condiments and random things, so not *all* meals have been particularly recipe ready.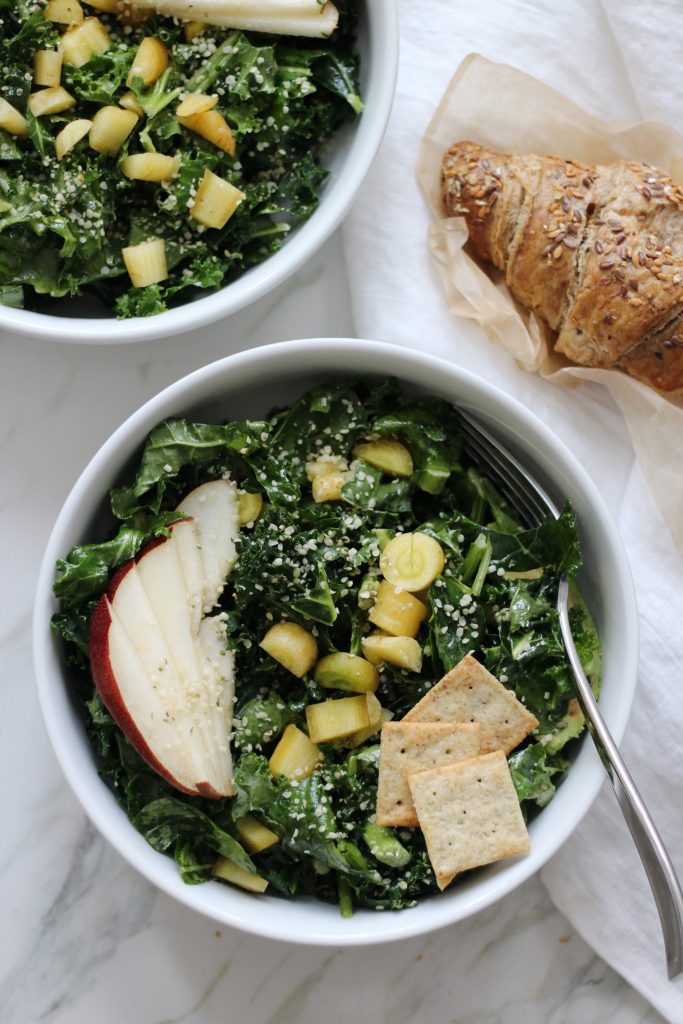 This kale salad was inspired by the need for an easy + green meal - and a multi-grain croissant I had picked up at Whole Foods!! It's a go-to recipe for a simple and bright salad, and as always, very flexible with toppings.
I made a base dressing of olive oil, white balsamic vinegar, salt, pepper and good mustard (Sir Kensington's is my favorite!). Mix it up well, until the olive oil and vinegarare emulsified with the mustard. I usually shake it up in a well-sealed jar!
Next, massage your kale with the dressing. A hearty kale will will be great after sitting with the dressing for 10 minutes or so - it will become a bit softer. Finally, top with anything you have on hand! I used hemp seeds, carrots, a red pear, and a few almond flour crackers. Delicious for a simple and light meal! It would also be great paired with roasted chicken or shrimp.
Let me know if you try this out, and bon appetit!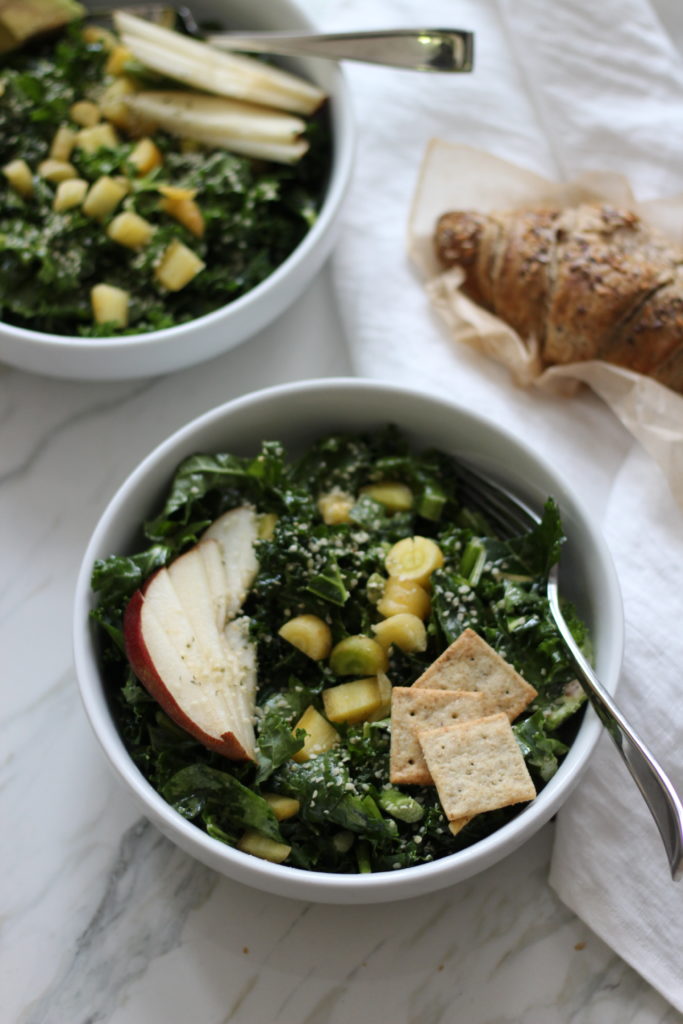 White Balsamic Kale Salad
An easy, bright and citrusy recipe for a white balsamic kale salad that works with any topping – perfect for a quick but nutritious meal!
Ingredients
6

cups

or more chopped kale

2

Tablespoons

white balsamic vinegar

3

Tablespoons

extra virgin olive oil

1

teaspoon

good mustard

Pinch

of salt

Pinch

of ground black pepper

Optional toppings: sliced carrots

sliced pear, hemp seeds, roasted chicken
Instructions
Add dressing ingredients to a small jar or Tupperware. Shake vigorously to combine!

Massage the kale with the dressing, reserving a bit to drizzle on top later. Let sit for 5-10 minutes.

Add toppings and drizzle with remaining dressing.