Hi friends, how are you? We are in the dead of winter here, and have been trying to get our baking and cooking in high gear. Most recently I was inspired to dust off my madeleine pan and get to work on a French classic - but with a dairy free version. Earth balance to the rescue to marry the orange and chocolate flavors.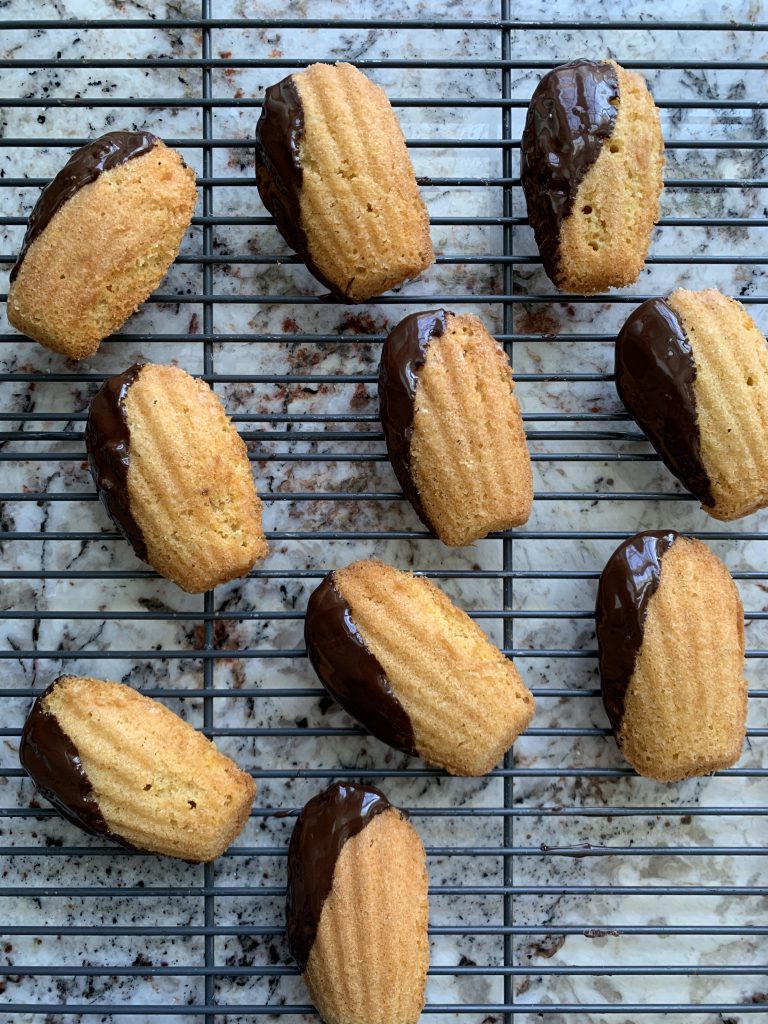 It's been about 10 years since I made my own madeleines (!!) so I knew i needed to brush up on recipe techniques and flavor ideas. After significant research, I landed on a BBC recipe that I decided to work with - it seemed the most approachable, with not too long of a wait time. My modifications were using regular orange zest and juice, swapping in Earth Balance for the butter and skipping the browning, reducing the chill time, and swapping in a bit of whole grain flour....making it a bit more whole grain and faster to make ;).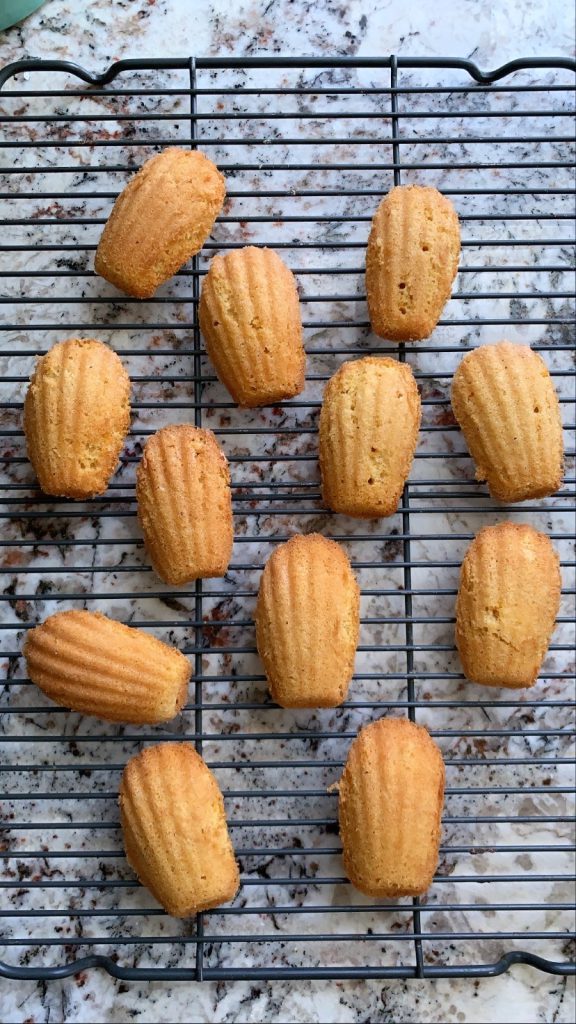 These madeleines are best day of - preferably warm out of the oven becuase they maintain their slight crisp on the outside. You can make a half batch (I did this), or save the batter for a day or two later to split up the cooking. The chocolate dip or drizzle is optional, but complements the chocolate very well!!
Dairy Free Orange Chocolate Madeleines
Ingredients
100

g

Earth Balance

2

large eggs

100

g

granulated sugar

2

Tablespoons

fresh orange juice, and zest of an orange

85

g

all-purpose flour

15

g

white whole wheat flour

1

tsp

baking powder

100

g

dark chocolate
Instructions
Melt Earth Balance in a small bowl or pan over low heat until just melted (you don't need it to bubble, just be soft).

Beat the eggs, sugar and orange zest in a large bowl with an electric mixer (or Kitchen aid) for about 3 mins until thick and pale. Add the orange juice and mix to combine.

Mix the flours and baking powder together, then sift over the batter mixture and gently fold in with a spatula until just combined. Finally, gently fold in the melted Earth Balance butter.

Cover the batter with plastic wrap and refrigerate for up to 1 day (I did a quick 30 minute chill, though I suspect a longer chill time would make these even fluffier).

When ready to bake the madeleines, grease a madeleine tray with extra Earth Balance and dust with flour. Tap out any excess flour, then place the tin in the freezer for 10-15 minutes. Heat oven to 400F.

After the pan has chilled in the freezer, add about 1 Tablespoon of dough to each crevice, making sure not to overfill. Bake for 10-12 minutes, or until the madeleines are golden in color. Let cool in the pan 1 minute, then carefully flip them out onto a wire rack to cool.

Melt the chocolate in a small bowl in the microwave in 30 second bursts, stirring between each session. You don't want to the chocolate to burn, so keep an eye that it doesn't get too hot. You could also gently warm the chocolate in a double boiler pan. Dip the madeleine into the melted chocolate - I did at an angle, but you could do once side, or just the top or bottom. Or make it even lighter and just drizzle the chocolate on top. Enjoy!!