Hi guys! I wanted to share some savory oatmeal ideas that I've really been enjoying lately, inspired by a week of no added sugar with one of my good friends. I've been following an easy, low-key microwave recipe with a blend of whole rolled oats and oat bran - I love the thick and fiber filled addition of the oat bran! You can definitely cook oats on the stove top (especially in winter, for 2, I prefer it), but this is easy, fast and makes breakfast come together quickly!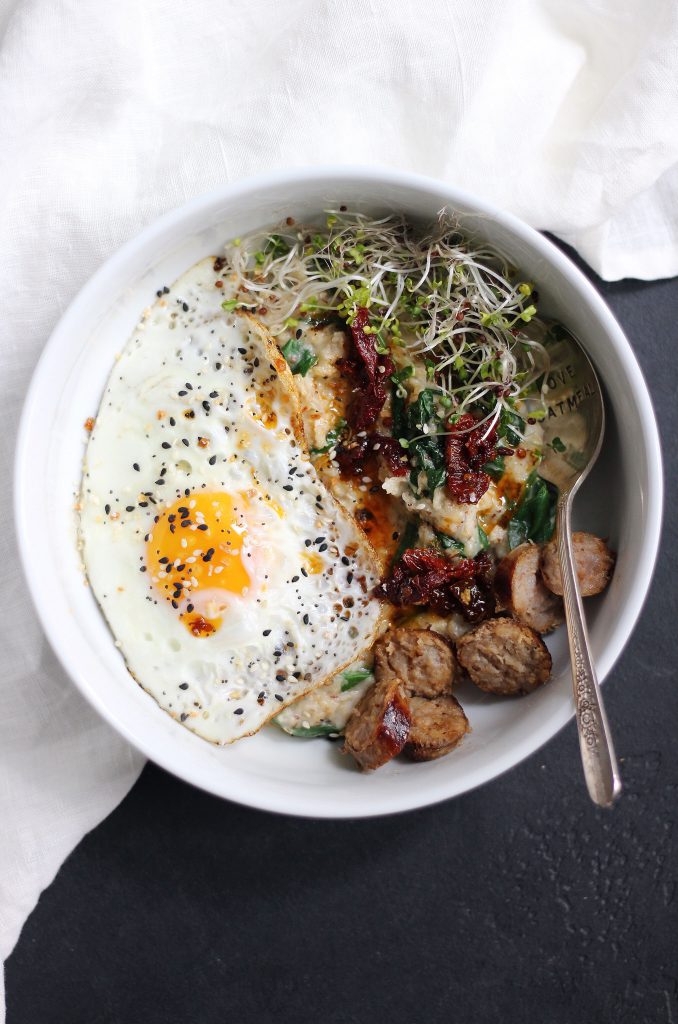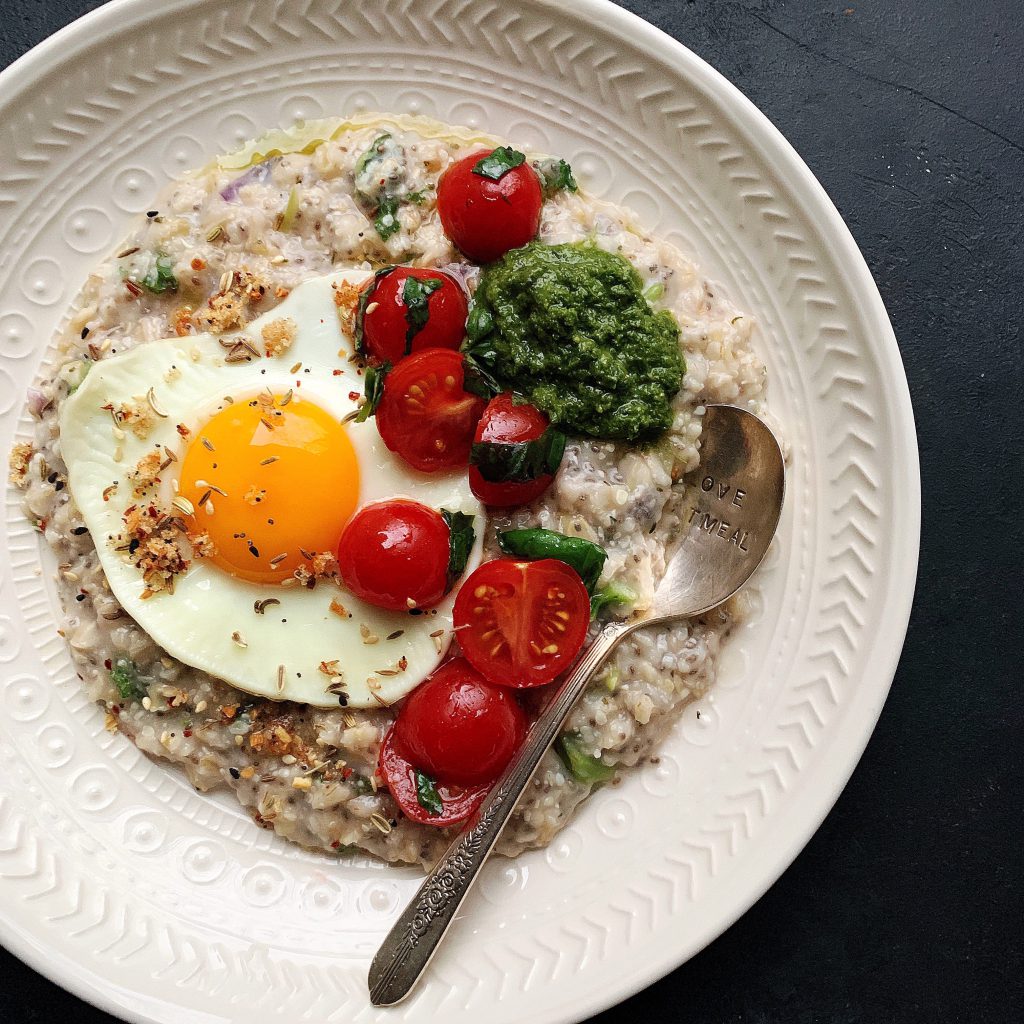 Here's how to start your bowl!
Mix Oats and Oat Bran
The combination makes the bowl really creamy! You could also use unsweetened instant oats. Mix up the dry ingredients, add a pinch of salt, and just cover with water. Let sit for a few minutes.
Microwave Steam Greens
Add a handful of spinach or kale to a bowl, cover with a microwave cover or paper towel and microwave for 1 minute to "steam" the greens.
Top it!
Add any toppings you have on hand after the greens (be creative!):
Other veggies (raw, roasted, sauteed mushrooms, tomatoes, cauliflower, peppers, zucchini, corn)
Sauces (pesto, mole, salsa)
Nuts or seeds (almonds, walnuts, chia seeds, pumpkin seeds)
Leftover protein (bacon, sausage, tempeh, tofu)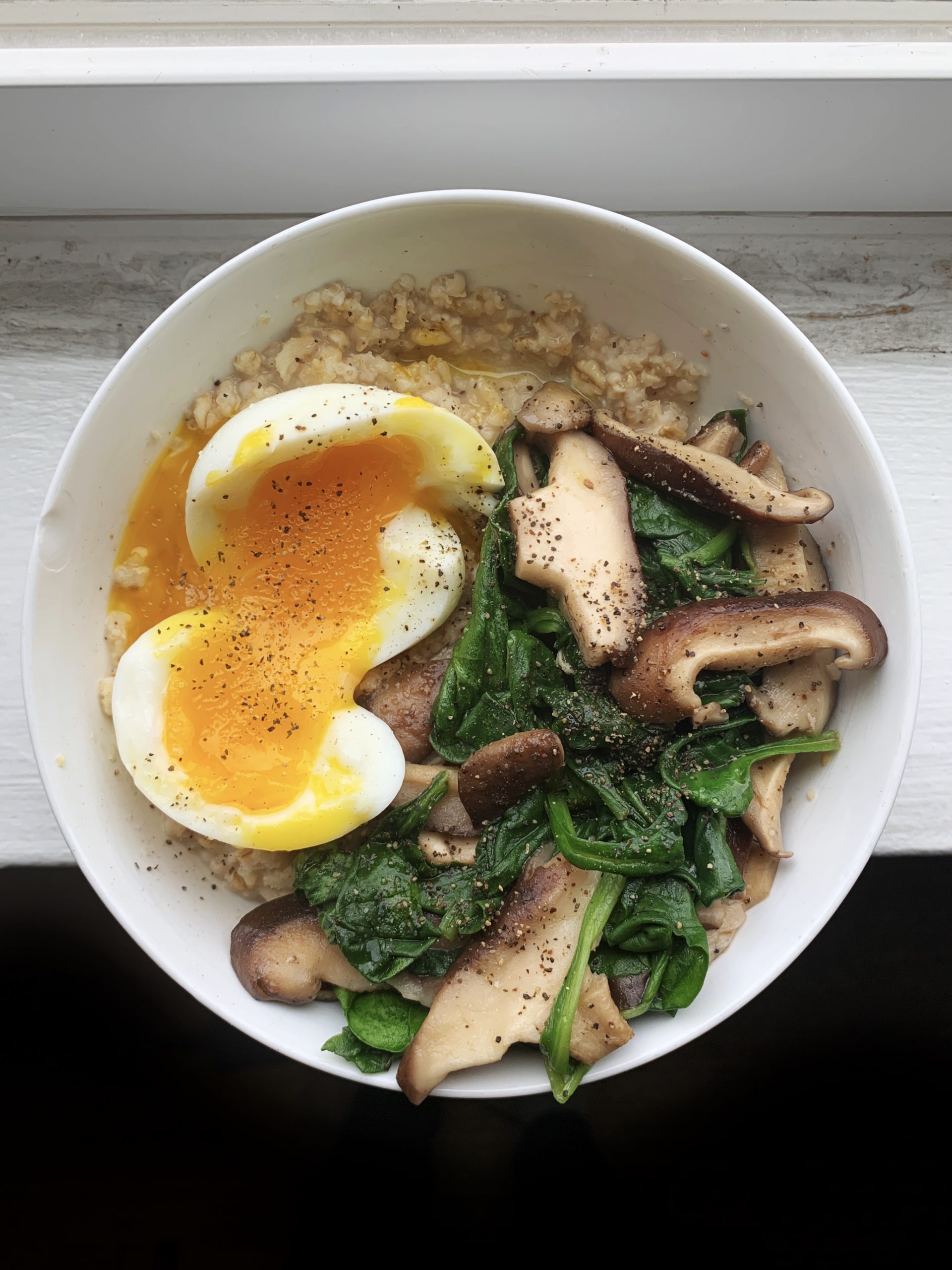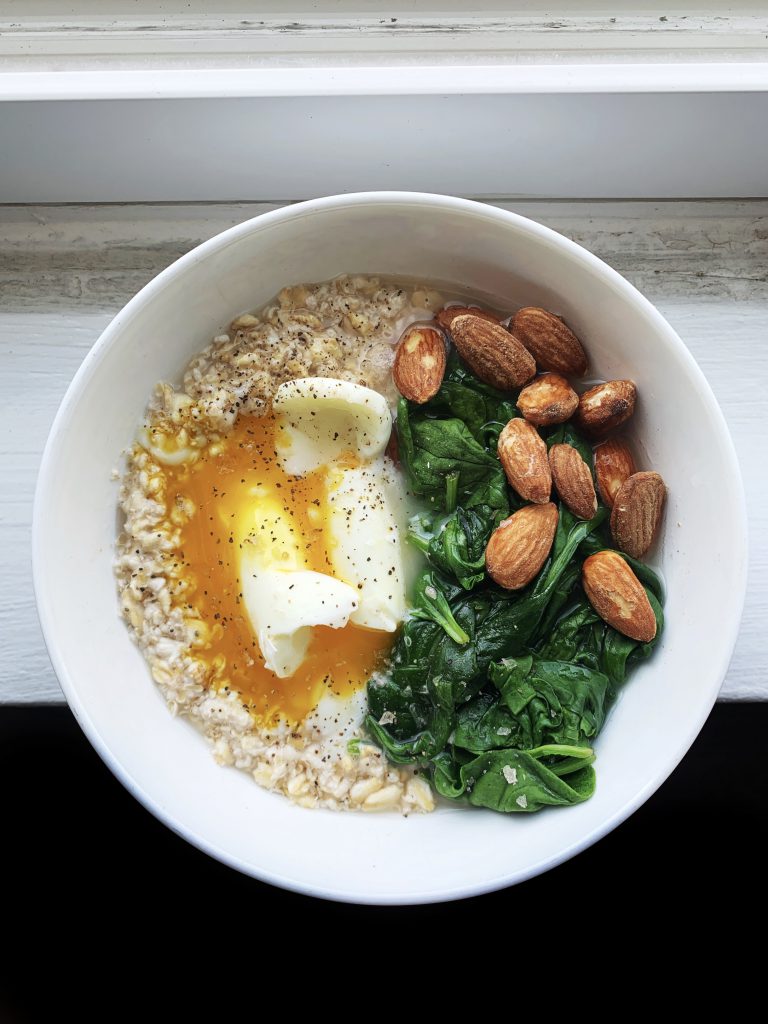 Savory Oatmeal Bowls (Microwave Friendly)
A quick and easy way to make savory oatmeal bowls using rolled oats, oat bran, and water. Naturally gluten free, dairy free, and vegan friendly options as well!
Ingredients
Oatmeal Base
3-4

Tablespoons

Rolled oats

3-4

Tablespoons

Oat bran

Pinch of salt
Toppings
1

handful

spinach or kale

1

teaspoon

olive oil

1

egg

fried, boiled or poached

1

Tablespoon

nuts or seeds

almonds, walnuts, chia seeds, pumpkin seeds,

¼

cup

leftover vegetables

baked, sauteed, or sauteed works - mushrooms, tomatoes, pickled onions - really, anything is good

1

Tablespoon

sauce of choice (pesto, salsa, bean dip are great

optional
Instructions
Combine rolled oats, oat bran and salt in a bowl with water, adding just enough for the oats to absorb (start with a ¼ cup and add from there if needed). Let the oats soak for a few minutes, or up to 30. Alternatively, cook oats traditionally on the stove top.

When ready, microwave the oats for about a minute to warm them up - you might need to add a bit more water if the oats look dry at this point.

Cook or reheat any toppings. My favorite method for spinach or kale is to microwave them for 1 minute, then toss with a 1 teaspoon olive oil before adding on top of the oats.

Finish with salt and pepper, or any other spices to taste. Get creative with toppings like peso, leftover protein, sun-dried tomatoes, or sprouts!