Hi hi friends! It's been a hot minute since I gave you a post. Things have been busy but are finally winding down after summer travel. Excited to move into fall and winter dishes!! I'm starting off with this pantry inspired goji berry and pistachio granola - a recipe I've been meaning to make for a while! It's made with a variety of nuts and seeds, but totally flexible to what you have on hand. Warm and cozy and perfect for a cool fall breakfast.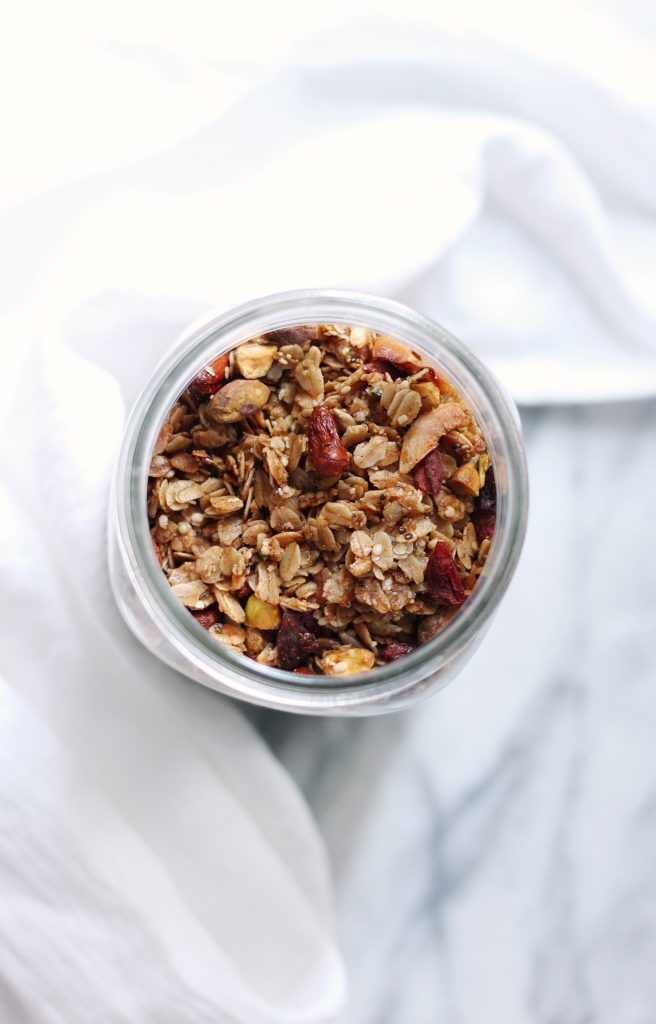 Why Homemade Granola is the Best
....At least in my opinion : ) My favorite part about making your own granola (or any food) is that you control exactly what goes in it. No compromising on ingredients you don't like, or additives you'd like to avoid. Plus, you can control the sweetness and any add-ins that you want! Most recipes are flexible to the ingredients that you have on hand - just keep proportions in mind.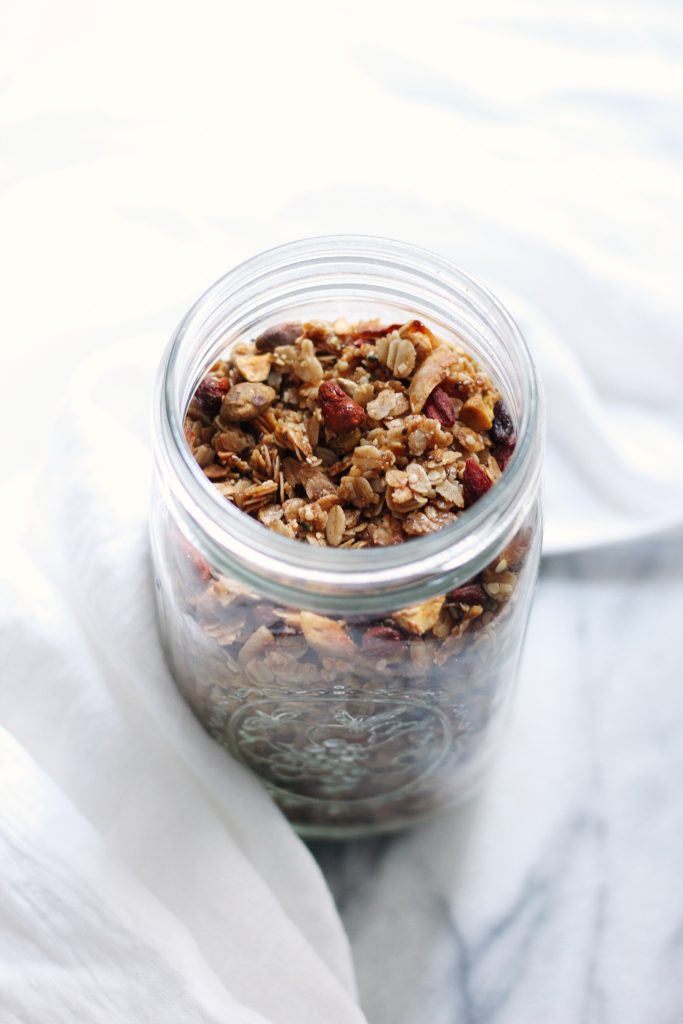 What's a Superfood Anyway?
Google would tell us it's a food that's particularly nutrient dense food with supposed health benefits. Superfruits were all the rage not too long ago! Nowadays you'd see a lot of foods on a superfood list, but it really comes down to having wholesome, real ingredients. Real food is the best food! Whether it's berries, chia or kale, having any plant-based food is probably going to be better than other options. Incorporating some different ones like acai or turmeric is great for a different and more nutrient dense boost, though! I was super intrigued by goji berries last year, so I had them on hand to brainstorm this granola.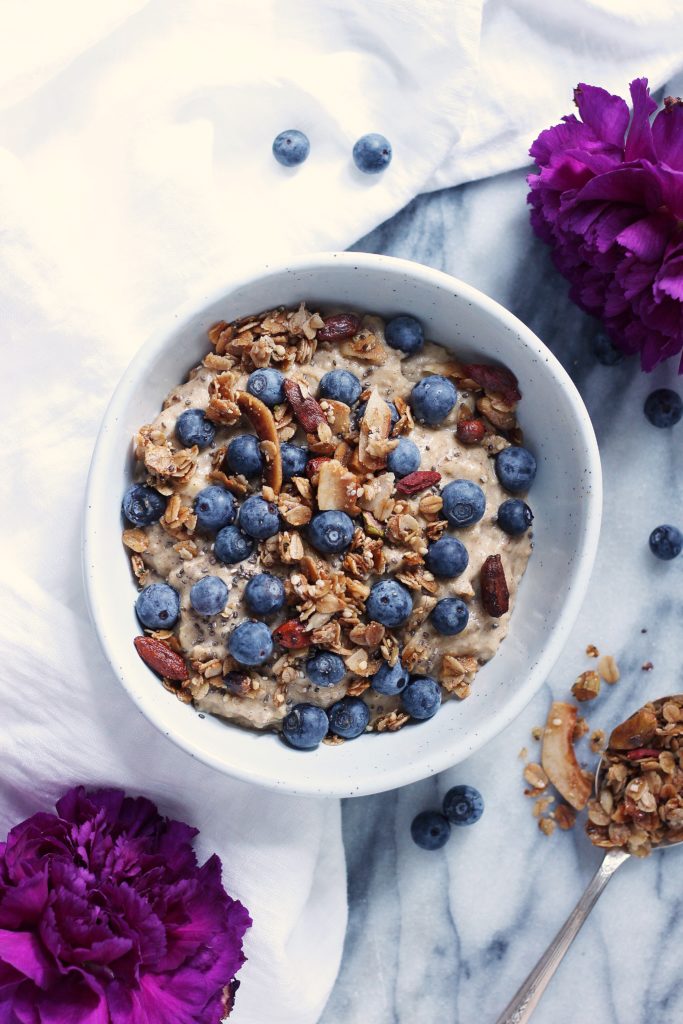 Gimme the Granola Recipe
Let's cut to it! I'm calling this superfood granola because I used hemp seeds, chia seeds, sunflower seeds, goji berries, coconut AND pistachios. All things! Swap out any dried fruit for the goji berries, and leave out the seeds if desired. I'd suggest keeping the nuts and coconut in, though you could also use a different type of nut. Enjoy, and let me know if you try it!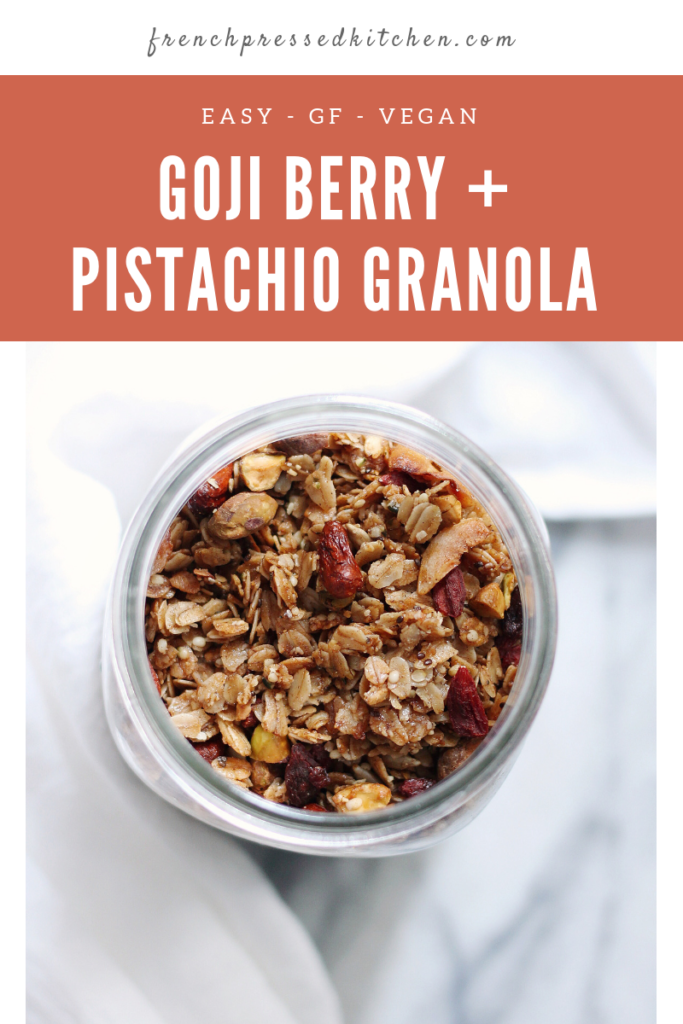 Goji Berry and Pistachio Superfood Granola
An easy #vegan and #glutenfree recipe for goji berry granola with lots of options for hemp seed, chia seed, sunflower seed and nut add ins! No additives like anything you'll find in the store, and fresh from the oven!
Servings
4
-5 cups, depending on add ins
Ingredients
Granola Mix
3

cups

rolled oats

½

cup

pistachios or almonds

¼

cup

coconut chips or shredded coconut

¼

cup

hemp seeds

¼

cup

sunflower seeds

2

Tablespoons

chia seeds

Dash of salt

Pinch

of cinnamon

⅓

cup

real maple syrup or honey

⅓

cup

coconut oil or avocado oil

⅓

cup

coconut sugar
Instructions
Heat oven to 350 degrees F.

Mix dry ingredients in a bowl (minus any dried fruit).

Mix the maple syrup (or honey), avocado oil and coconut sugar in a small sauce pan on low heat until just dissolved. Pour the mixture on top of the bowl of dry ingredients, gently folding in to combine.

Spread the mixture evenly on a large baking sheet. Bake 20-25 minutes, or until just toasted and golden brown, stirring halfway through. Make sure that it doesn't burn!

Remove and let cool without stirring - it will retain the big chunks! Add in goji berries or other dried fruit once cooled.

Store in an air tight container for up to 2 weeks - if it lasts that long!