THIS BREAD. AKA Le Diplomate copycat bread. It's been a long time coming and a few days off delayed the post but IZZ HERE. Cranberry walnut bread of your dreams.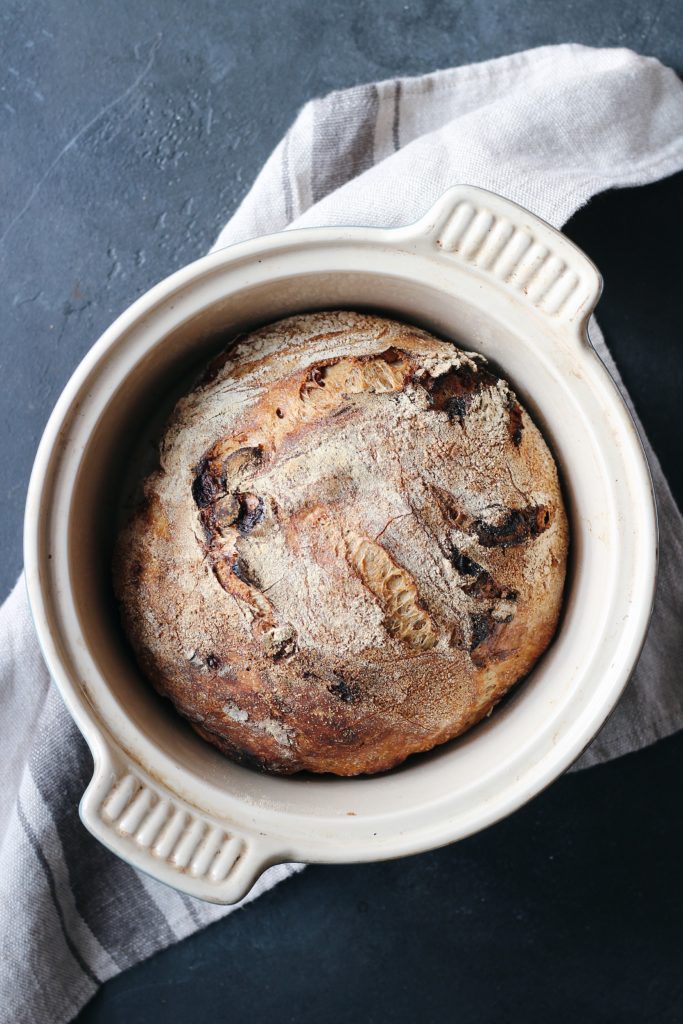 If you've ever been to Washington, DC and eaten at Le Diplomate, you know what I'm talking about. Everyone is served a basket of what I consider the best bread in DC (granted there are more I have to try!) - including this hearty, crusty cranberry walnut bread. It's my favorite bread out there. Crunchy on the outside, soft on the inside, earthy from the nuts, and a tad sweet from the cranberries. It's so good on its own I could just eat it for breakfast every day with a little butter and a latte. Perfection.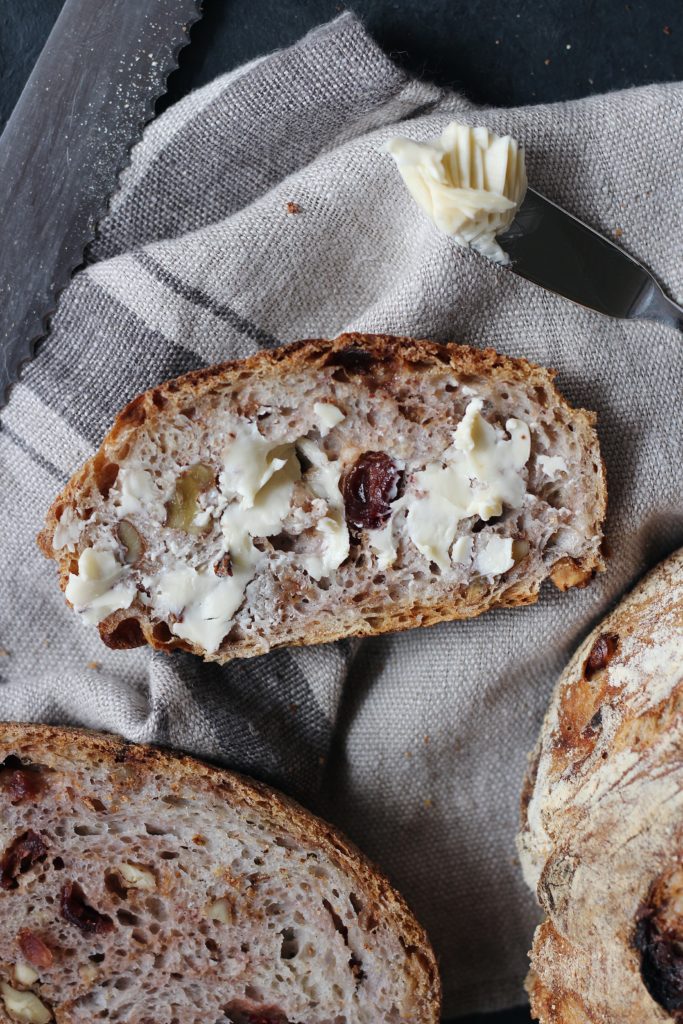 After talking about it with a few friends recently, I was craving it and determined to make some myself!!I knew I wouldn't be able to achieve *quite* the same results without a levain (sourdough) starter, but I figured I could get pretty close with the standard no knead bread recipe that I've used in the past.
Like all no knead recipes, I LOVE it because it requires less than 10 minutes hands-on time, but you end up with a truly amazing bread at the end. It doesn't require a lot of ingredients, and is also quite forgiving - I've never had a bad loaf despite my many alterations! The only tough part is having to wait so long for the yeast to do all the work 😉
The Crazy Easy No Knead Bread Method
So how does this work so easily?! Basically, the yeast does all the action for you. There are just a few simple steps:
1. Mix all your ingredients.
2. Cover + wait it out (12-20 hours!)
3. Turn out the dough into a ball, cover with cornmeal, wait a little more (1-2 hours).
4. Bake.
5. Let rest for an hour or two. Then devour!
Really, that simple. The main actions are stirring once, then just waiting. I'll even prove it in picture format!
No Knead Bread In Photos
The dry ingredients before mixing (I measure with a scale):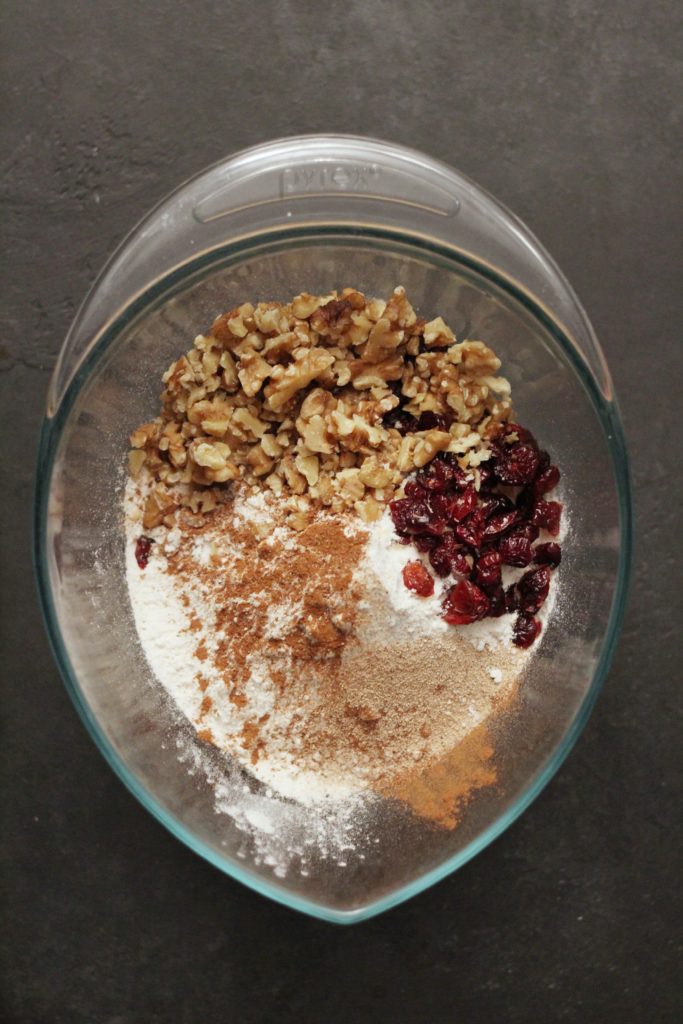 After mixing in the water: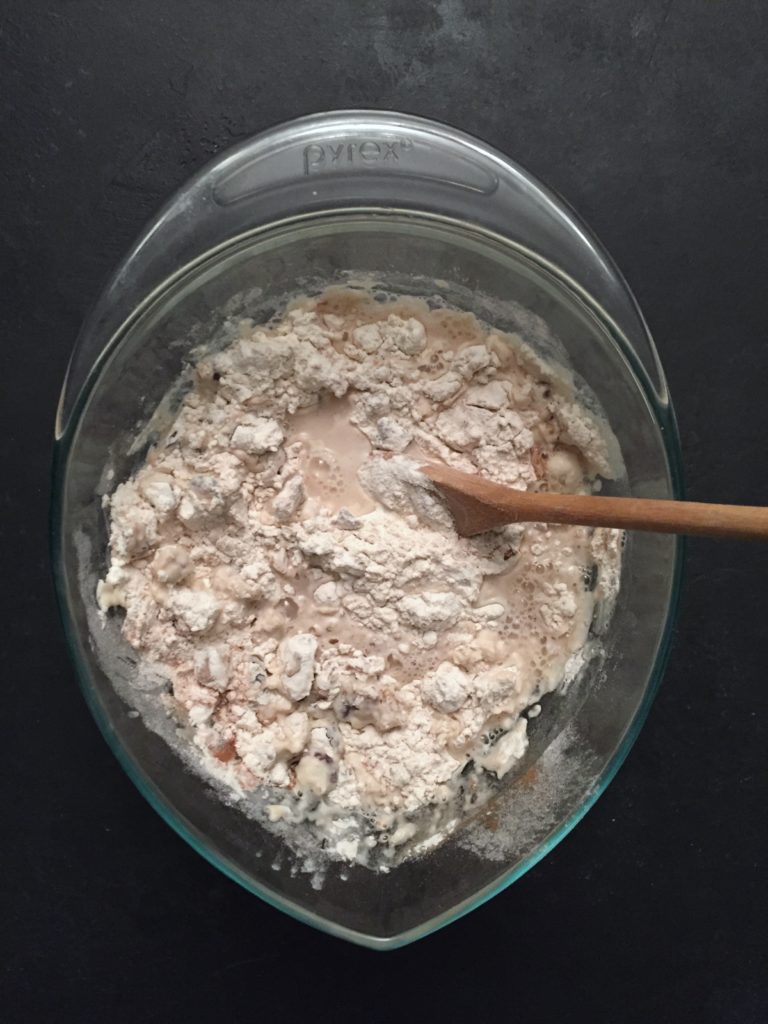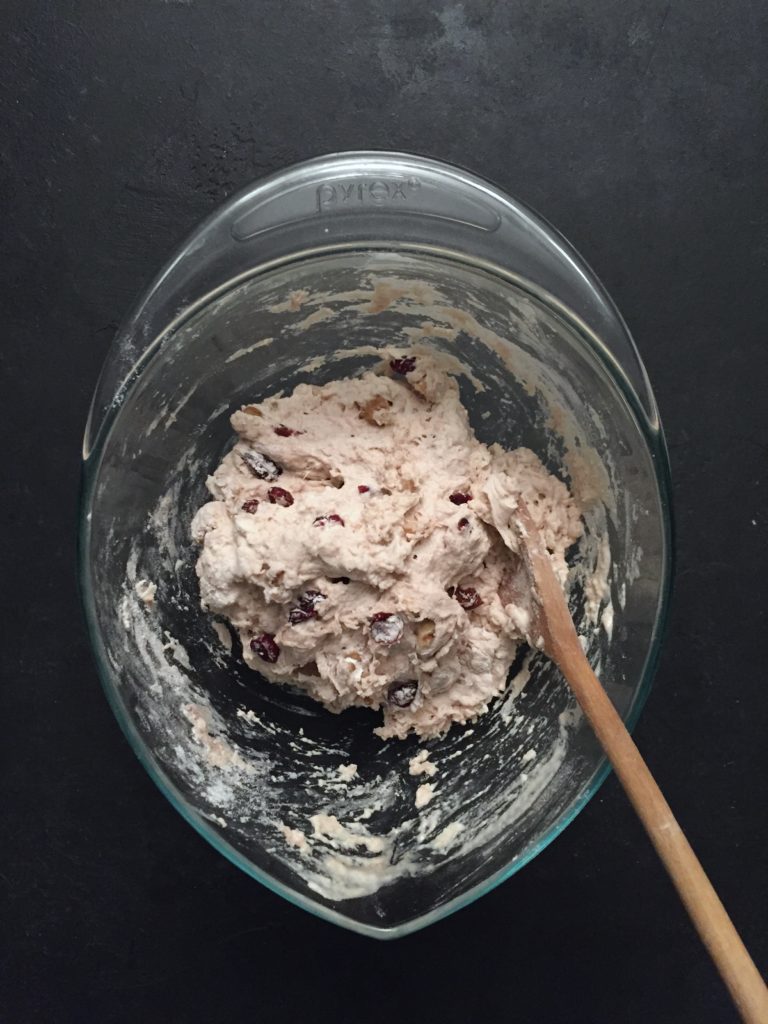 After 14 hours of rest (See those bubbles? The yeast is working!):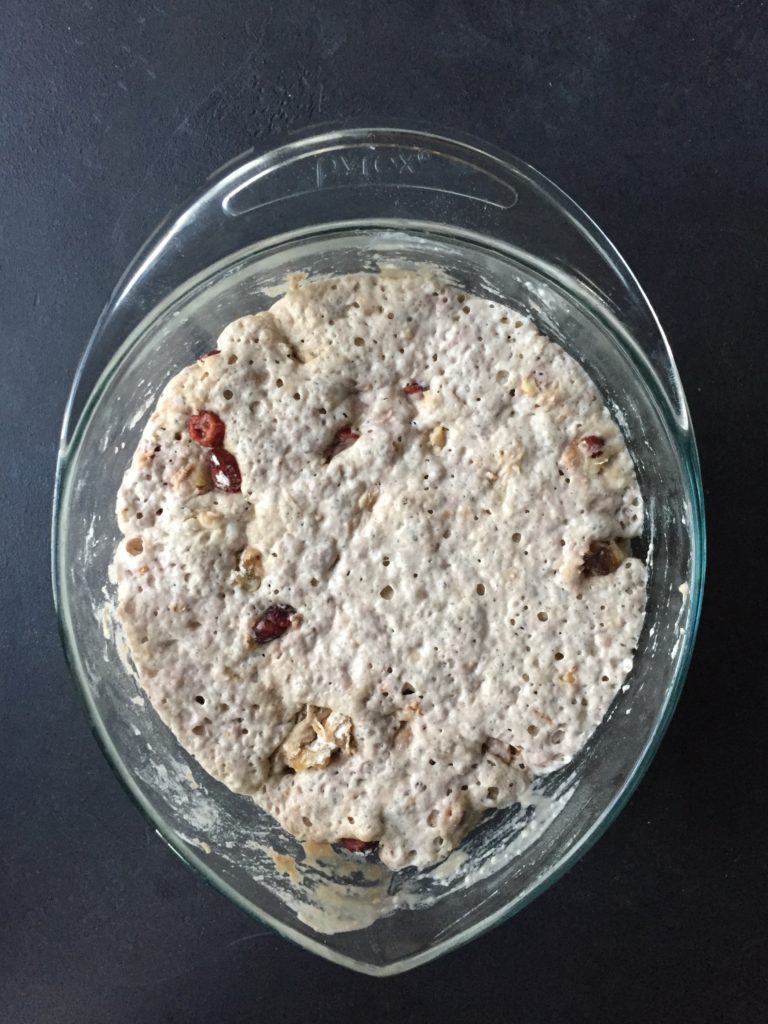 In its tea towel home for the next two hours: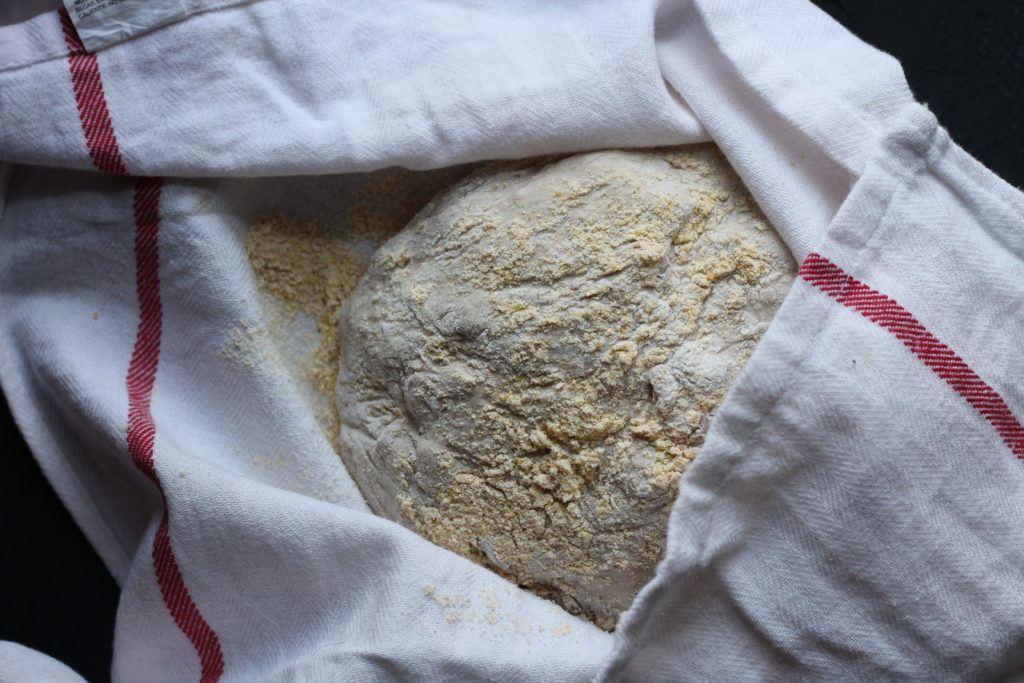 Post Bake!! Not enough time to do a pre-bake photo since you want the dutch oven to stay super hot when you put the dough in.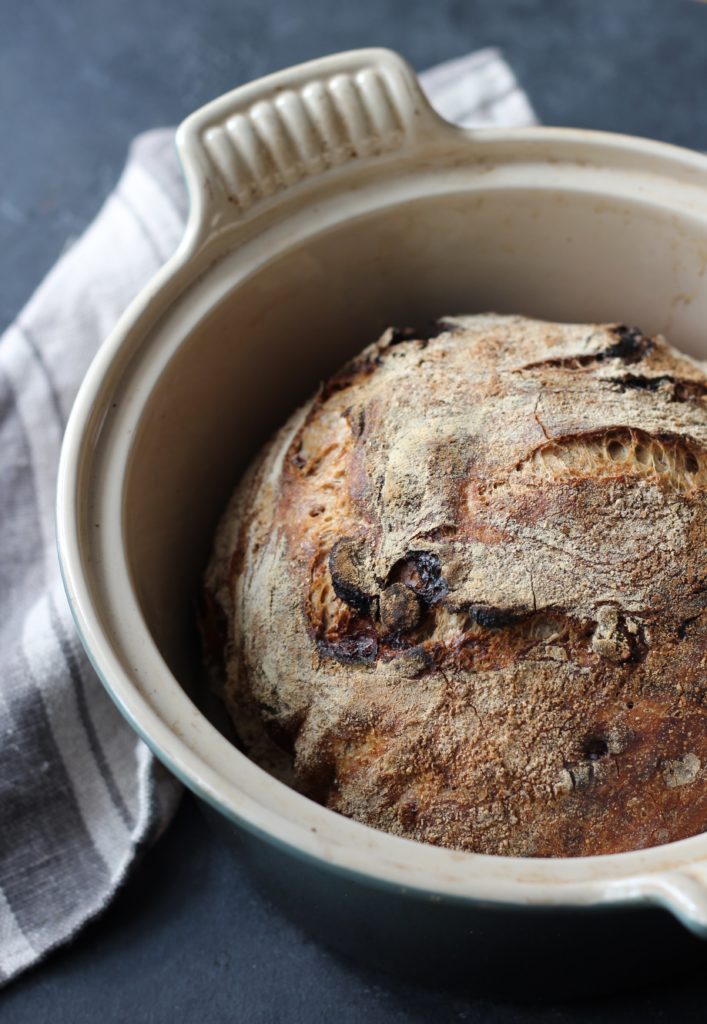 The only required kitchen component for this is a dutch oven - you need one with a lid so that the heat + steam stays inside the container to create the nice, crispy outside. I've read that to create the perfect baguette (outside of France), one technique is to bake in a stone oven and splash a little water in the oven when beginning the bake. This is a similar concept. This Lodge cast iron is perfect! I have a stone pot with lid from Le Creuset which is actually not a dutch oven, but a similar stoneware that works the same (it's just not stove top friendly).
Did I mention this bread freezes super well also? If you don't eat it all in the first sitting...You can slice it up after the first couple of days, wrap it up well (I do saran wrap and then ziploc freezer bags), and toast when ready to eat. Tastes as good as the first day!!
Okay, have I convinced you yet?? Go try this!!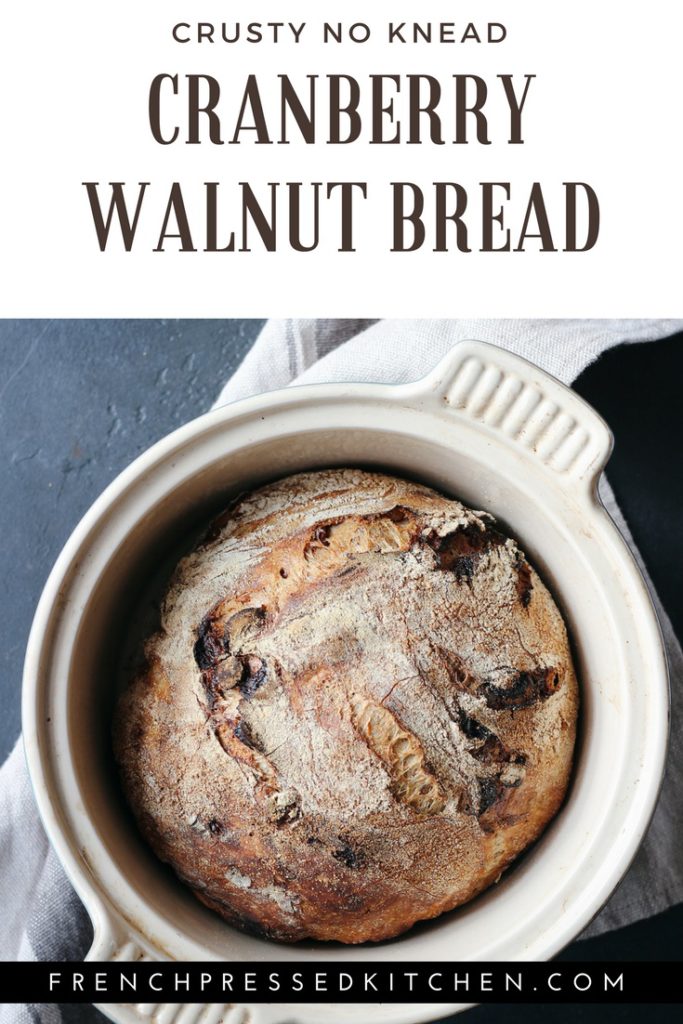 Crusty No Knead Cranberry Walnut Bread
Adapted slightly from The Kitchn. Originally from Jim Lahey
Ingredients
3

cups

400 grams bread flour*

1 ¼

teaspoons

salt

8 grams

½

teaspoon

2 grams instant or active dry yeast

Dash of cinnamon

¾

cup

75 grams chopped walnuts

⅓ to ½

cup

about 60 grams dried cranberries

1 ½

cups

about 350 grams water

3-4

Tablespoons

cornmeal
Instructions
In a large bowl, stir together all the dry ingredients. Add in the water and combine using your hands or a wooden spoon until a sticky dough forms. This will take 30-45 seconds. If it seems dry, add a spoonful of water (it should be sticky when you touch it). Cover the bowl with plastic wrap and let sit at room temperature (~70 degrees F or 21 degrees C) 12-18 hours**.

Cover a flat surface with more flour or cornmeal (I prefer the latter). Scrape the dough out of the bowl and place onto the surface area. Fold it over once, forming into a rounded ball.

Prepare for the second rise: Place a tea towel or other thin cloth on your work area. Dust with additional cornmeal. Gently place the dough ball onto the cloth and cover loosely. Let rise until doubled in size, 1-2 additional hours.

Preheat the oven to 475 F (246 C). Place the dutch oven with the lid in the oven so it also heats up at the same time (you want it to be super hot when you put the dough in).

When the oven is fully heated, remove the dutch oven (with oven mitts or a towel!!). Remove the lid, quickly place the dough inside and recover. The faster you work the more heat will stay inside.

Bake for 30 mintues with the lid on. Remove the lid and bake for another 15-30 minutes until the bread is a deep brown color (or sooner if you like it not as done).

Let cool for an hour before slicing (the hardest part!).

The bread stores well at room temperature for 2-4 days. I cover mine with a tea towel - a bread box would work as well. Slice any unused portions and freezer for later if needed - it reheats beautifully! Also great for French toast.
Notes
*I've used a combination of all-purpose, whole wheat, oat and other flours and they all seem to turn out well!! The less all-purpose you use, the more dense it can get but still delicious.
**If you start this in the morning first thing, you can bake it that night. It will have to cool, but you'll have a fresh loaf the next morning for breakfast!
Bon appétit!