Hi friends! No new recipes this week, but reporting back on our meal plan for the week!
Last week we ate out a lot more than usual while we were moving!!!! It was fun to change things up a bit, but I didn't love the feeling of having to search for food at every meal, ha! We got through the stress with some Thai food at a local joint, Korean bibimbap and various leftovers, including some of my cranberry walnut bread! And of course, a little help from a caffeine boost.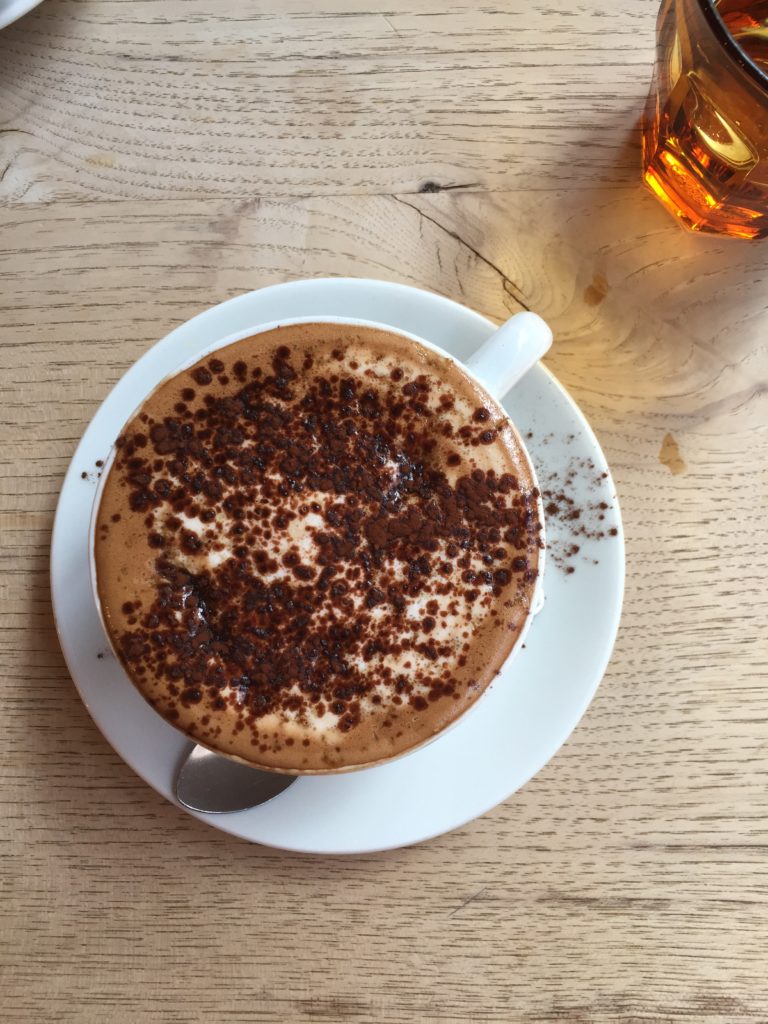 I'm back on the food shopping + cooking bandwagon, though, and I have the Trader Joe's cart to prove it. This is my second ever purchase at Trader Joe's ABOVE $100. Not an easy feat for two people! I think the first time was for a party, so it makes sense that this trip was up there since we just moved and were restocking a bit. The most expensive items were beef, chicken, bacon (!) and smoked salmon. All good things, worth it in my books. As you can see, we don't get much processed food - mostly fresh veggies + protein. Here she is: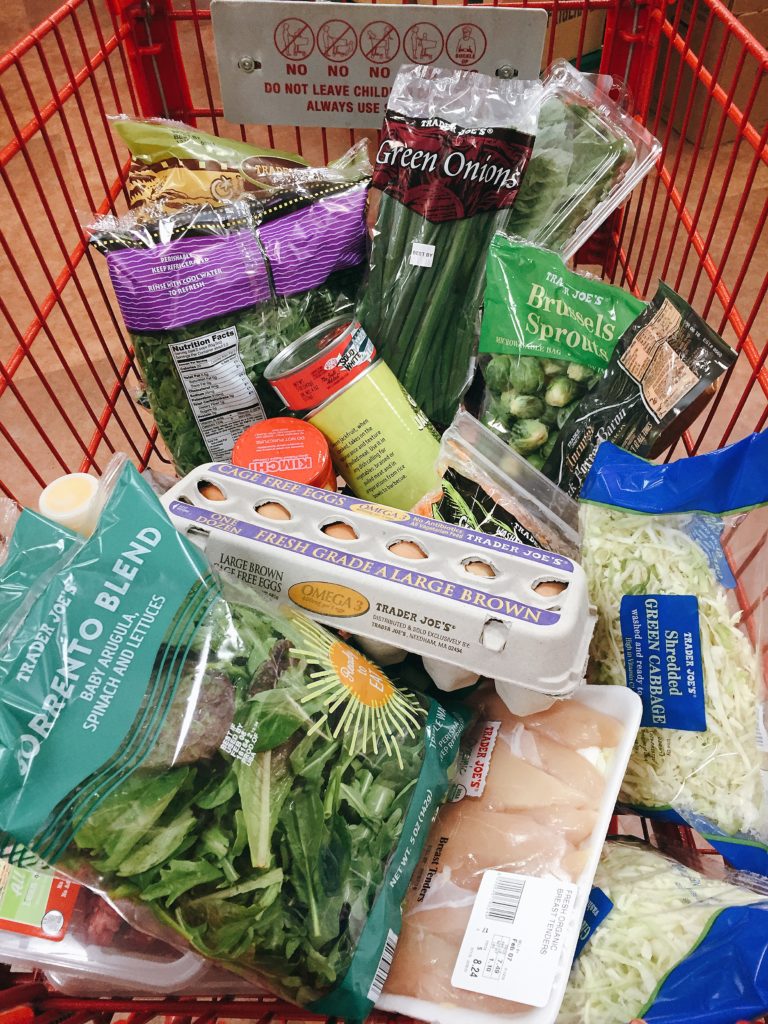 Even though this looks like a lot of food, it will last us all week for almost all of our meals - about 28 meals between the two of us! I'm a big fan of meal planning these days because it organizes us at the beginning of the week and of course, saves money because we're not eating out due to lack of food prep.
My strategy was shopping for 2 full recipes, adding in other produce for breakfasts + ad hoc meals. We had some Korean sauce leftover from a few weeks ago and Pedro was craving salads, so the two recipes I picked out were Korean bibimbap bowls with slow cooker beef and a copycat Sweetgreen salad - Spicy Sabzi. I've made Korean bowls before and knew my base would be rice + kimchi + meat + veggies. I had made a copycat of the Sabzi salad before, too, but decided to go with the Trader Joe's carrot ginger miso dressing that I found pre-made and use chicken instead of tofu to  be a bit more filling. Recipe to come!
Interesting and/or notable finds of this trip: Coconut chunks, carrot ginger miso dressing and harissa salsa! I have some refried beans in the pantry I can't wait to use with the salsa.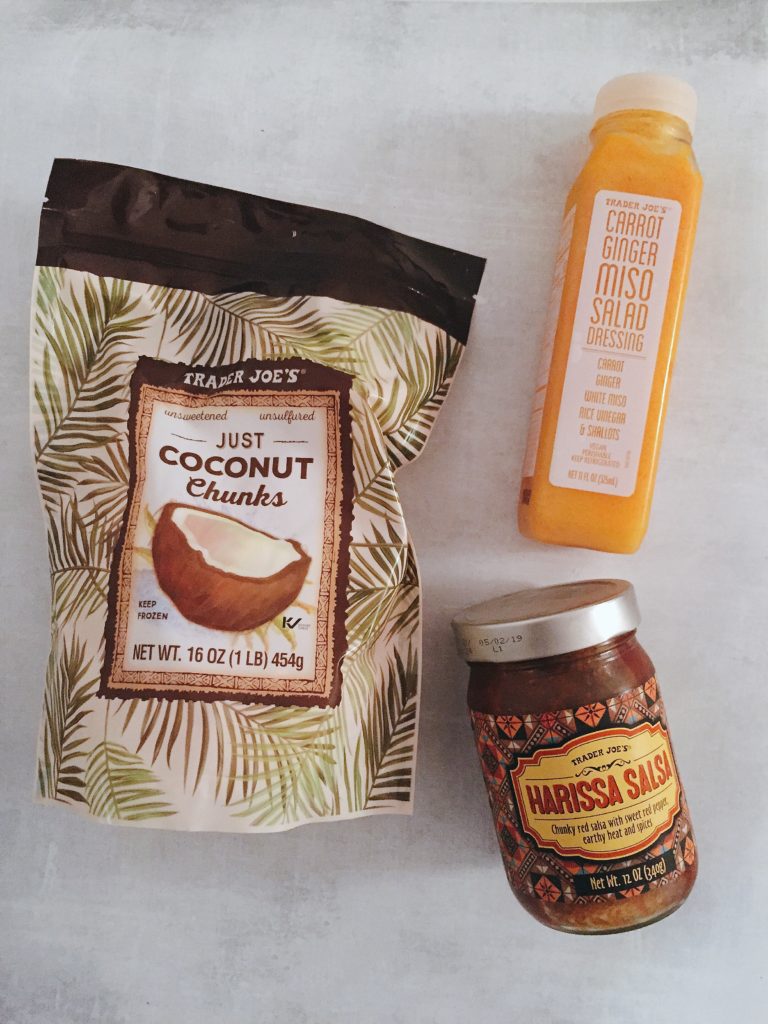 So how does this shake out for the week for us? Here's our meal plan!
Meal Plan
Monday: Eggs + Turmeric Cabbage + leftover homemade bagel // Korean bowls for lunch // Trader Joe's kale + veggie stir fry + smoked salmon for dinner
Tuesday: Eggs + bacon + brussels for breakfast // Korean bowls for lunch // Spicy Sabzi salad for dinner
Wednesday: Granola bowls for breakfast with flax seed, hemp + collagen // Spicy Sabzi salads for lunch // Freestyle dinner (leftovers probably!)
Thursday:  Egg bagel sandwiches for breakfast // Korean bowls for lunch // Freezer veggies + tofu for dinner
Friday: Oatmeal or pancakes// leftover lunch // dinner out!
Sweets + Treats: Lattes with almond milk (duh) + collagen peptides
, batch of paleo chocolate chunk cookies
Happy cooking this week!