Today I have a cozy Chliean dish for you - Porotos Granados!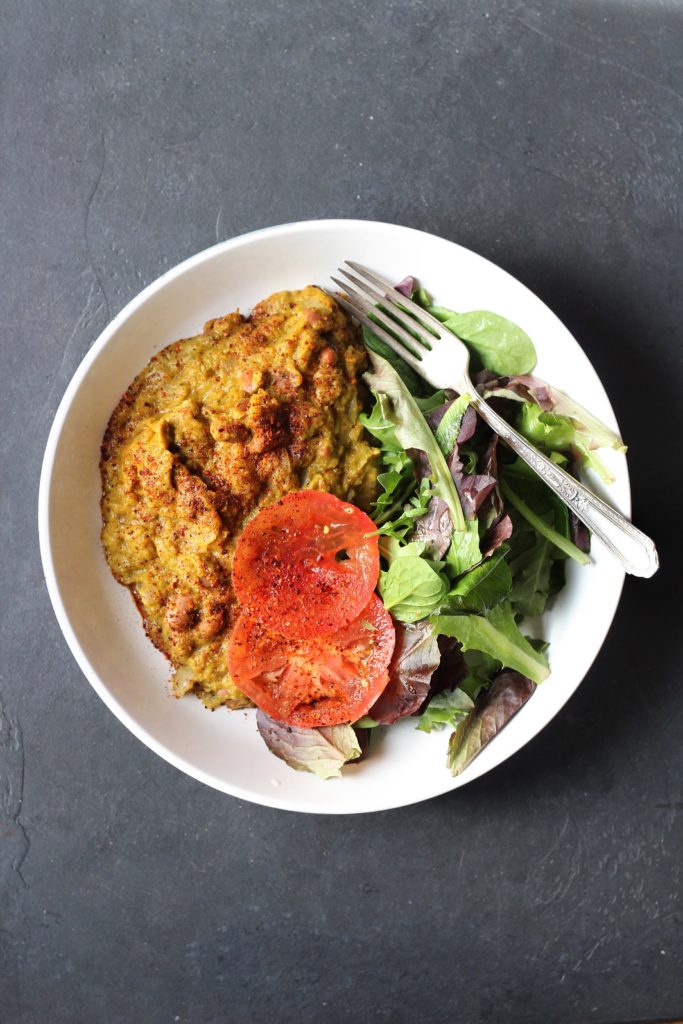 This was a favorite of Pedro from growing up, and he made it for us recently. It's warm and cozy from the butternut squash, slightly sweet from the corn, and earthy and smoky from the merken and other spices. It's naturally vegan and gluten free, too, so you can feel good about eating all the veggies! The beans add a nice bit of protein as well. So basically, the perfect veggie balanced meal.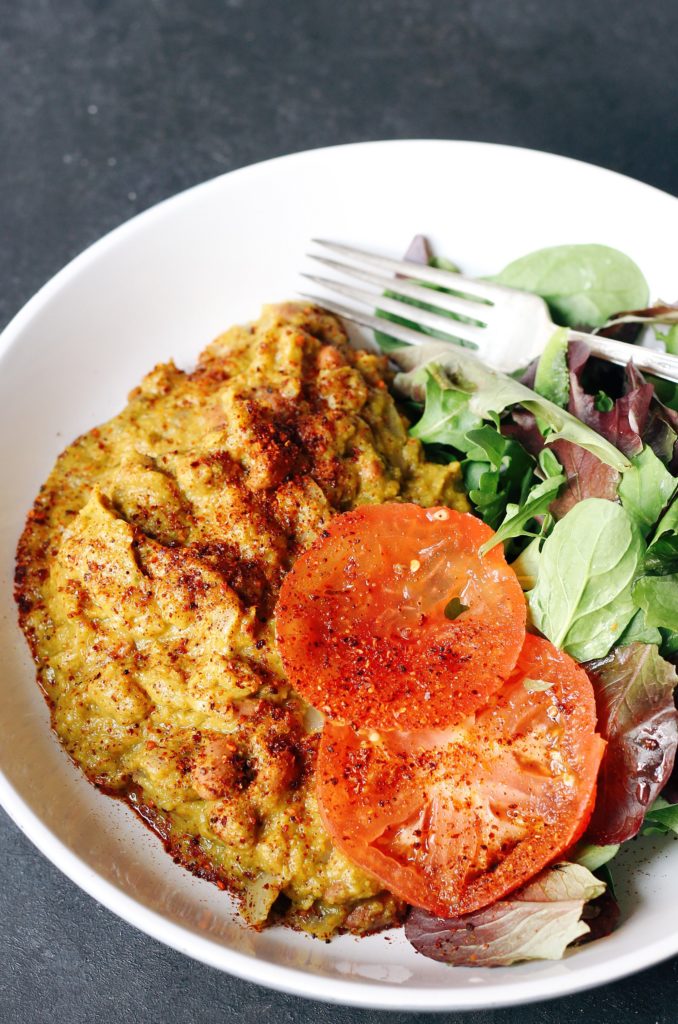 Since it's a hearty stew, this is a great fall or winter dish, but you could also serve it chilled for a refreshing summer meal with the sweet corn. The earthy flavor of all the spcies is particularly comforting. The classic Chilean spice to use is merken
 (also spelled merquen), a red chili pepper that is often smoked after drying. If you don't have this, smoked paprika would be a nice substitute. Either way, delicious!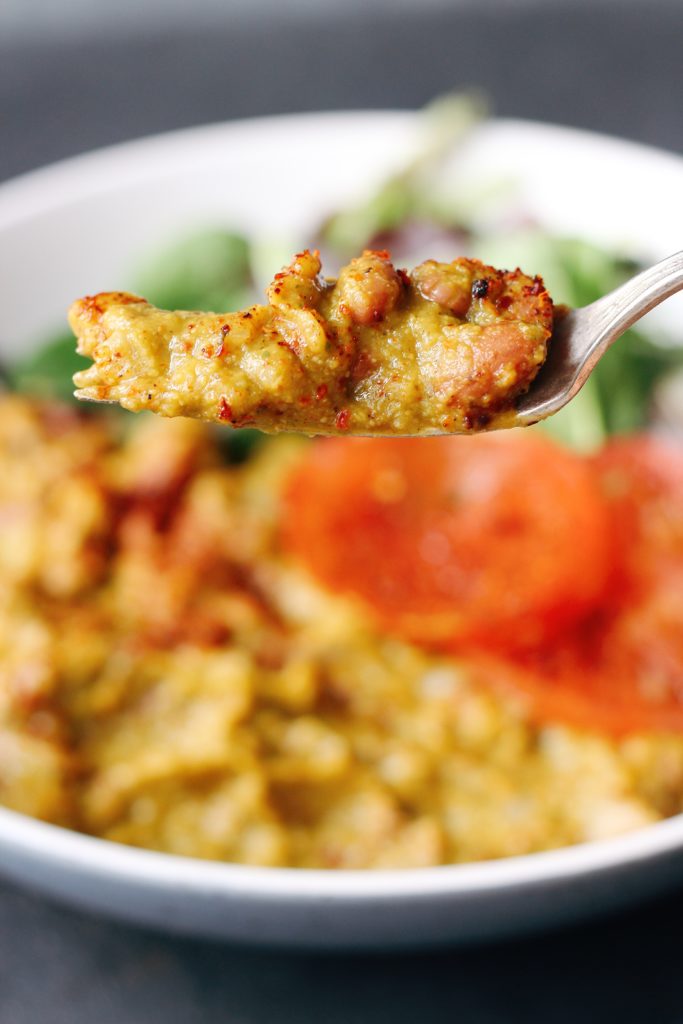 After roasting the squash and pureeing it, the rest comes together easily like a traditional soup. Depending on how thick you like your soup, you can adjust the consistency (more liquid for soup, less liquid for more of a stew). Pedro served this with greens and tomatoes on top - and of course, more basil (I forgot it here!). You can serve greens on the side for a soup + salad type of meal.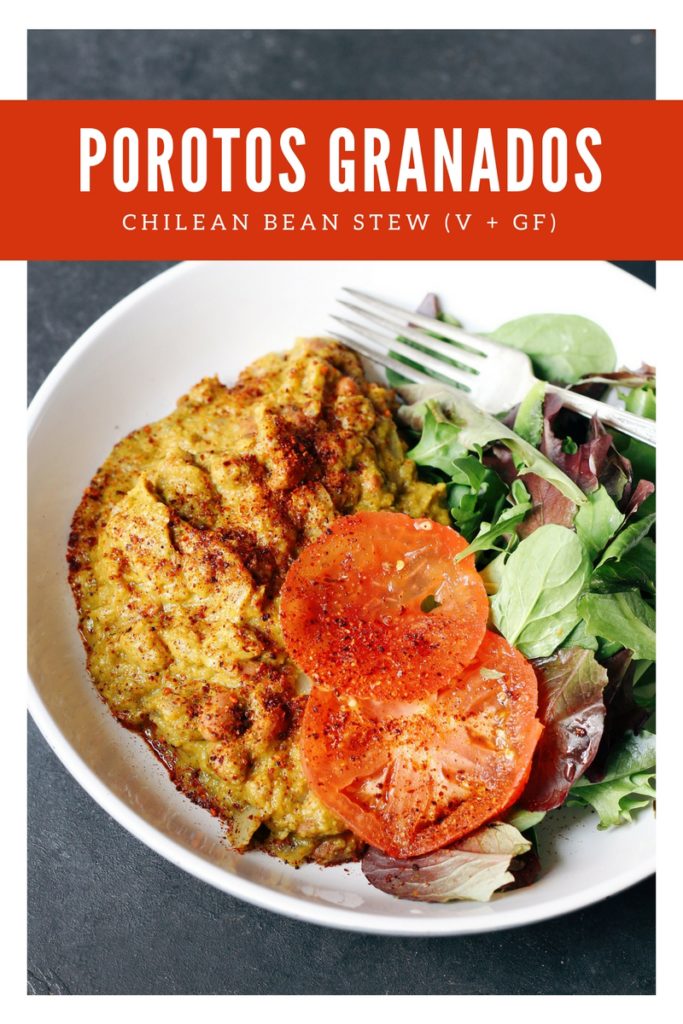 Porotos Granados (Chilean Bean Stew)
Porotos granados, or Chilean bean stew. A cozy and comforting puree of corn and butternut squash, cooked with onion and garlic and classic Chilean spices. Naturally vegan and gluten free
Ingredients
1

bag frozen corn

~ 12 oz or 350g, or 3 ears fresh corn

½

butternut squash

½

cup

120ml vegetable stock or water

1

can beans

drained and rinsed (cranberry or cannelli are great, but anything works)

1

large onion

diced

2

cloves

garlic

1

Tablespoon

coconut oil

1 ½

teaspoons

merken*

1 ½

teaspoons

oregano

1 ½

teaspoons

cumin

½

cup

fresh basil

chopped

¼

teaspoon

salt

plus more to taste

Fresh ground black pepper

to taste
Instructions
Heat oven to 400F (200C). Cut the butternut squash and half and remove the seeds. Roast the butternut squash until soft (20-30 minutes, depending on how big it is). Remove and let cool.

Meanwhile, defrost the corn if using frozen. Reheat in the microwave or boil until soft. Let cool slightly. If using fresh corn, boil for about 10 minutes until soft, then let cool and slice off the kernels.

Once the corn and squash are cool enough, add them to a blender with about half of the vegetable stock and puree until liquefied.

Next, heat a pot on medium heat with oil. Add the onion and cook until translucent. Add the garlic and sautee 2-3 more minutes until fragrant. next, add the spices, adjusting to taste.

Add the beans, then the puree and bring to a simmer for about 15 minutes. If the mixture is too thick, you can thin it out with a bit more of the stock.

To serve, ladle the mixture into shallow bowls. Top with sliced tomatoes, more merken, chopped basil and sea salt.
Notes
*See link above. This somewhat spicy pepper can have a smoky flavor, similar to smoked paprika. I'd use that as a substitute if you can't find or buy merken near you!
Bon appétit!