In case you've missed my Instagram or blog post updates lately...I've been ALL about the summer produce!! We have been cooking up a storm and I'm loving it. One of my favorite things has been roasting good heirloom tomatoes. Something about the added umami from the concentrated tomato flavor is just divine (see this roasted tomato tart !). Today's recipe is an easy dish that capitalizes on this flavor - a polenta based grain bowl topped with topped with simple roasted tomatoes and sauteed power greens.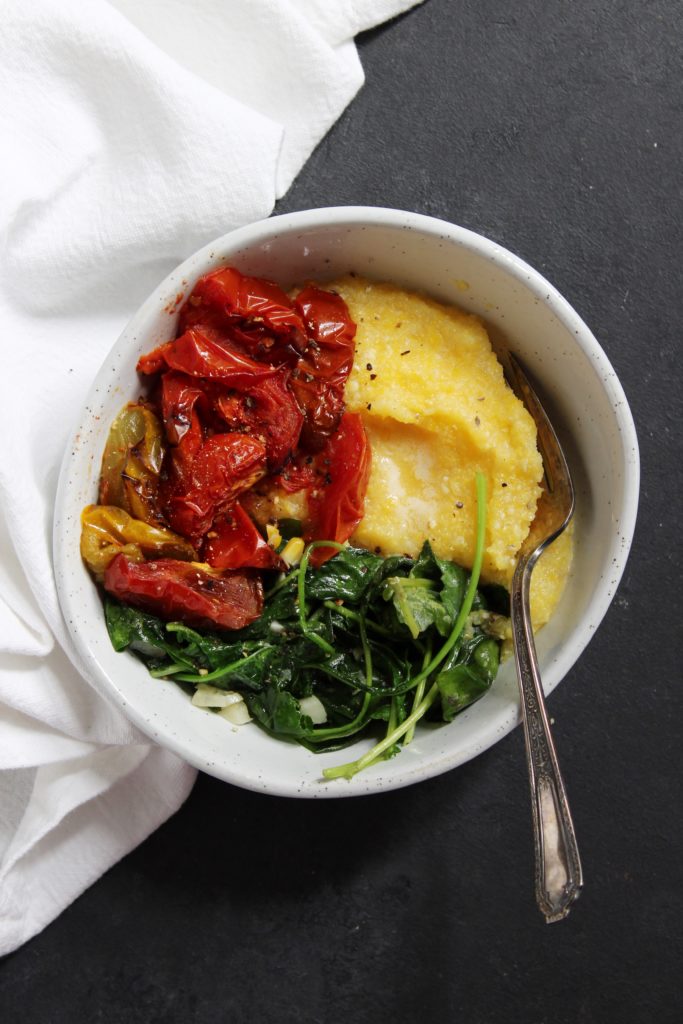 Grain bowls seem to be all the rage (hello Sweetgreen, Cava, NafNaf, Korean rice bowls, etc!). The grains are filling and you can put pretty much aaaaanything on top. If you add veggies and/or lots of greens, it's a different, heartier take on a salad with endless possibilities! I've been using up my pantry grains lately, hence the inspiration for polenta, but you could definitely use barley, oats, quinoa or another grain for this.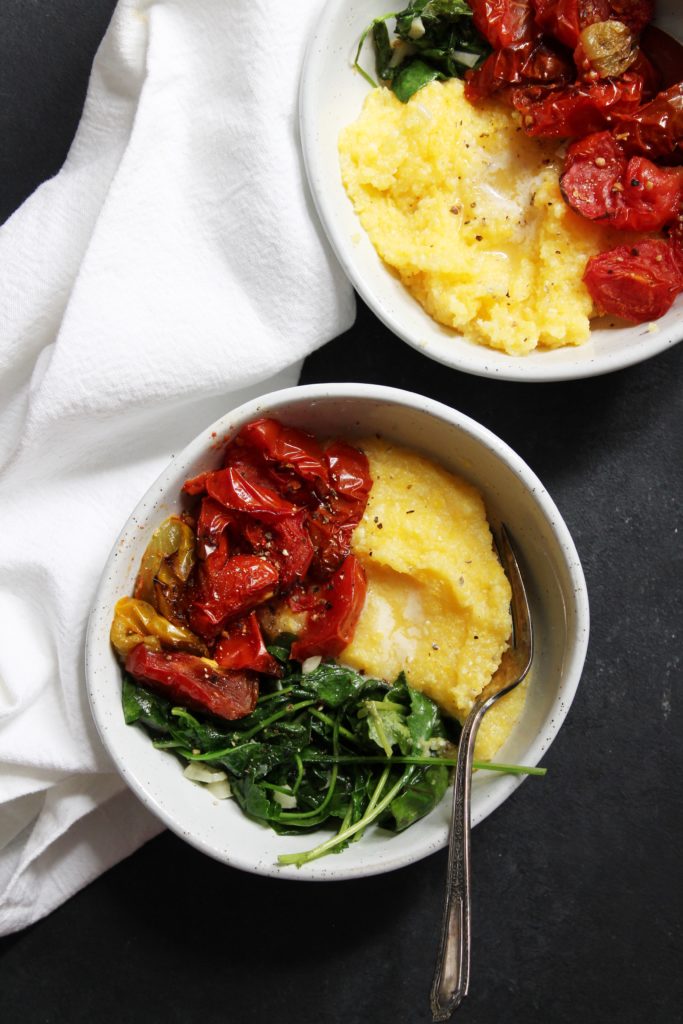 Fort his dish I bought a few pounds of tomato "seconds" at the farmer's market that were on their last legs - but for super cheap! They needed to be cooked right away, so I cut them up as soon as I got home and threw them in the oven  with some avocado oil for about 30 minutes until they were nice and shriveled.
Next I made polenta on the stovetop - a quick 5 minute cook in boiling water and salt brings the cornmeal to a good consistency. While that was cooling I sauteed some garlic and power greens (a blend of kale, spinach and various other greens) in a small pan until very wilted. Then, put it all together! Simple as that. You could add a fried or poached egg for an even more filling meal - the runny yolk would be so good on the polenta.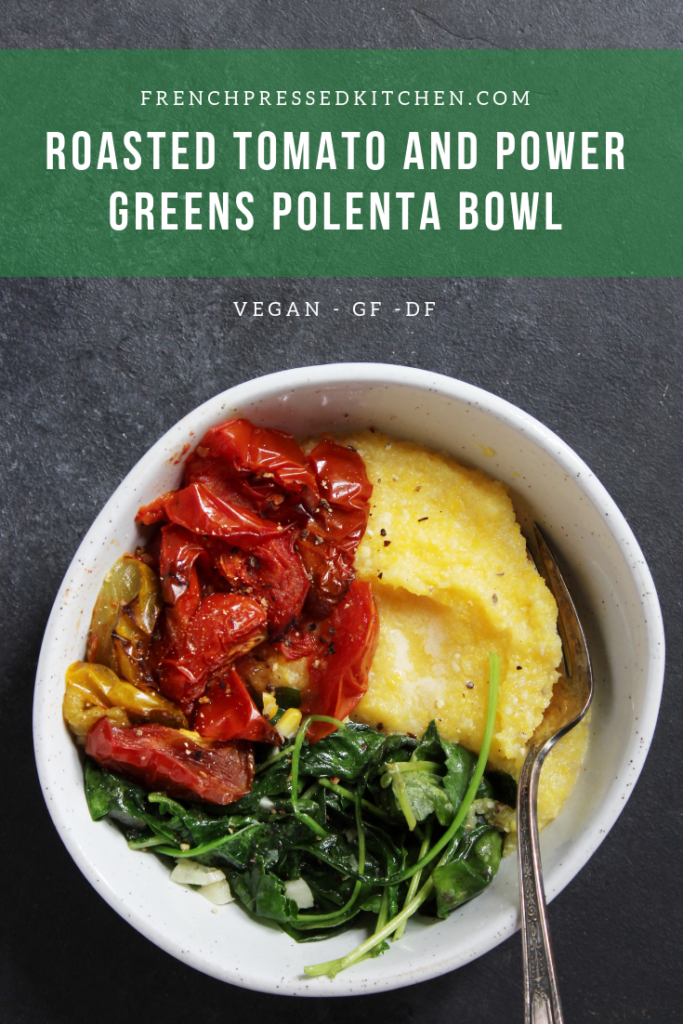 Let me know if you try it out & enjoy! Bon appetit 🙂
Roasted Tomato and Power Greens Polenta Bowl
An easy polenta meal that's perfect for a quick meal or snack! Five minute stove top polenta topped with roasted tomatoes and sautéed power greens. Naturally vegan, gluten free and super tasty!
Ingredients
Polenta
½

cup

dry cornmeal

1

and ½ cups water

Pinch

of salt
Tomatoes
2-3

pounds

tomatoes

I used heirloom

1

Tablespoon

avocado oil

Fresh ground black pepper
Greens
3-4

cups

mixed baby kale

and baby spinach

1

teaspoon

avocado oil

2

cloves

garlic
Instructions
Heat the oven to 425F (220C). Line a baking sheet with parchment paper or foil.

Dice the tomatoes into 1 inch or so cubes (or cut in half if using smaller cherry tomatoes). Add the baking sheet, then drizzle with 1 Tablespoon oil and black pepper. Roast for 30-40 minutes, or until the tomatoes are shriveled and start to dry out. Remove and let cool, then sprinkle with salt.

Bring the water to a boil in a small pot with the pinch of salt. Add in the cornmeal, then cook for about 5 minutes until mixture becomes creamy. Stir consistently so it doesn't stick to the pan. Set a side and let cool slightly.

Heat a small pan over medium heat and add 1 teaspoon avocado oil and the garlic. Sautee the garlic until fragrant, then add in the greens and cook until wilted.

Finally, bring the bowl together! Put the polenta on the bottom, then top with the wilted greens and a scoop of the roasted tomatoes. Add a pat of Earth Balance on top for an extra creamy touch.