Friends! Today I'm sharing this aaaaahmazing blackberry banana NICE cream!!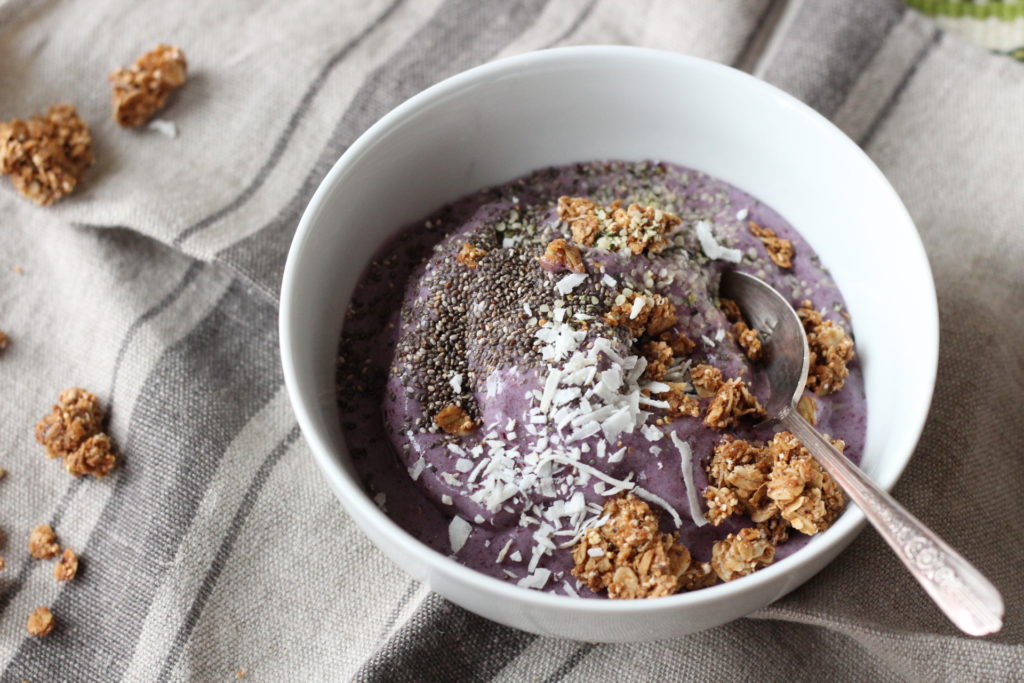 Who would've thought we'd want something this frosty and cold in early March…it's still winter after all. Except here in D.C. the weather has been seasonably warm! No wonder the cherry blossoms are coming early this year.
Pedro and I were initially going to go out for biscuits of his birthday this week(because those are his favorite breakfast food, smart man), but after feeling a bit too full the night before we opted for something lighter, but still special enough for a birthday. If you haven't heard of "nice cream," it's basically a thicker form of a smoothie, but made with enough banana to make it hella creamy. You need a good amount so it blends well - if you're not big on banana flavor like me, make sure you freeze your bananas early when they're yellow (before black spots; after black spots, just wait for banana bread!!).
This batch of turned out soooo fluffy and light – true ice cream consistency. I *think* it's because I put two more bananas in the freezer the night before (well, I asked Pedro to :D) so the next morning they were semi frozen, not too hard. Having it split up into chunks was also helpful (think medium banana cut in fourths).
To start, I threw about 4 tablespoons of almond milk and 3 bananas in the blender and turned it on CRUSH. I eyeballed the liquid and wasn't sure how much I'd need, but have found that it really depends on the bananas! This time I didn't need much but previously I've had to put more to get the bananas to blend. Once it looked nice and creamy (1-2 minutes), I added in some Vital Proteins Collagen and then the showstopper, blackberries!!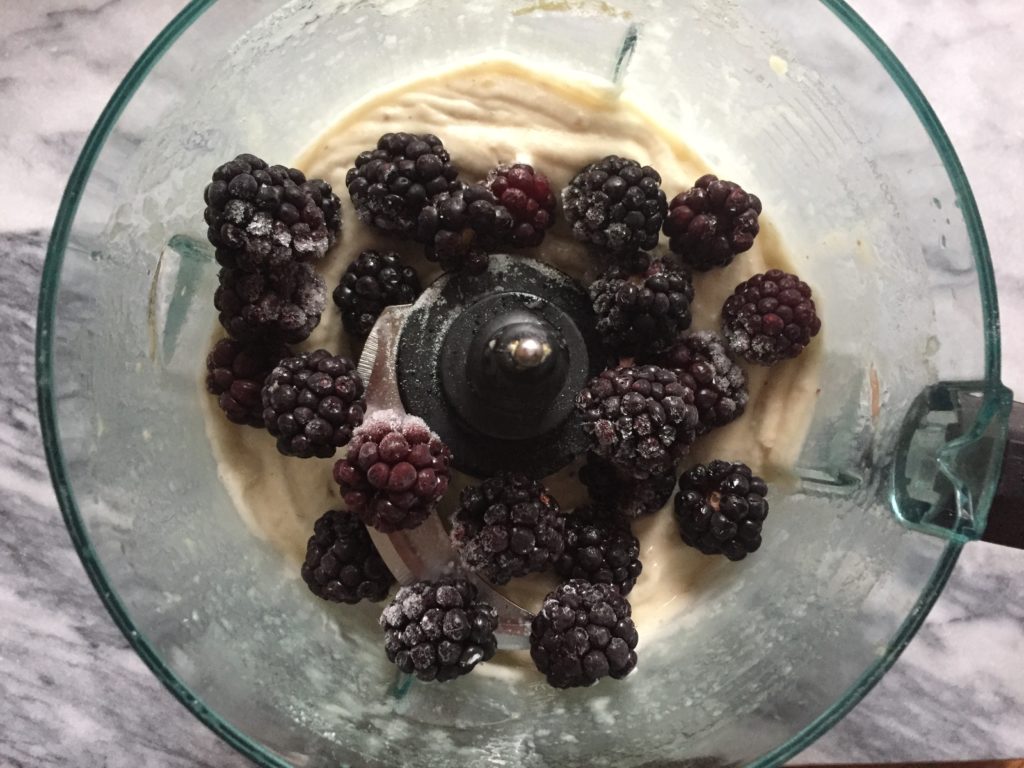 BOOM looks like ice cream: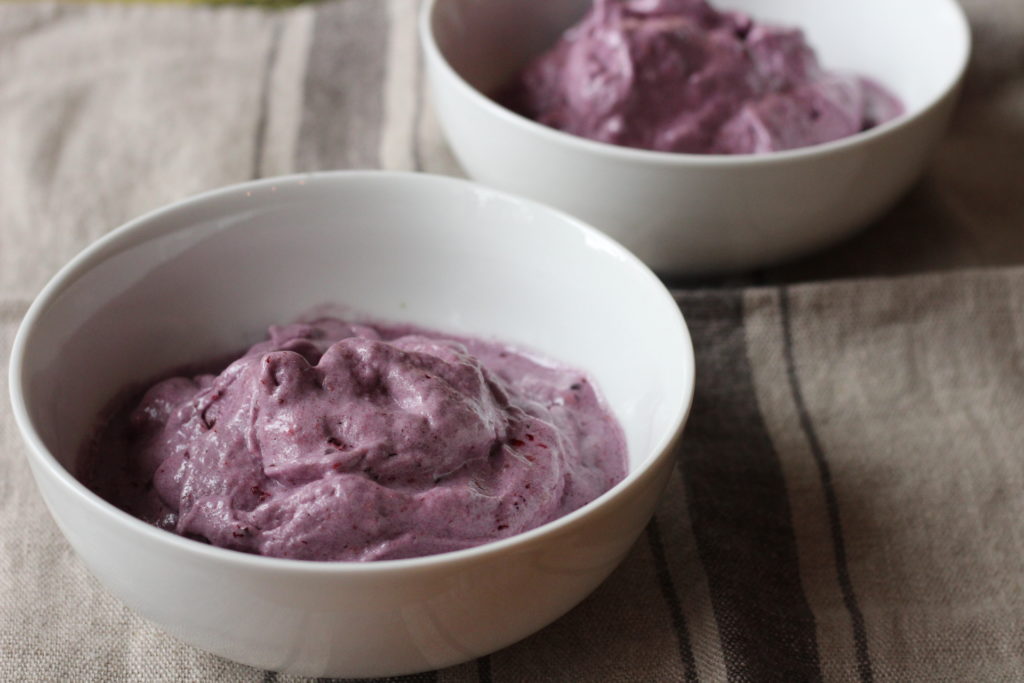 And what a pretty color!  This was a perfect complement to the bananas and gave a little glimpse of summer berries to come.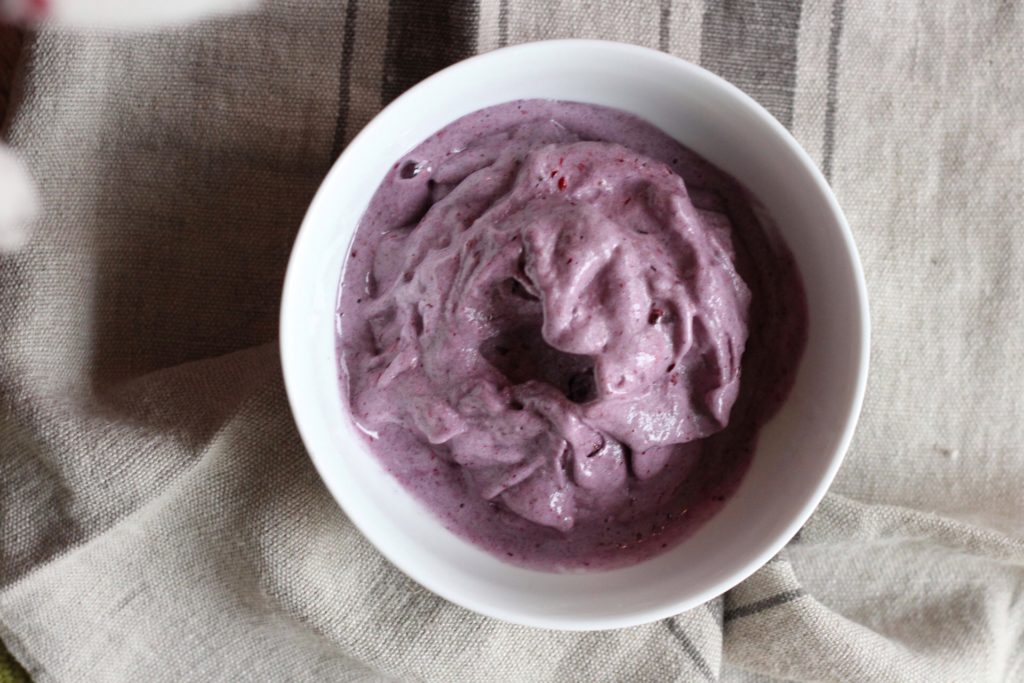 Ah yes, bowl zen. Of course, we also topped with all the things, because, you know, YOLO. Purely Elizabeth granola (a favorite, gotta try 'em all
), chia seeds, hemp seeds and coconut. A perfect breakfast if you're looking for something on the sweet side but not too heavy.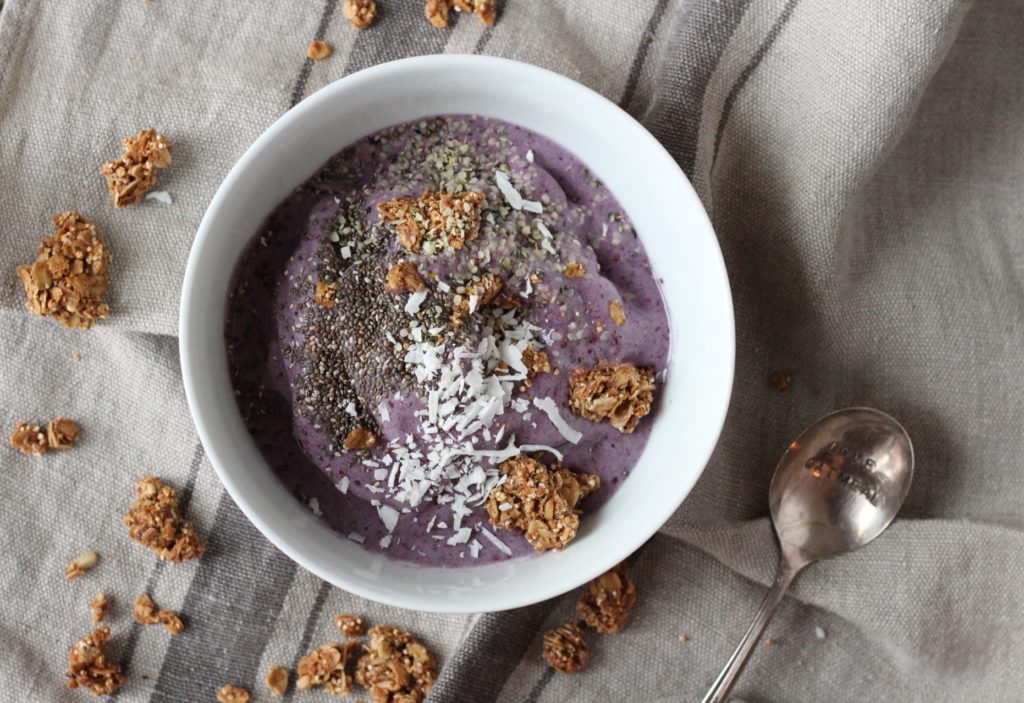 If you try it out, let me know how it turns out :).
Banana Blackberry Nice Cream
"Nice cream" is the perfect way to use up frozen bananas and/or other fruit, and have a satisfying treat.
Ingredients
3

bananas

frozen in small chunks

1

handful blackberries

4-6

Tablespoons

milk

almond or regular

2

scoops collagen peptides

optional
Instructions
Add milk and bananas to a food processor or blender. Blend until creamy! This may take a few pulses and adding in some more milk if the banana mixture looks too thick.

Add in the collagen if using and blackberries. Continue blending until thoroughly mixed.

Top with all the things! Granola, seeds, and coconut are some of my favorites for smoothies.
Any other nice cream ideas out there?! Let me know if you have inspirational flavors, and in the meantime, bon appétit!