And we're back with a cookie post!!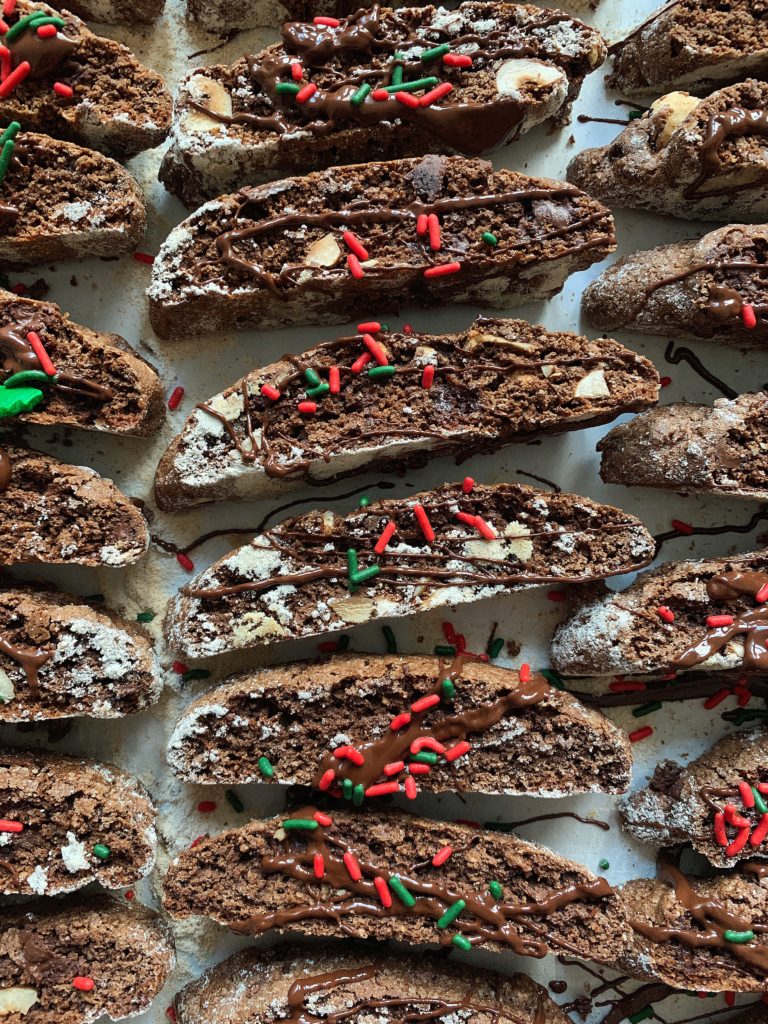 I've been traveling quite a bit this winter so my posts have dropped off a bit. Doesn't mean the cooking has stopped! I got right back to it for Christmas, making these chocolate chip hazelnut biscotti, as requested by my mom.
In search of the perfect recipe
I searched around quite a bit for a recipe that I was happy with, but eventually landed on this one from Smitten Kitchen. I liked that it was naturally dairy free (no butter needed) and had espresso powder! I made a few updates, namely adding in a few different flours (hazelnut + white whole wheat flour) and adding in some chocolate chips in place of hazelnuts. And forgetting the egg wash (oops). They turned out great, and so perfect to pair with coffee! Hope you'll try them out - get creative with add-ins. I think walnuts or almonds would also be great, and a white chocolate drizzle would be very pretty as well. Recipe below.
Baking Notes
The dough looks and feels very sticky, but if you wet your hands a bit and portion out the dough in a bit of flour you should be able to shape it just fine into a couple of logs. The term "rolling" doesn't really apply here - I kind of plop mounds of dough in a line and then shape into a long rectangle. The logs really don't need to be perfect;as long as they have a somewhat uniform shape to them then they will bake well. See below for mine!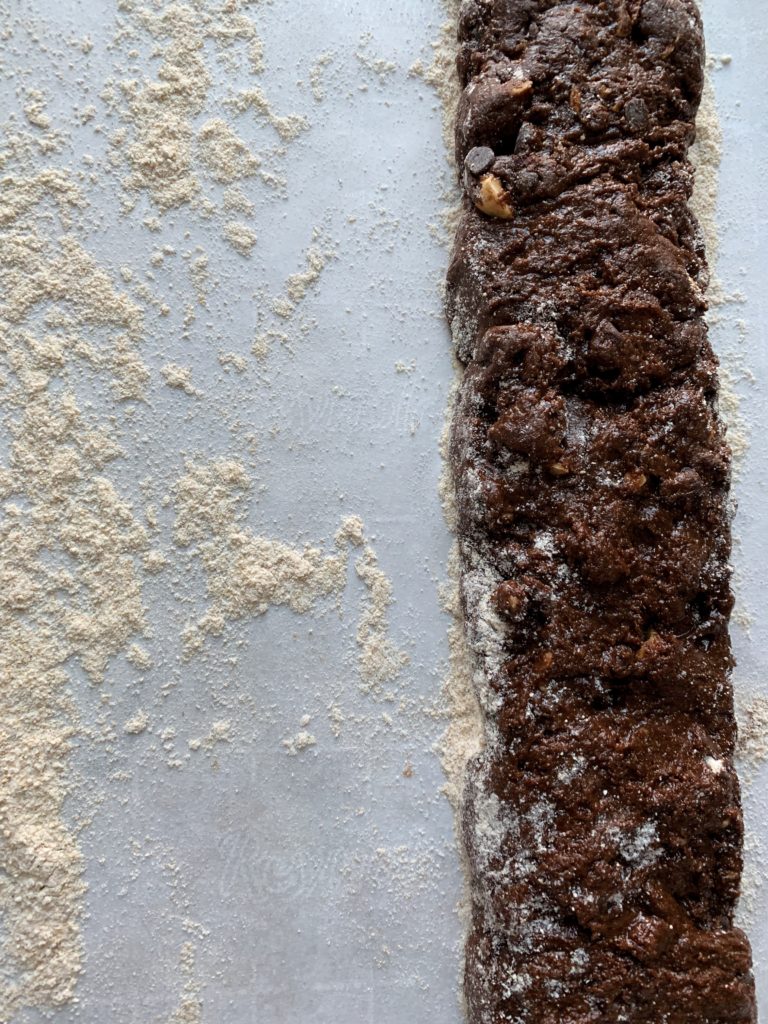 Once you bake the first log and let it cool for a few minutes, the baked "log" will be easy to cut. Slice it as thinly as you'd like - the more the merrier in my opinion! After laying out the biscotti back on the same pan, they'll be ready for their second bake. After the second bake, let cool, then top with whatever you like - I did a simple melted chocolate drizzle and added on holiday themed sprinkles!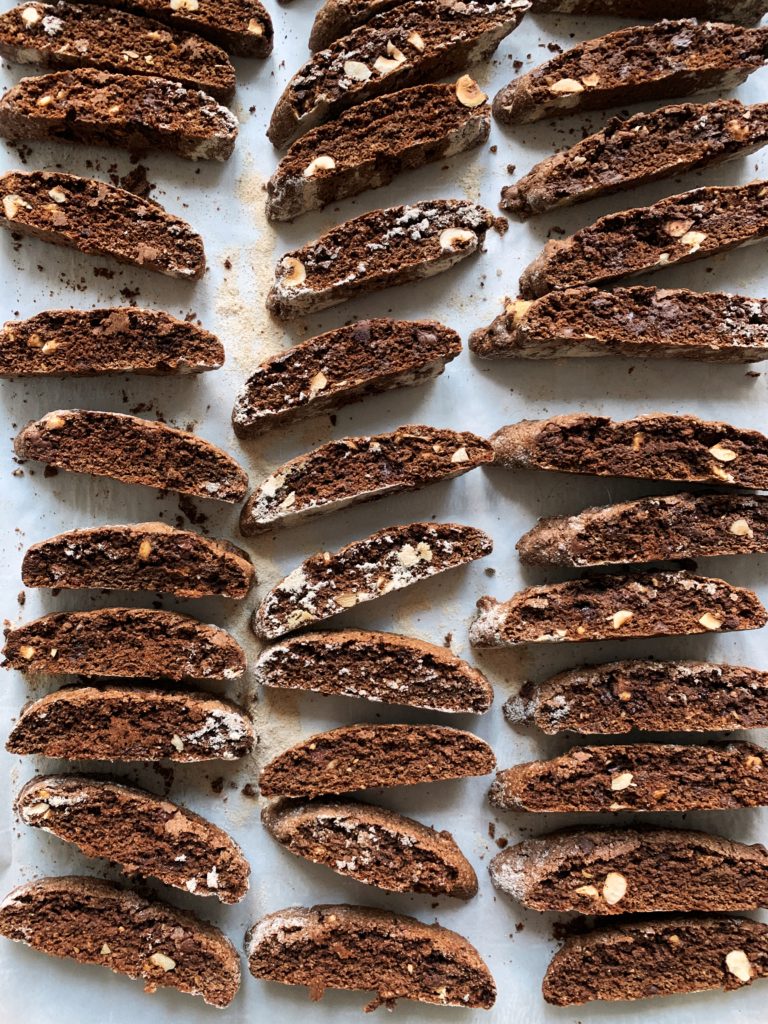 Chocolate Chip Hazelnut Biscotti
This recipe is adapted slightly from Smitten Kitchen. It makes about 50 biscotti, depending on how small you slice the cookies.
Ingredients
½

cup

hazelnuts

chopped

⅓

cup

semi-sweet chocolate chips

⅓

cup

mini chocolate chips

¼

cup

hazelnut flour

meal

2 ¼

cups

white whole wheat flour

all-purpose works too, or a mix

½

cup

cocoa powder

good cocoa is great, but I used Hershey's here

1

Tablespoon

espresso powder

Pinch

of salt

½

teaspoon

baking soda

¾

teaspoon

baking powder

4

large eggs

1 ⅓

cups

sugar
Instructions
Preheat oven to 350F.

Whisk together (or sift) the flour, cocoa, espresso powder, salt, baking soda and baking powder together in a medium sized bowl and set aside.

Beat eggs lightly in mixing bowl with whisk or in an electric mixer. Beat in the sugar until just blended.

Stir in the flour mixture until the dough just comes together (don't over mix). Fold in the nuts and chocolate chips until just combined. If the dough looks too dry, add a few drops of water to make everything come together (this may depend on your flour).

Divide the dough in half and place one portion on a lightly floured work surface (I used parchment paper and dusted it lightly with flour). Wet hands slightly, then pat the dough into a flattened log shape, about 12 inches long and 4 inches wide. Repeat with second half of dough (you can cook them side by side on a large baking sheet). I like to dollop out the dough and just flatten with my hands since the dough isn't "rollable".

Bake for 15-20 minutes or until firm to the touch. Remove the baked logs and let cool for about 5 minutes, then cut on an angle into ½ inch slices with a serrated knife. Once cut, lay the the cookies down on the cut side, then return to the oven for another 10-15 minutes or until crisp and dry.

Let cool completely. If desired, melt some chocolate for a drizzle, or dip the ends in for an even more decadent treat!
Bon appetit!