If you're looking for something delicious and healthy, search no further friends. Bacon and creamy goodness to the rescue. And, it's dairy free. Whoa.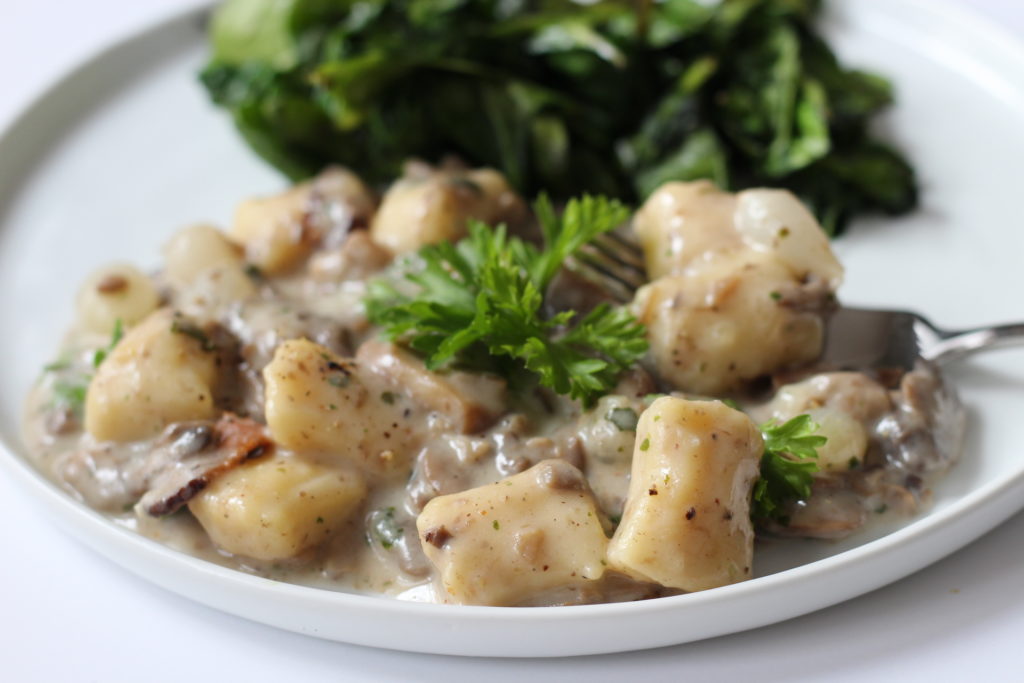 This gourmet pasta dinner came about when I bought a box of Cappello's paleo gnocchi at Whole Foods several weeks ago with a pumpkin pasta recipe in mind. I had used the normal pasta before and loved it, but now I wanted to try the gnocchi. Pillow of airy goodness - can't go wrong. It was definitely a splurge purchase, but worth it!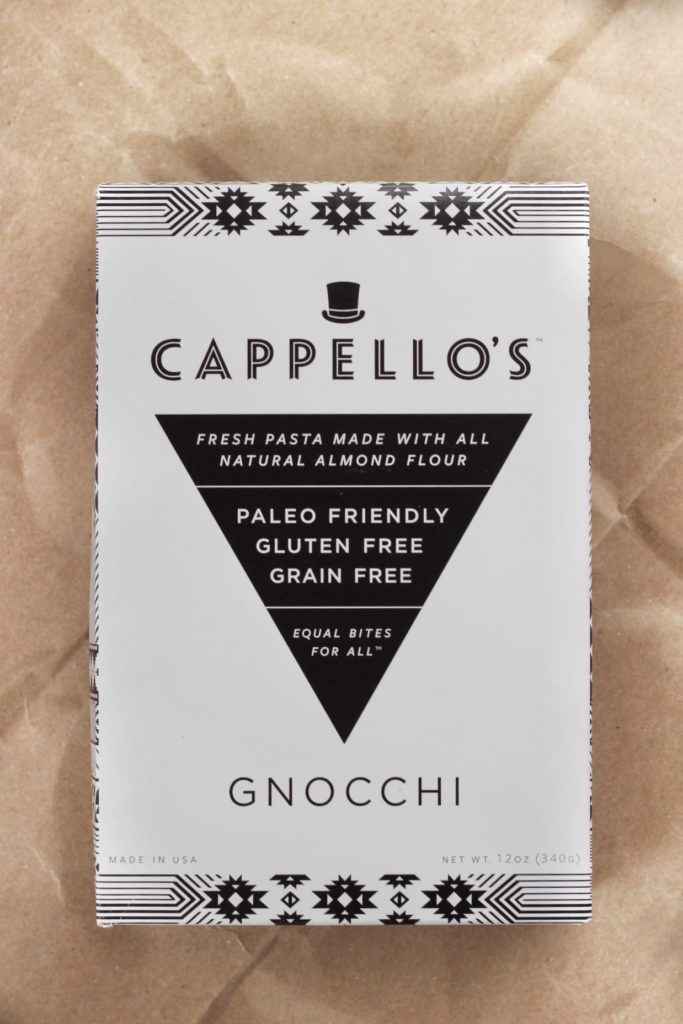 I've made my own gnocchi before, too, which isn't too hard, but these are great if you on the go and want something paleo + premade. Regular pasta or gnocchi would be great as well.
Okay - back to the inspiration. I was searching through my freezer and found some delicious Trader Joe's mushrooms I had bought on a whim and pearl onions, leftover from my beef bourgignon. Frozen veggies are just the best, they come in so handy when you least expect it!! You can definitely use fresh vegetables, but frozen makes it a bit easier if you're not sure when you'll cook it. This plus a few bits of bacon, salt, pepper, parsley and coconut milk = awesome sauce (literally...).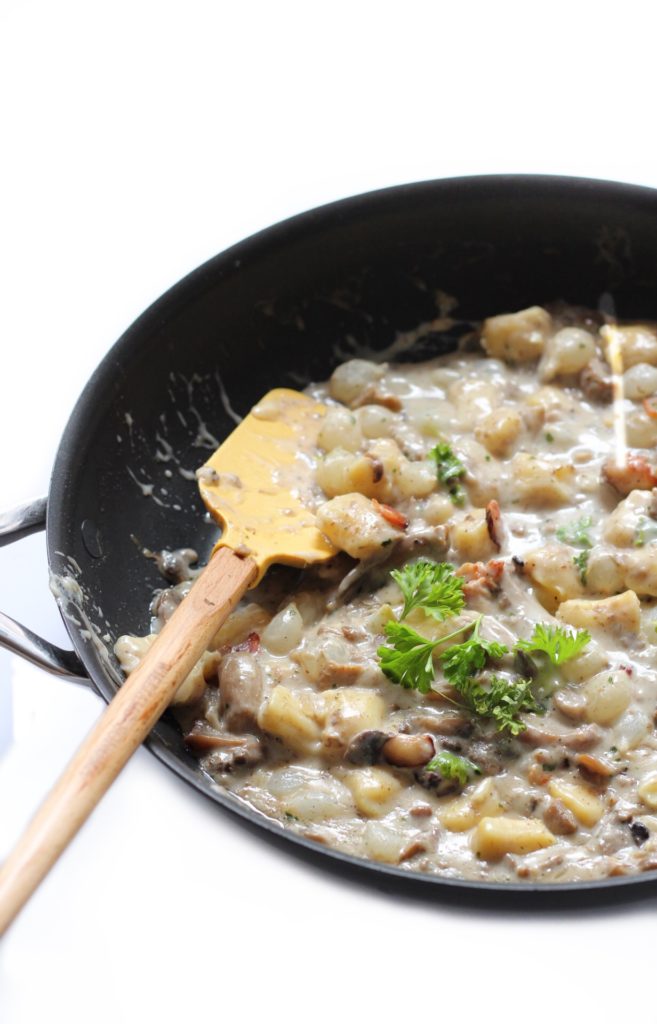 If you're worried the coconut milk will be too coconutty, like me, fear not!!! It becomes just a light creamy sauce and kind of absorbs the flavors around it. I was surprised how easily this came together and how great the flavors worked together. One more pan pic so you can see how much delicious is ahead of you.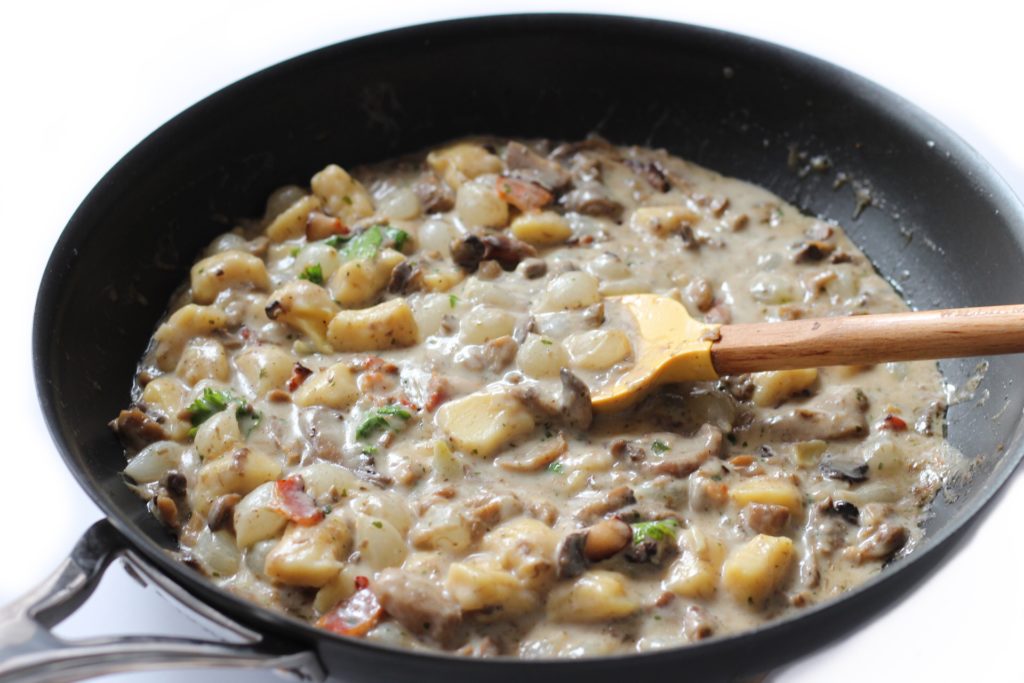 I served mine with a side of spinach sauteed in coconut oil. Another light veggie like broccolini would be delightful, too. If you need a bit more protein I might suggest a runny egg on top.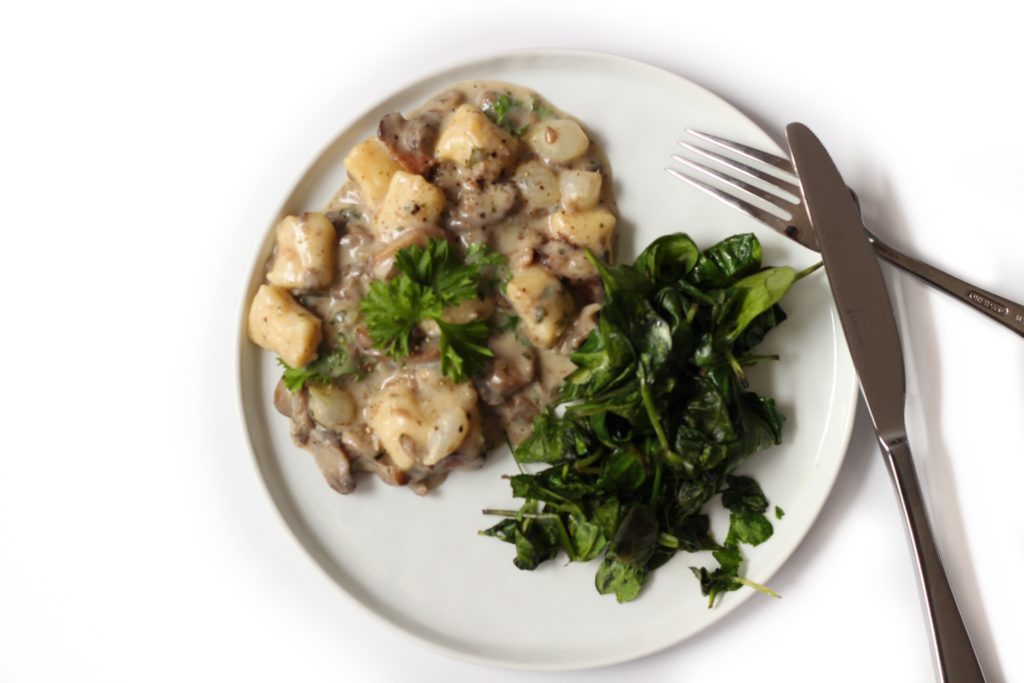 Don't forget to create a slurry for this recipe - it keeps the sauce from getting lumpy!
Creamy Paleo Mushroom + Bacon Gnocchi
You won't even notice this creamy pasta sauce is dairy free. Serve in with any pasta you like, or use a grain free version to keep this dish paleo friendly!
Ingredients
2

slices

bacon

diced

1

cup

pearl frozen pearl onions or 1 cup diced onion

2

cloves

of garlic

diced

12

ounces

sliced mushrooms

¾

teaspoon

salt

½

teaspoon

fresh ground black pepper

2

Tablespoons

arrowroot flour

¾

can full fat coconut milk

Parsley

for garnishing

1

box Cappello's paleo gnocchi

or other pasta (about 12 ounces)
Instructions
Cook the bacon until slightly crispy, then transfer to a plate using a slotted spoon or fork.

Leave a bit of the bacon grease in your pan to cook the onions and garlic. Add both and cook until onions are soft and garlic is fragrant.

Add the mushrooms and cook until soft. I used frozen onions and mushrooms so once they defrosted in the pan, this didn't take long. Add the salt and pepper.

In a separate bowl, create the slurry - combine the arrowroot flour and a splash of the coconut milk, whisking until smooth.

Add the slurry to the onion and mushroom mix, then add the remaining coconut milk. Making the slurry first will ensure that the liquid isn't lumpy when you add it.

Let the liquid come to a gentle simmer, then cook for a few minutes on low, stirring occasionally. The sauce should thicken nicely at this point. If it looks too thick, add a splash more of the milk. Add in the bacon at the end.

Meanwhile, boil water for your pasta. Cook your pasta according the package, taking off a minute or two of cook time since they will cook more in the pan. I boiled my gnocchi for about 2 minutes.

Transfer pasta to the big sauce pan and stir in. Revel in the beauty of your cream sauce.

Garnish with parsley and enjoy!
Notes
Notes: I recommend serving this with greens on the side (spinach or broccoli would be great!) and a runny egg if you need extra protein.
Bon appétit my friends!