Guys!!! Today I'm sharing one of my more delicious bowl creations in a while. Bibimbap!!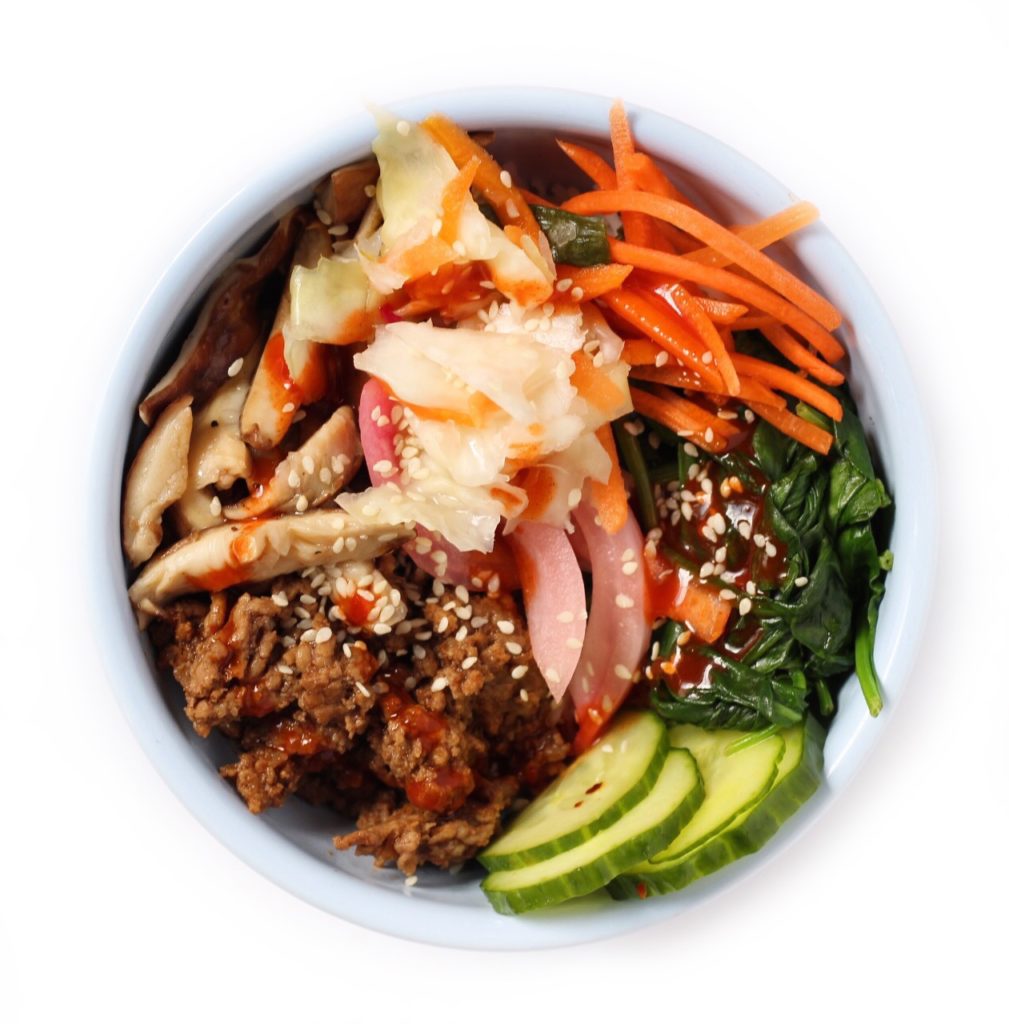 Or bimbimbap if you're like me and didn't know how it was actually spelled. If you haven't heard of it, it's kind of like a Korean rice bowl with lots of good toppings - veggies, meat and kimchi are common. I've been seeing photos of Asian bowls lately and wanted to make my own to partake in the goodness.  I've also trying to add more fermented things to meals since they're just so good for you, so this just seemed right...Pickled cucumbers, kimchi, oh my. I found a recipe over at Budget Bytes that I liked and tweaked it based on what I had on hand and some other recipes I'd seen.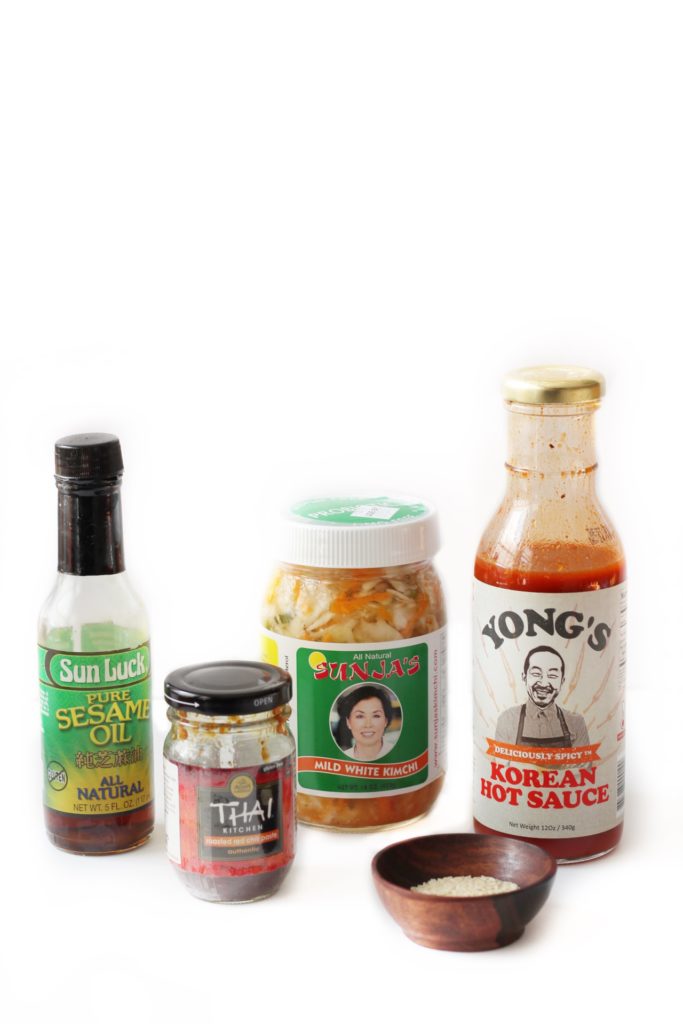 Here's the equation to make the magic happen: seasoned beef + veggies + rice + condiments = DELICIOUS!
First step was cooking beef. I used some Thai chili sauce that I had, along with a dash of coconut sugar, soy sauce and my favorite new Korean hot sauce, Yong's Go Chu Jang, Deliciously Spicy Korean Hot Sauce
. So good. I made the meat the night before  to do a little meal prep and it worked out great - I just ate it on its own with a little avocado and salad for dinner, and then I didn't have to cook it the next day! I got two pounds of meat (!) and cooked it all up at once so we could have this throughout the week as leftovers. Just this + sauce is delicious on its own.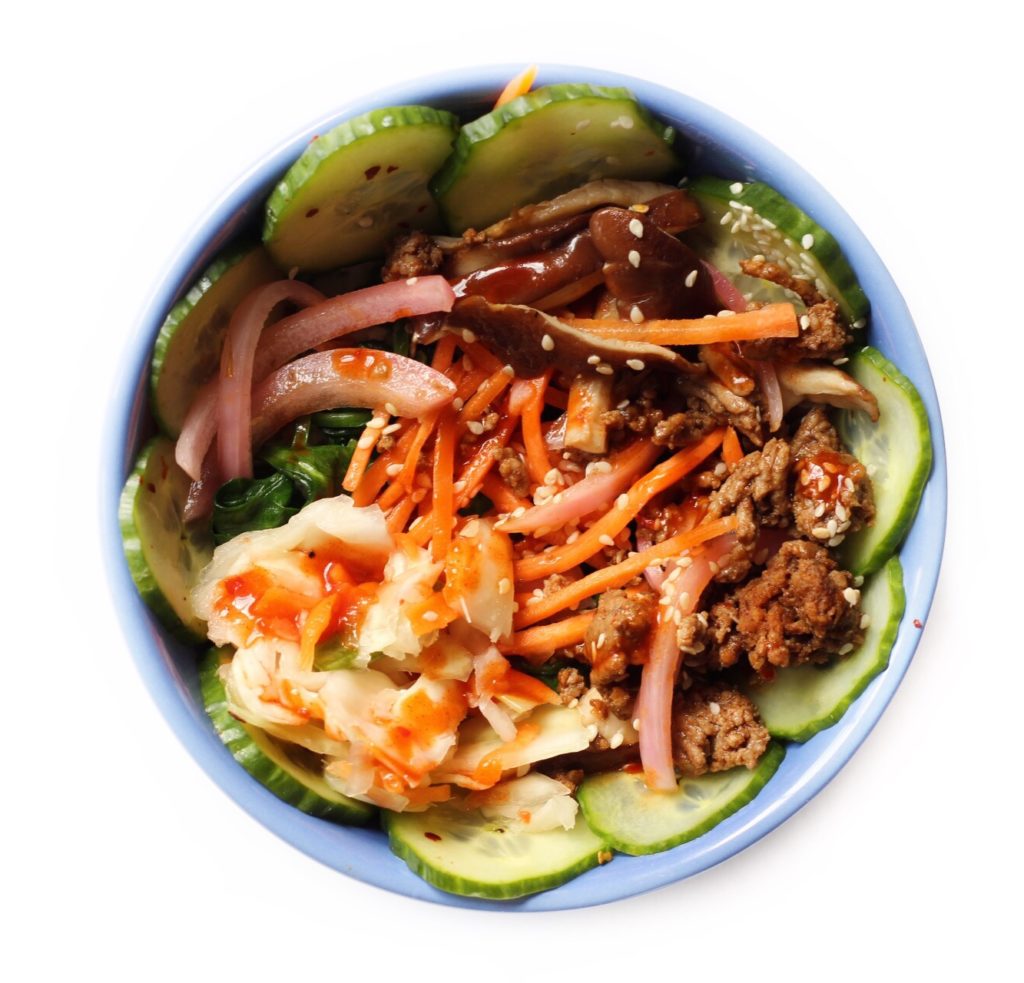 Next stop: veggies. Sauté some mushrooms (I used shiitake) in a little canola oil, adding sesame oil at the end for a extra flavor. Next I threw in some spinach in the same pan, let it wilt, then added a touch more sesame oil.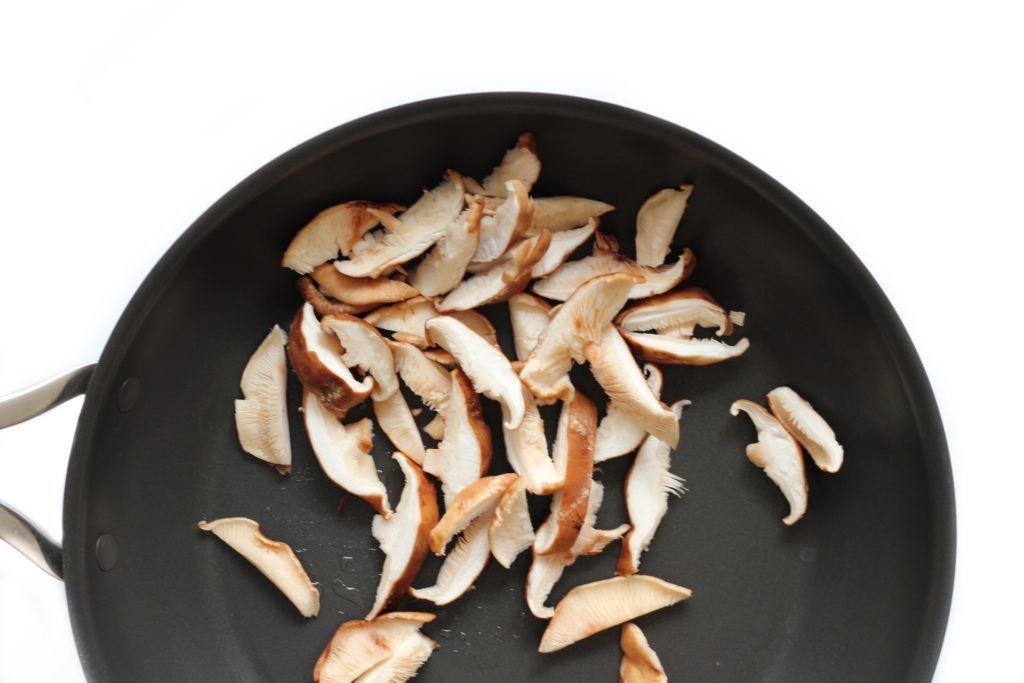 Final stop, toppings. I got the carrots pre-cut from TJs and added some kimchi (Whole Foods - but I bet you could find a bigger one at an Asian grocery store) and cucumbers. To make a little cucumber dressing, I tossed the sliced cucumbers with some rice vinegar, dash of sugar and red pepper flakes for a bit of a kick. So simple and tangy.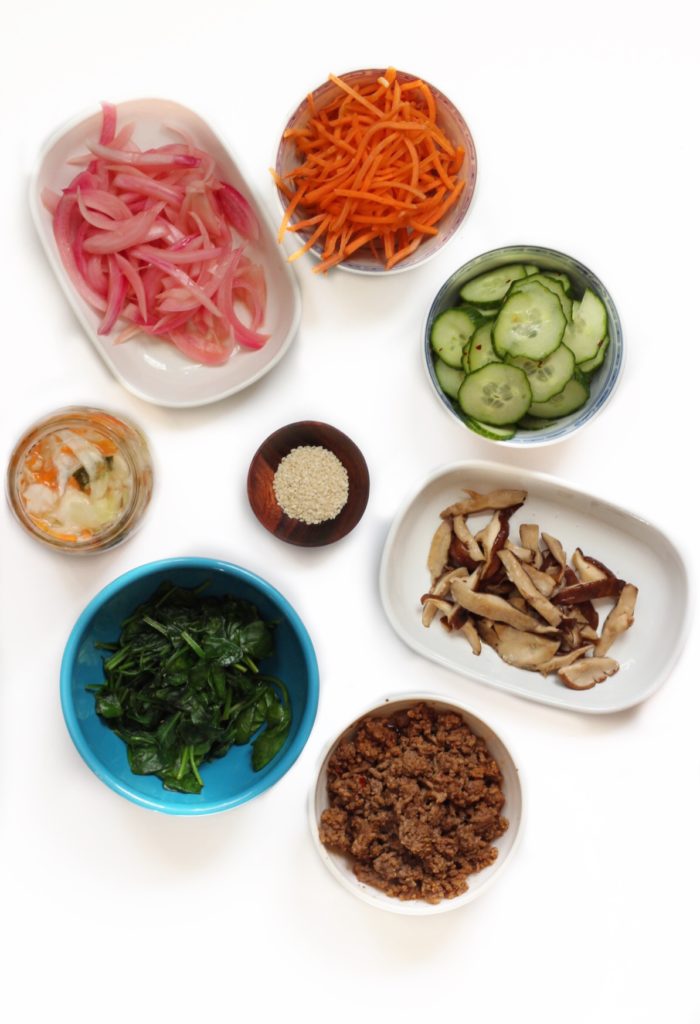 This bowl is really pretty flexible - you could leave out the meat to make it vegetarian, or use other veggies that you have on hand and toss them in a similar vinaigrette or with more hot sauce. We're out of rice after the first serving so I'm thinking about trying this with quinoa next.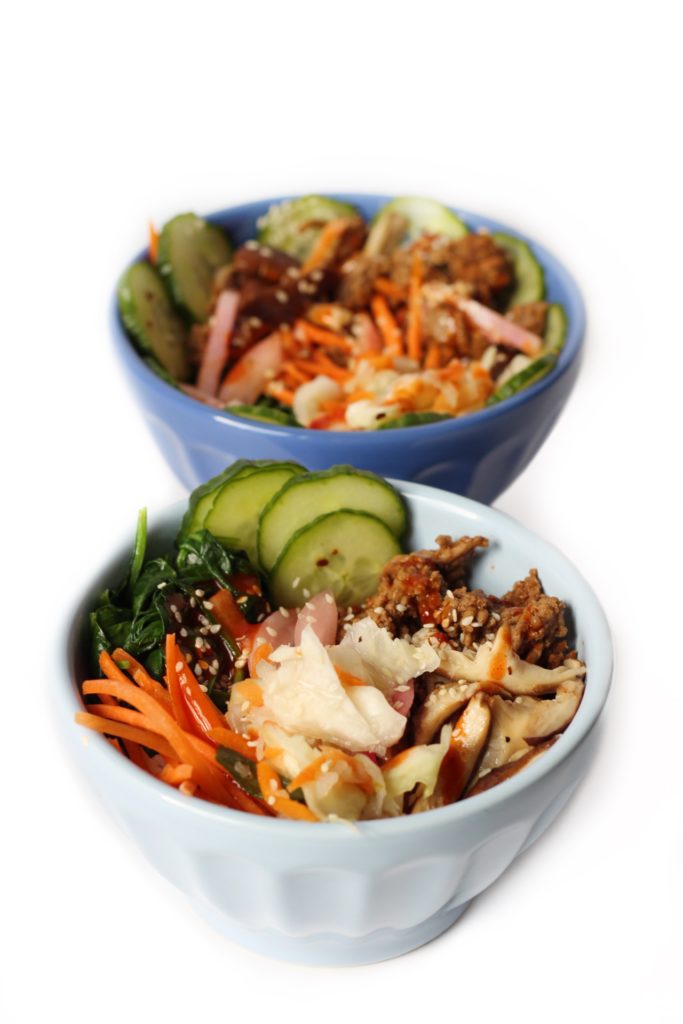 We added runny eggs at the end but didn't want to cover up all the delicious veggies underneath :). This way, though, the yolk is evenly dispersed underneath. Win!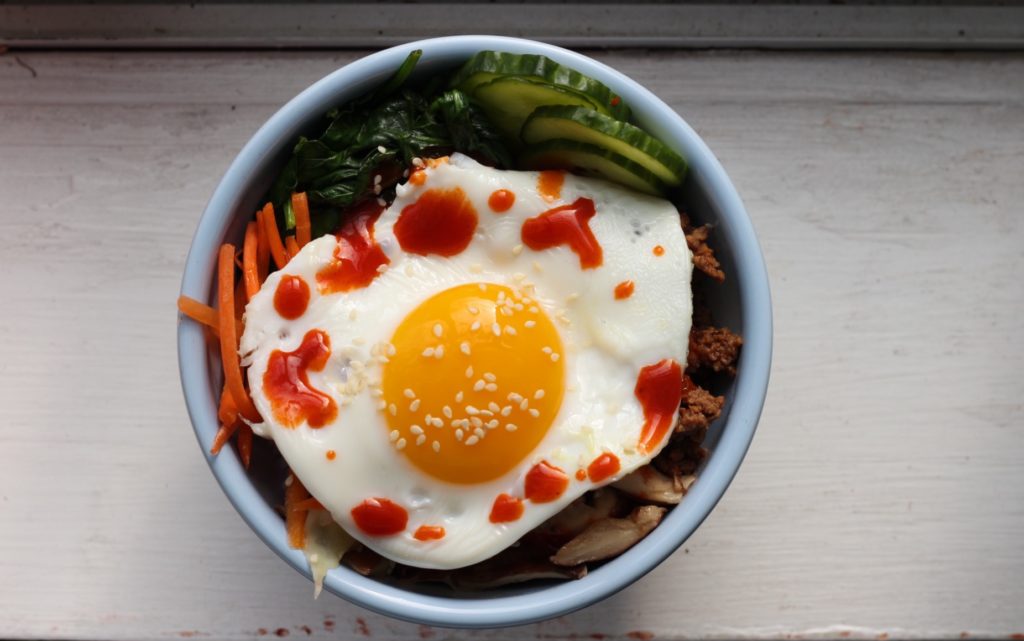 I hope you'll enjoy these as much as we did, and feel free to make it your own by mixing up the toppings.
Bibimbap Bowls
An easy recipe for DIY bibimbap bowls with ground beef, marinated cucumbers, shiitake mushrooms, kimchi and kale.
Ingredients
Rice Base
1

cup

dry white rice

Pinch

of salt
Meat
1

lb.

ground beef

1

and ½ Tablespoons soy sauce

1

teaspoon

coconut sugar

optional

1

Tablespoon

chili garlic sauce

or Thai chili paste

3

Tablespoons

Yong's Korean hot sauce
Marinated Cucumbers
1

large cucumber

sliced thinly

3

Tablespoons

rice vinegar

1

teaspoon

sugar

Red pepper flakes
Seasame Veggies
Shitake Mushrooms

Baby spinach or baby kale

Seasame seed oil

about 1 Tbsp total
Other
Carrots

julienned or cut thinly

Kimchi

Sesame seeds
Instructions
Prepare rice according to package.

Mix the cucumbers, rice vinegar, sugar and red pepper flakes in a small bowl. Toss to combine and set aside to marinate.

Add the ground beef to a large pan, cooking until fully browned. Add the chili garlic sauce, coconut sugar if using and Korean hot sauce. Set aside.

In a separate pan, saute the mushrooms with a teaspoon of canola oil. Once they've reduced a bit and cooked well, add a splash of sesame seed oil (½ tsp or to taste). Set aside.

In the same pan, saute the spinach or other greens until just wilted. Again, add a splash of sesame seed oil to taste.

Fry an egg à la gooey egg technique to add on top.

Make your bowls! Use the rice as a base, then add the meat, greens, mushrooms, cucumbers and other toppings (carrots, kimchi). Top with the runny egg, sesame seeds and another splash of the hot sauce.

Mix to combine it all together for some serious noms. Dig in.
Bon app!