Hi friends! Popping in to share this delicious - and super easy - smoked salmon tartine! A French classic, with a base of good bread, this open faced sandwich is sure to delight.
As many of you know, Pedro and I are in France for a few months. We're pursuing a long time goal of living and working here, taking our time to really enjoy our friends, work on our French, visit the country and keep up our French. Part of our adventure has been staying with some of our dear friends, and consequently cooking lots with them. It's been a blast, and we're certainly eating well. It's been interesting adapting to all the different food options here - NO kale has been spotted yet!!! And I'm having bread for breakfast instead of eggs. What?
Instead, we're finding all the delicious local things to enjoy. We've had a lot of yogurt as after lunch snacks, and we're trying to test out some more local fish. Hence this inspiration for this dish! We made these tartines for lunch and found that it was a perfect light afternoon meal. Serve it with a salad or garnish with greens for an even simpler option.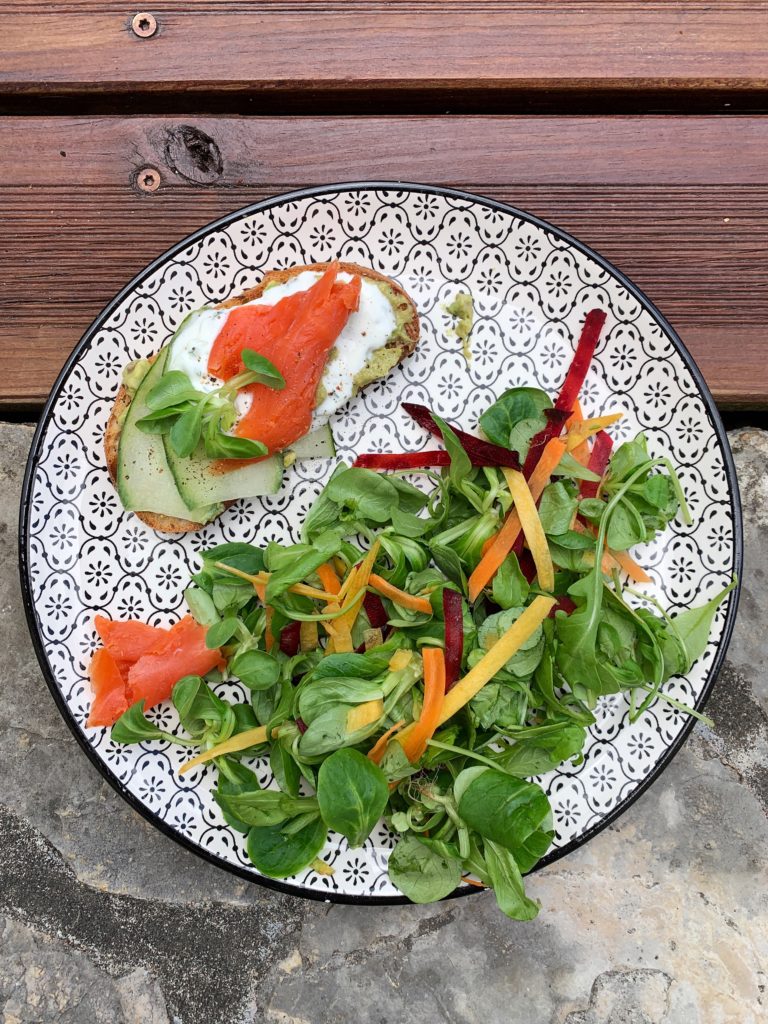 Smoked Salmon and Avocado Tartine
A quick and easy recipe for smoked salmon and avcocado tartines with a yogurt and cucumber spread.
Ingredients
8

slices

whole grain bread

2

Tablespoons

extra virgin olive oil

1

cup

Greek yogurt

⅓

cup

cucumber, diced

1

avocado, sliced or mashed slightly

1-2

Tablespoons

lemon juice

salt and pepper

to taste
Instructions
Heat oven to 400F (200C).

Brush each side of the bread with olive oil. Place in the oven to crisp slightly, 3-4 minutes. Flip and let cook 1-2 more minutes. Keep an eye on your bread – you want it golden brown but not too crispy! Remove and let cool.

Mix the yogurt with lemon juice, adjusting to taste. Mix in the diced cucumber, salt and pepper.

Top the toasts with avocado, followed by the yogurt spread, smoked salmon and any remaining cucumber. Enjoy!