There are affiliate links in this post, if you make a purchase after clicking one of these links, I will receive a small commission at no additional cost to you. Thank you for supporting French Pressed Kitchen through your purchases!
Bread for DAYYYYSSSS is what these popovers scream.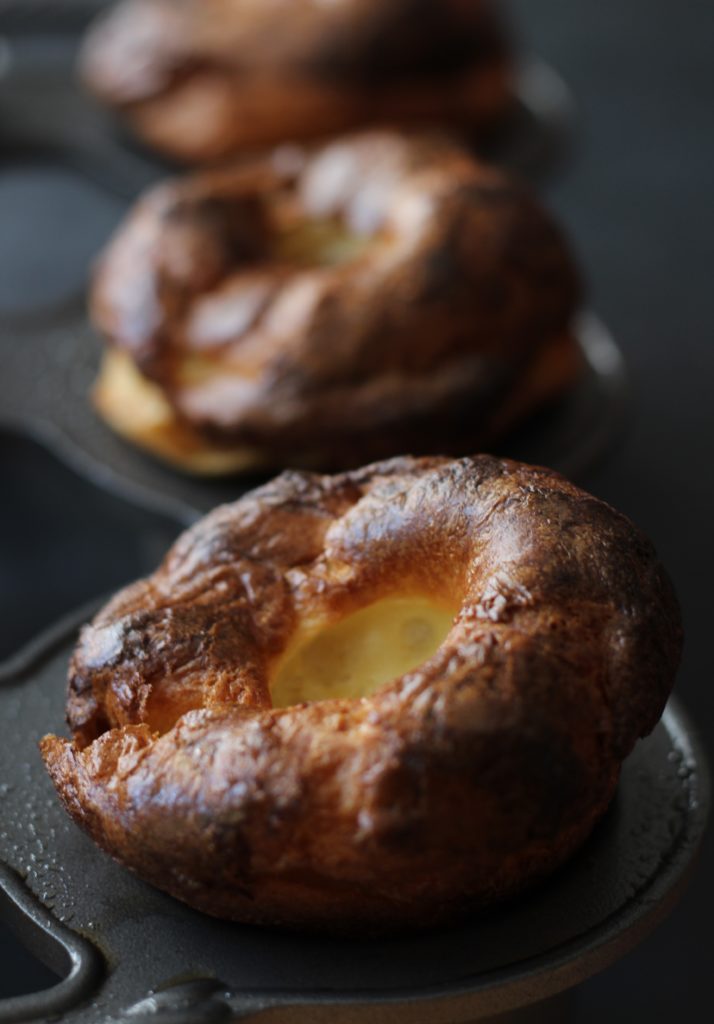 Popovers are a treat I remember from my childhood growing up in a small town in New Jersey. The local bakery / store in town (yes there was only one) made them and I remember them in my mind being SO SO good. Such a treat! I rediscovered them in college when I learned they were actually "a thing" and there were special pans made just for them!!! What!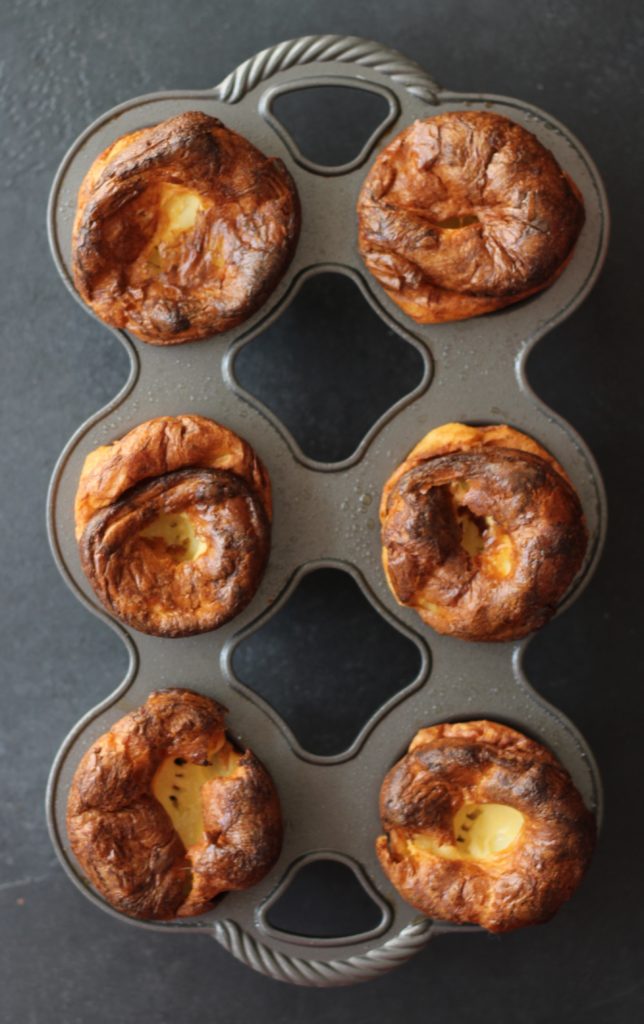 Nom. Cue popover re-entry into my life! I made them a few times in college and on special occasions since, but it had been a while since I made them.....until last weekend. I hadn't made them in so long because they're mainly white flour and milk - things I'm avoiding lately - and have never tried them with any alternate ingredients. I was afraid I would ruin them with any healthier changes 🙂
On a whim, though, I decided to make them for the 3 day weekend as a treat a guests who had come over for breakfast. I tried them with the Trader Joe's gluten free flour blend in place of all-purpose, lactose free milk, and Earth Balance instead of butter. (If you don't have a TJ's near you I think this Bobs Red Mill
 blend would be great too). Note: they are *perfect* with the original recipe, but I was SO excited about how good they turned out with these changes. And by good I mean flaky, butter and TALL! That's usually a problem with non-white flour baking - things don't seem to rise or brown as well. These guys, though, no problem. Serve with butter and jam and you'll be SET.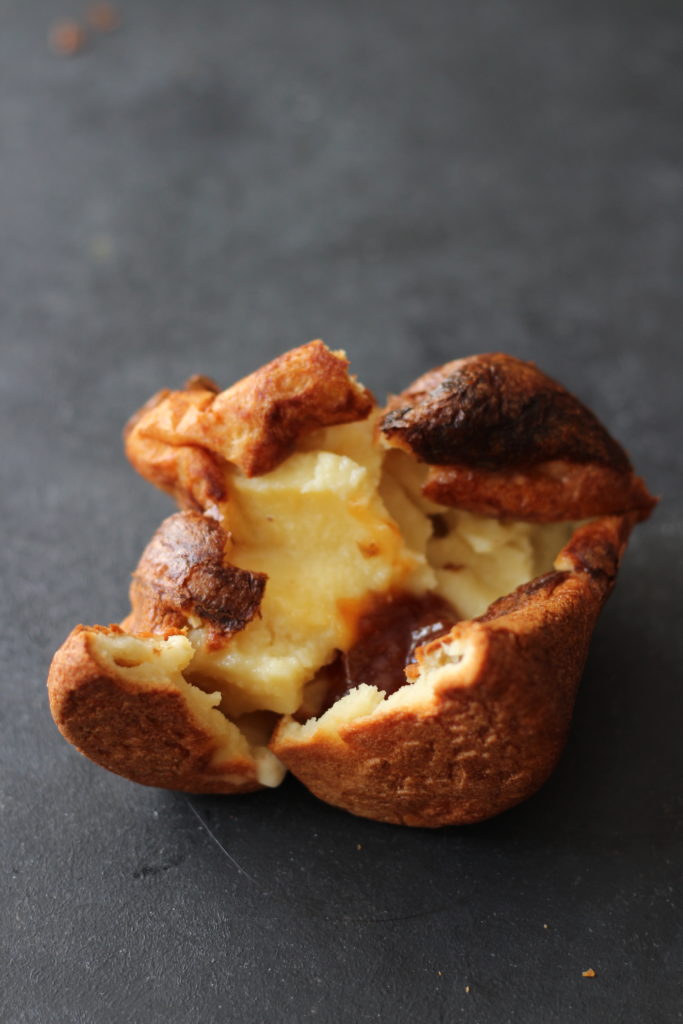 There are a couple key factors in cooking popovers you should know if you haven't made them before. One, start the oven super hot - 450 degrees F!  This helps the immediate rise. Two, don't peek during baking! You have to reduce the temperature at the halfway point, but you don't want to open the oven before 35-40 minutes lest these beauties collapse. Finally, I highly recommend a good pan, like this Nordic Ware
one, so you are working with those deep muffin pockets. I need to try regular muffins in this pan...I think they would be divine!
Anyway, on to the recipe because you just need to make them now. It's adopted from King Arthur recipe with some of my notes....Try them out and tell me what you think!!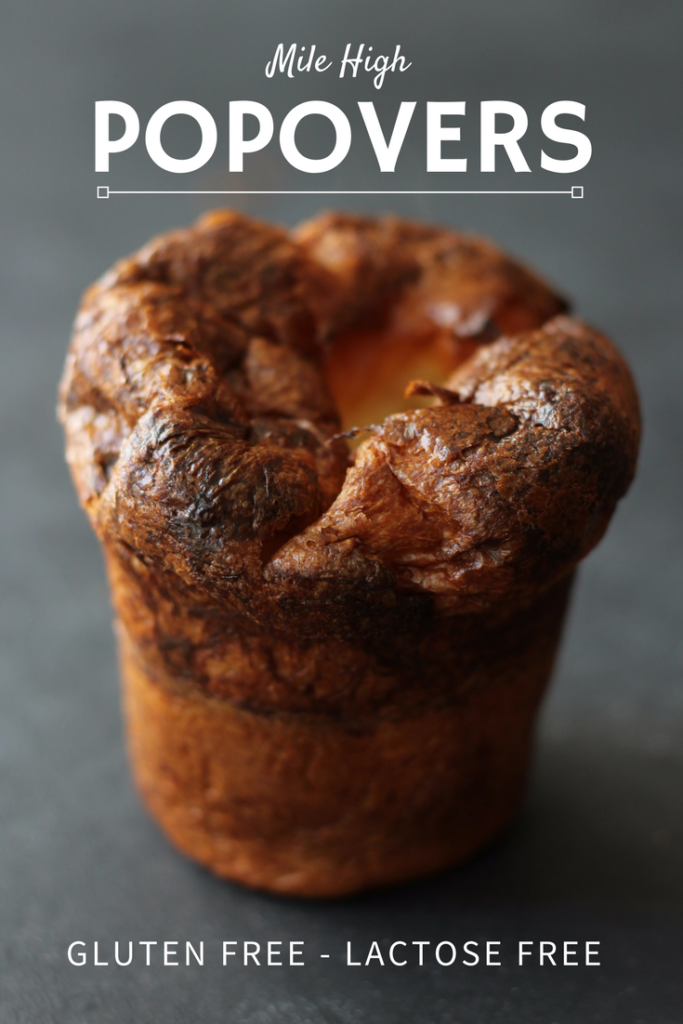 Breakfast Popovers
These egg-y breakfast popovers are a true weekend treat! They require just a few simple ingredients but are a truly delightful treat you will want to make over and over again! This recipe is adapted from King Arthur Flour.
Ingredients
4

large eggs

room temperature (I keep them out overnight)

1 ½

cups

2% lactose free milk

½

teaspoon

salt

1 ½

cups

Trader Joe's gluten free flour blend

3

Tablespoons

Earth Balance

melted
Optional Add Ins
¼

cup

Shredded cheese

1

teaspoon

herbs or other spice
Instructions
Preheat the oven to 450 degrees F. Make sure your rack is low enough for your popover pan!

Grease the popover pan well with a bit of oil, butter or Earth Balance.

Beat together the eggs, milk and salt in a KitchenAid mixer or with a hand mixer until well combined (no egg yolk streaks). Add the flour and whisk until there are no lumps; be careful not to overbeat (30 seconds should do it). With the mixer running, pour in the melted Earth Balance until just combined. If using any add-ins, stir these in at the end.

Pour the batter into the pan, about ⅔ full or until evenly distributed. Into the oven: place the pan on the lower rack and close! This is the part where NO PEEKING begins!

Bake the popovers for 20 minutes at 450 degrees F, then lower to 350 degrees F and bake for 15-20 minutes more. Don't peek until the very end of the cooking time! This will ensure that they don't collapse.

Once the popovers have browned and risen nicely, remove and serve immediately. You can poke the tops with a fork to release some steam so they don't get soggy inside. Best eaten right away!
Notes
You could also mix this recipe up in a blender to make it even easier!
Bon appetit!