Does anything say cozy breakfast like a warm berry cobbler?! This dish is just perfect on a cold winter morning, but it would be equally good any time of the year with fresh berries and ice cream!! I mean...look at those biscuits.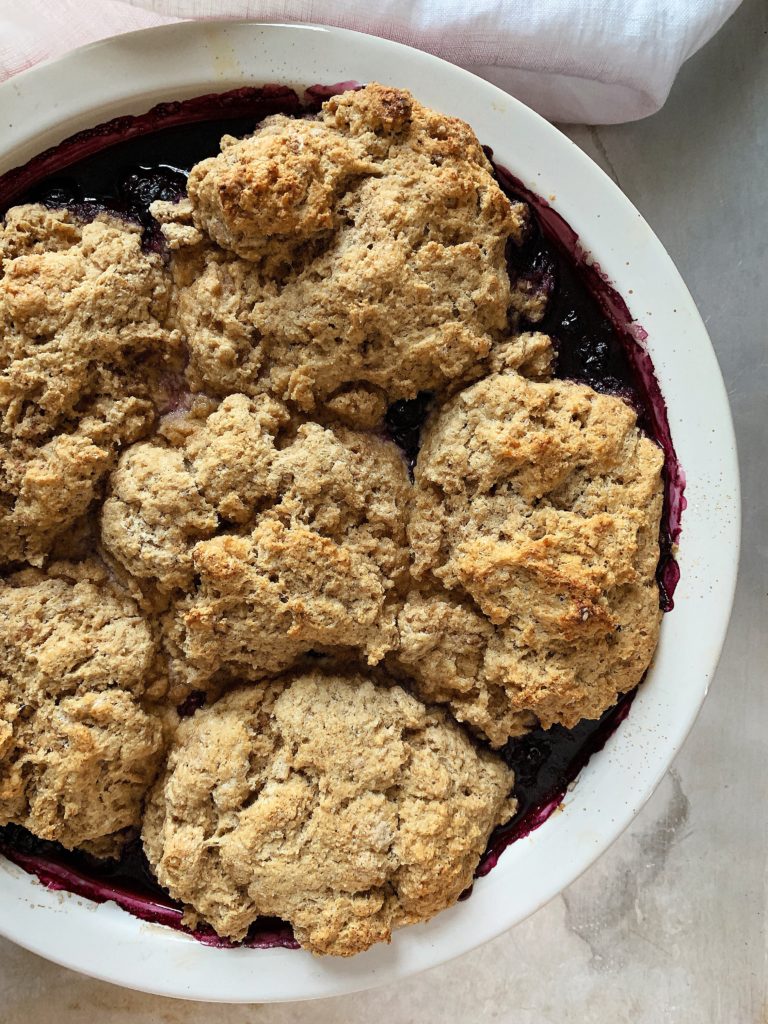 We had frozen berries from this summer to use up, and I was inspired to fulfill Pedro's biscuit dreams (they're his favorite food!) so I thought of combining the two in this breakfast dish. Blackberries and blueberries are the flavor stars here, but any type of berry or combination thereof would be delicious.
The biscuit topping is also simple and no nonsense - I loosely followed a few recipes I found on the web, but vegan-ized them a bit, and added a whole grain twist by using white whole wheat flour and a bit of almond flour. I couldn't resist adding a touch of cinnamon in the biscuits as well, to give them an additional hint of warmth. Basically everything you could ask for in a comfort breakfast but without any added sugars! You could halve this recipe for a smaller breakfast portion as well.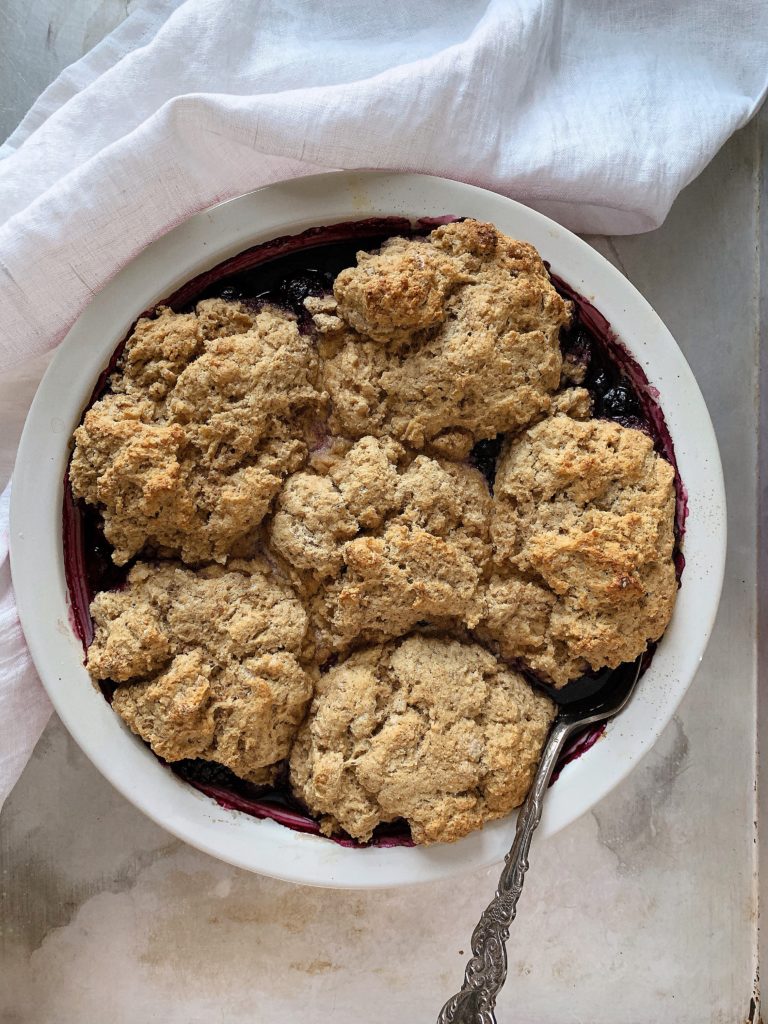 Vegan Whole Wheat Berry Cobbler
This is a straightforward recipe for a berry cobbler – adjust and make it your own!
Ingredients
2

cups

whole wheat flour*

4

teaspoons

baking powder

Pinch

of salt

¼

teaspoon

cinnamon

¼

cup

Earth Balance

or other butter

1

cup

almond milk

6

cups

berries

fresh or frozen

1

Tablespoon

arrowroot or corn starch

2

teaspoons

lemon

or lime juice
Instructions
Heat oven to 400F. Toss the berries in the arrowroot or corn starch and lemon juice. Add to a round baking dish or square tin.

Mix the flour, baking powder, salt and cinnamon in a medium bowl. Work in the butter until mixture is crumbly and butter is well distributed (like coarse cornmeal). Add in the milk and stir until just combined. Dough may be a bit sticky but that's okay!

Drop large ⅓ cup or so dollops of dough onto the berries. Cover the berries evenly. If you have extra dough you can fill in the open spots or bake a biscuit on the side (that will require only 10-12 minutes of baking time though).

Bake the dish for about 30 minutes or until juices are bubbly. Let cool for 20 minutes or so, then dig in!!
Notes
*Notes: I subbed in ¼ cup almond flour to make the dough a bit more moist. It was delicious!
Enjoy 🙂