Winedown July recap is here!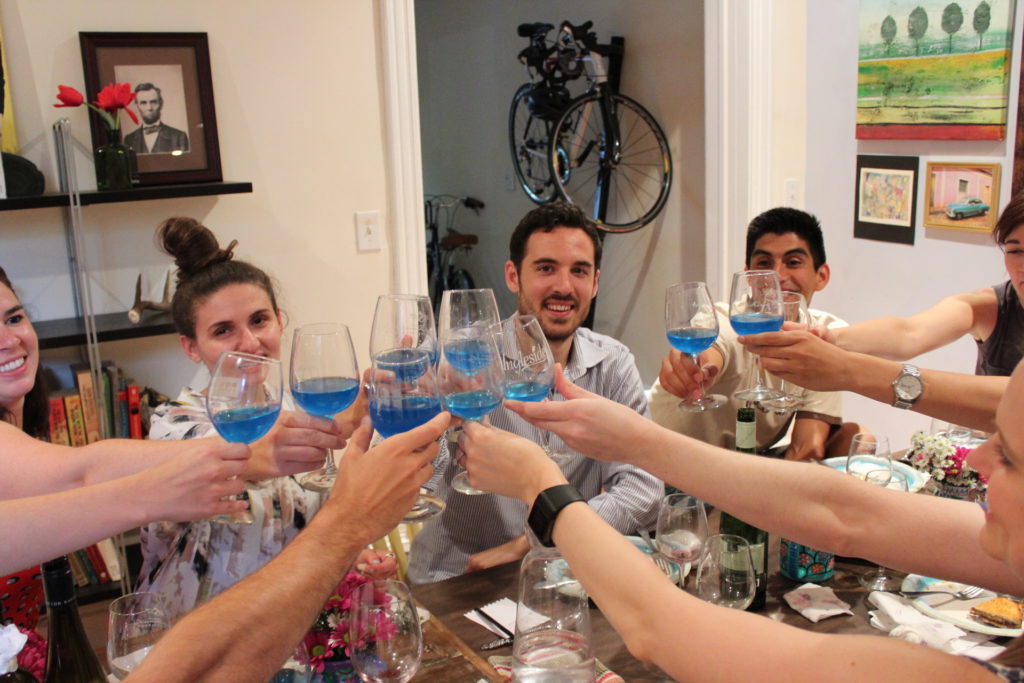 (Yeah...that's wine!)
It's been a busy month so this is coming just after month's close...but we made it with the first official recap ever!! If you don't know what Winedown is, check out my intro post here! The theme for July, chosen by the previous winner , Alya, was to pick a food or dish from a TV show or movie. We had lots of great recreations, with some taking the theme to the extreme. As always, the goal was to be voted the best food and wine pairing, meaning you pick the next theme and you don't have to cook for the next one!
Table, set, go!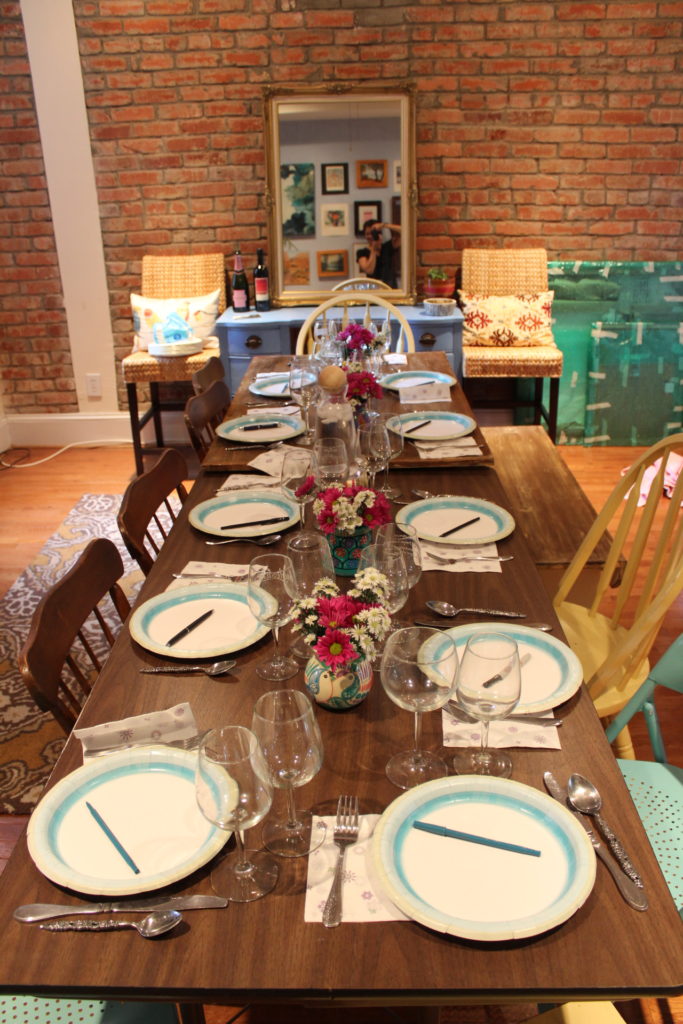 Here's was our run down for the Saturday night extravaganza. Note that it isn't easy to take pictures after drinking so much wine - I need to practice, but you'll get the food and wine highlights 🙂 As you read through...see if you can pick the winner! What do you want to try the most??
Dish 1: Forrest Gump's Bubba Gump Shrimp paired with a Vinho Verde from Portugal
Pedro rocked the lead spot with this ceviche dish, paired with a bright and crisp white wine. Perfect summer appetizer. Not the best shot but you can see those nice 'ol chunks of avocado in the bowl. I highly recommend the wine if you see it!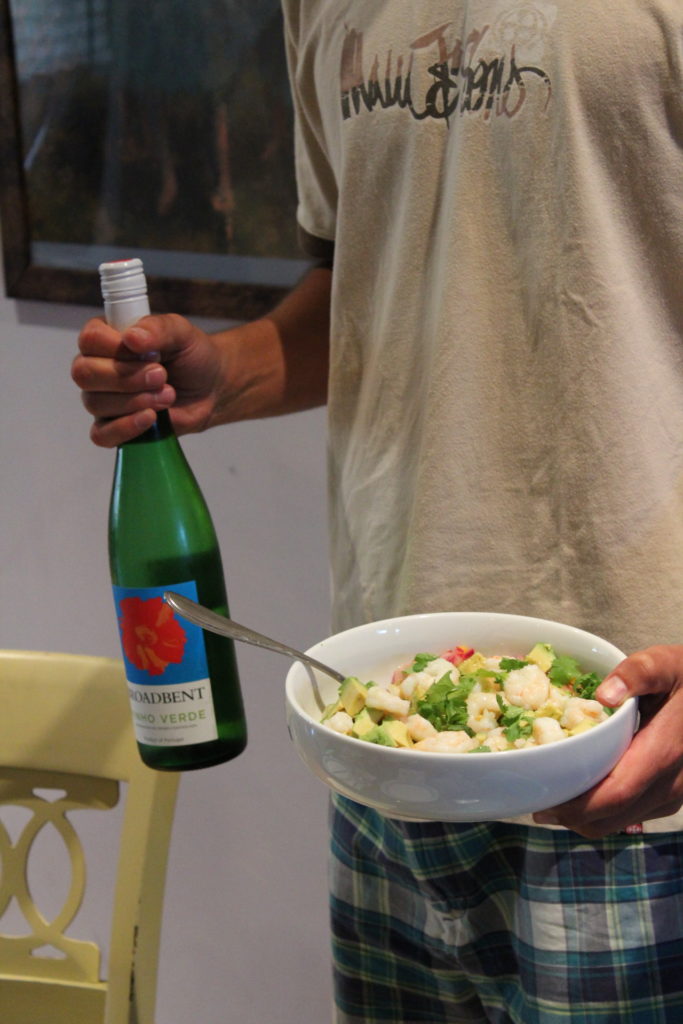 Close up!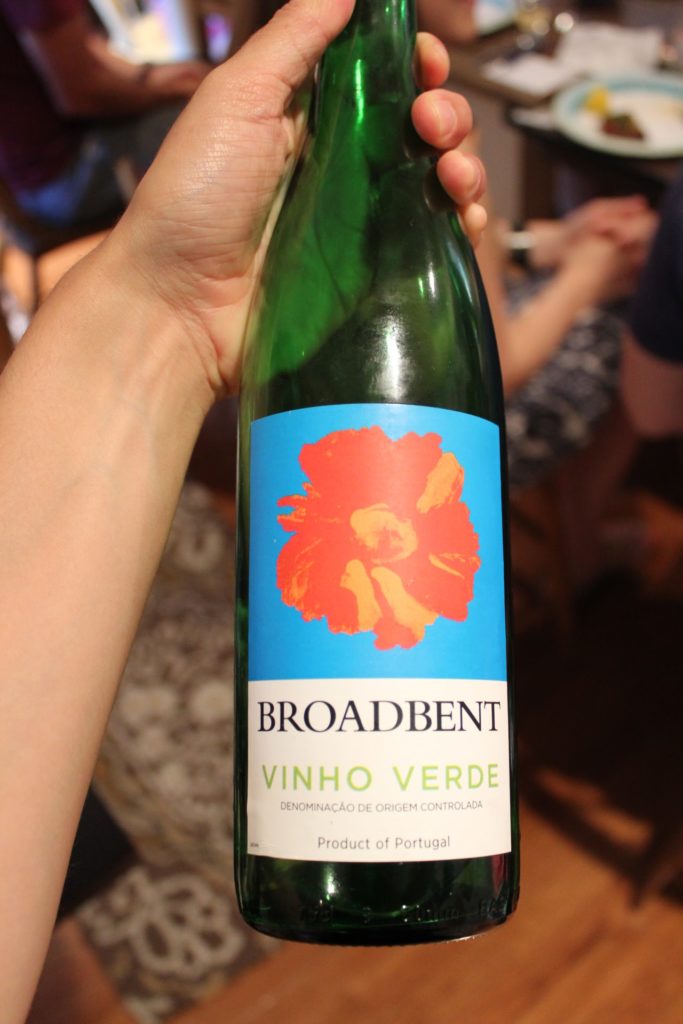 Dish 2: Waitress's I Don't Want Earl's Baby Pie paired with Picpoul de Pinet
Next up was Sarah's savory pie with another summer white wine. The "I Don't Want Earl's Baby Pie" was a super creamy quiche with ALL the cheese. So of course it was delicious with white wine! It came straight from the oven, served warm with love (hence the towel!!).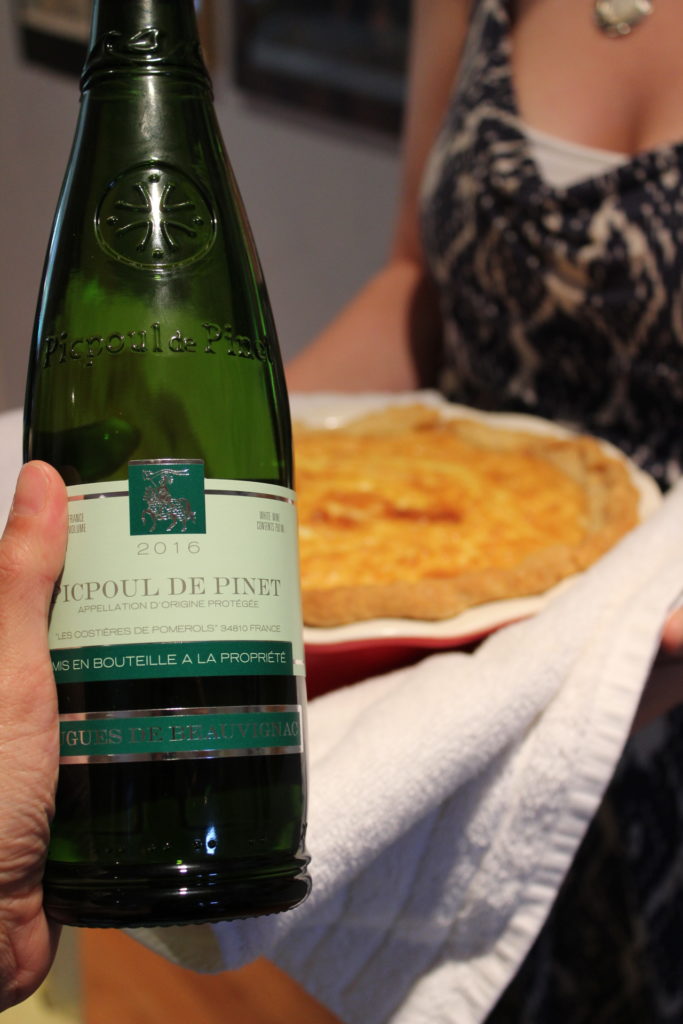 Dish 3: Sound of Music's Schnitzel paired with a Gruner Veltliner
Next up was McKinsey with schnitzel!!! Simple but so delicious. She served this breaded chicken with lemon zest and parsley which I thought was so great. We all enjoyed this wine as well! I got thirds of this. (Can you tell McKinsey is actually saying schnitzle? So authentic)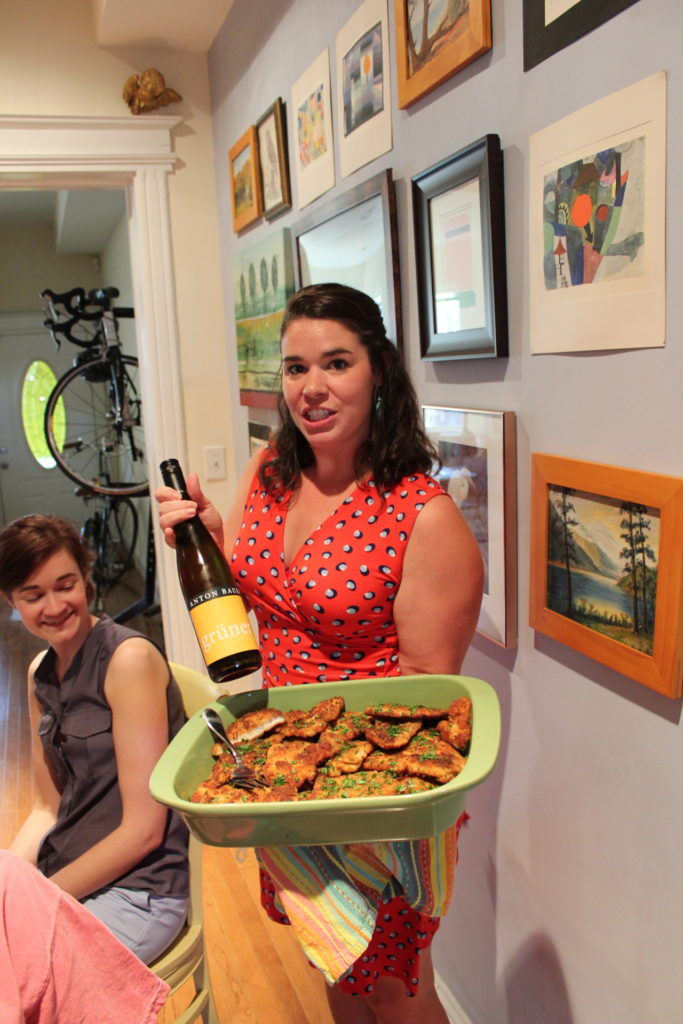 We had a lot of fun pronouncing (or trying to pronounce) this wine...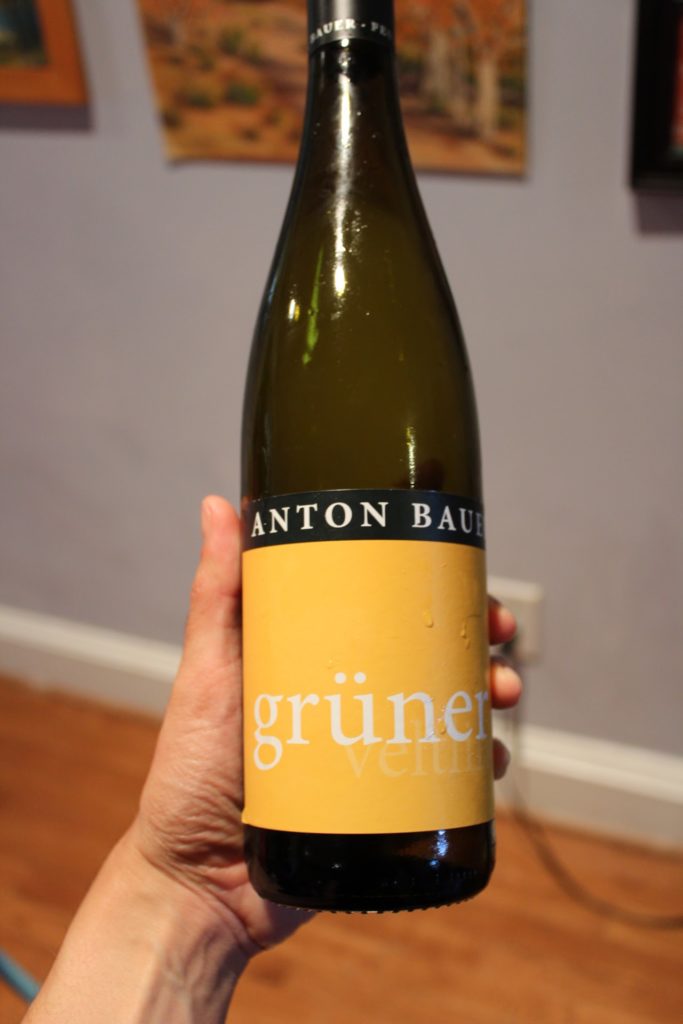 Dish 4: Wedding Crashers' Meatloaf paired with a sultry red
Next up was Jon with meatloaf (in ball form), inspired by Wedding Crashers, served with a Hey Mambo red California wine. I love the way these were served (so practical!) and also so delicious. I hadn't had meatballs in a while!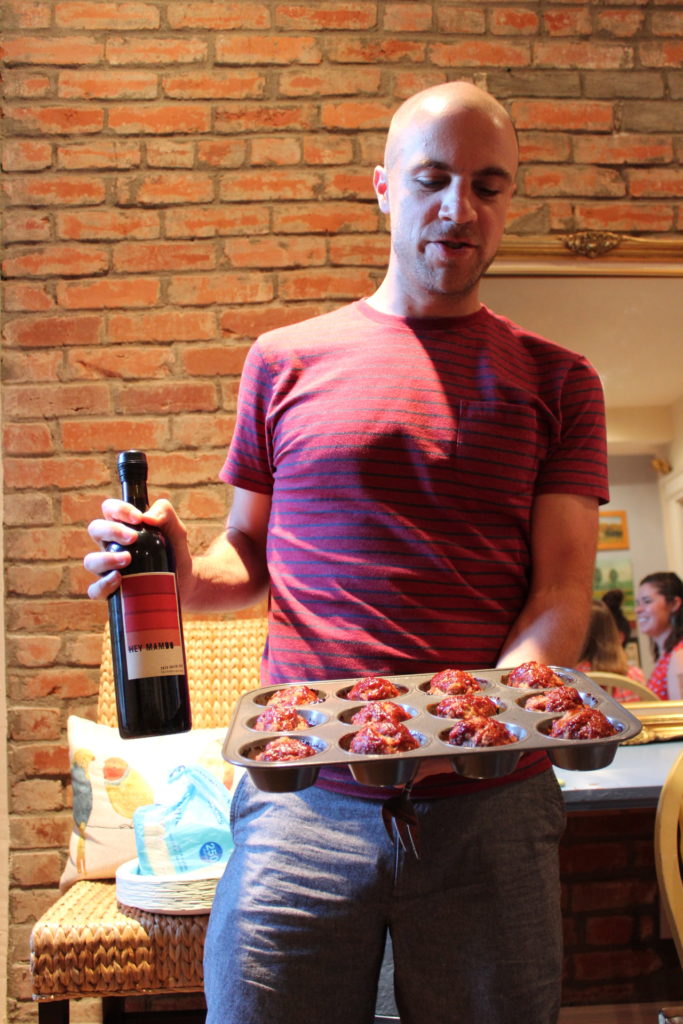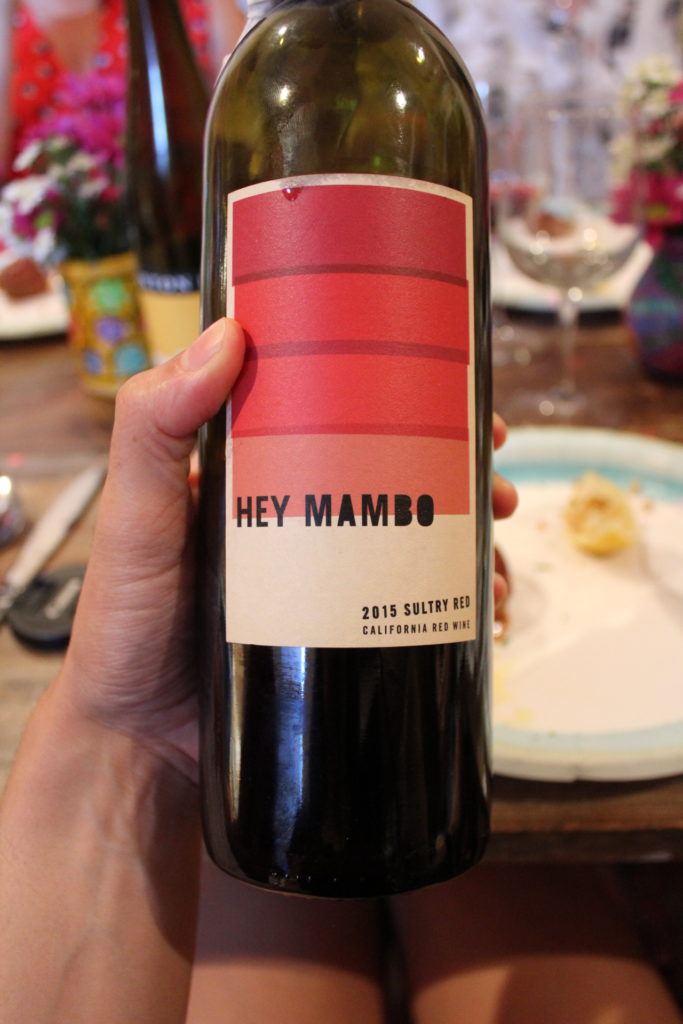 Dish 5: Orange is the New Black's Meatloaf with Prison Wine
Next up was KIM, bringing back the meatloaf them but with an Orange is the New Black theme. Her meatloaf was gluten and corn free (because she's allergic!) and had a tangy sweet apple cider sauce on top. So much yum. The wine was a base of Sauvignon Blanc, served à la theme in a plastic bag with fruit, because apparently that's how they ferment wine in the prison in the show?! Major creativity + theme points here. Also, who knew a bottle of wine only filled up this much of a bag??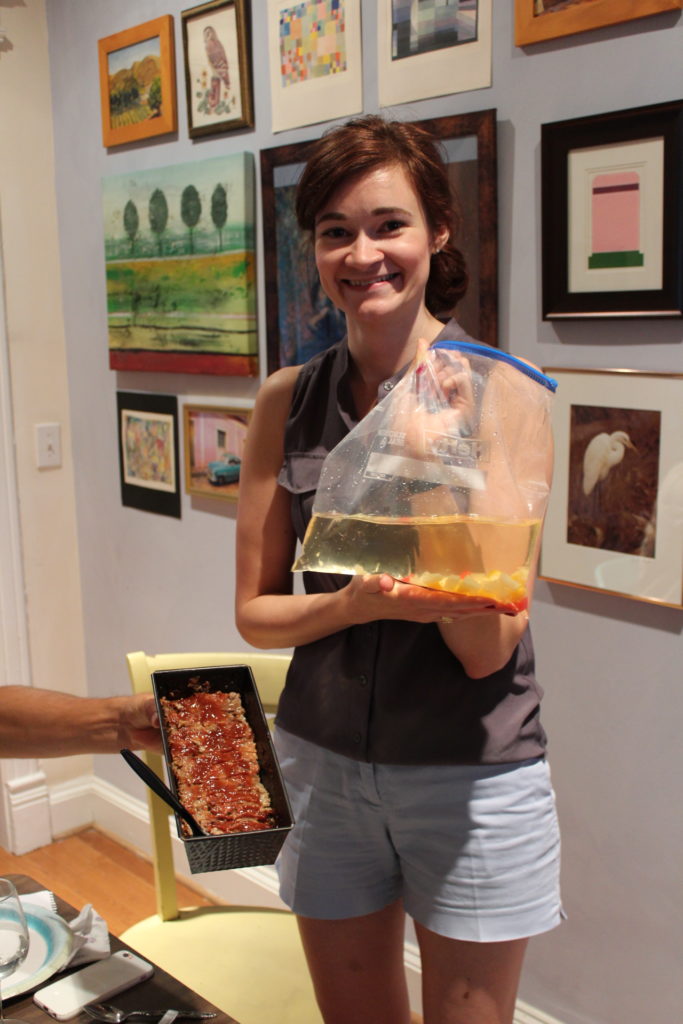 Dish 6: It's Always Sunny in Philadelphia's Grilled Charlie Sandwich paired with Riot Punch
Next savory stop: RAY! With the ridiculous blue drink (Gatorade, Prosecco, Blue Curaçao) and - wait for it - grilled cheese + peanut butter + chocolate. What?? Sounds so weird, right? This was actually a hit and way more tasty than the ingredients would indicate. Think sweet and savory peanut butter sandwich. I would totally have this again! Blue curaçao drink (see first picture above) was definitely different for us but we definitely enjoyed the theme execution!!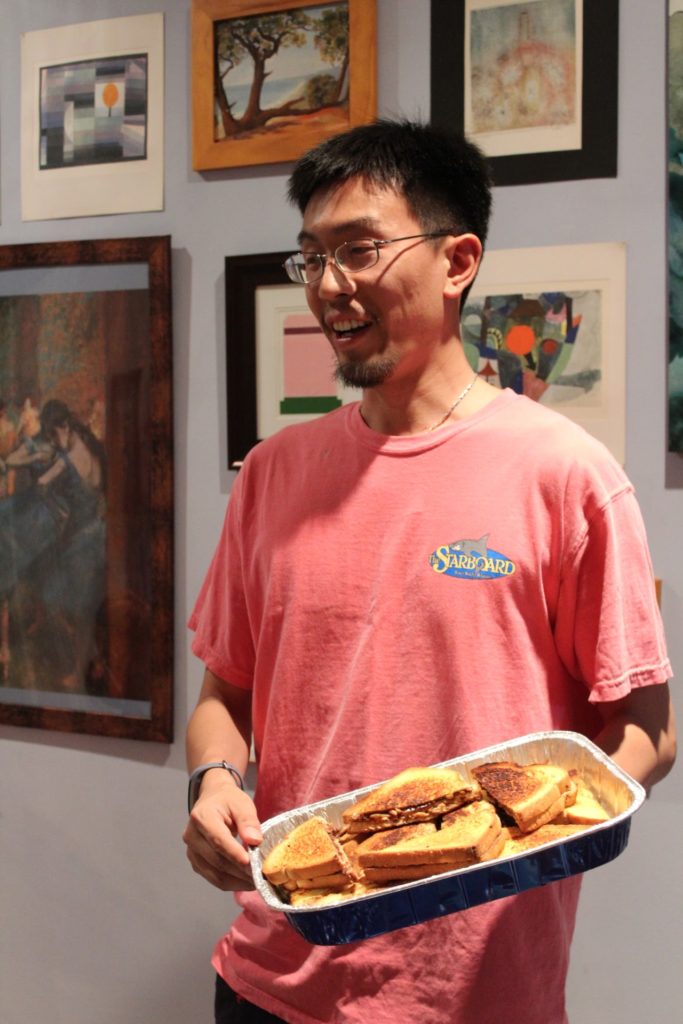 Dish 7: Willy Wonka's Blueberry Cake paired with Sparking Wine
Are we done yet? NOPE we're just getting to dessert. First in the dessert line up (um yes, how often do you get to have FOUR desserts?!) was Lauren with a blueberry icebox cake, inspired by the blueberry scene in Willy Wonka. I loved this idea and how the graham cracker layers of the cake turned out! Totally summery. Didn't get a picture of the sparkling (white) wine but I thoroughly enjoyed it and thought the bubbles went well with the sweet and creamy flavors.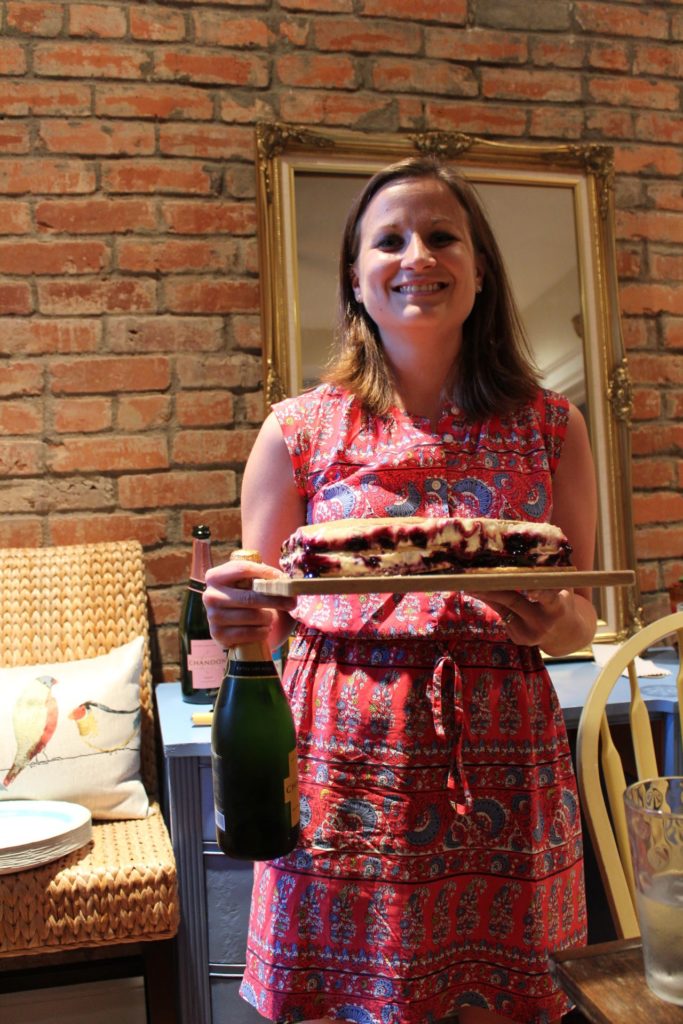 Dish 8: Chocolat's Chocolate Macarons paired with the 7 Deadly Sins Zinfandel
Next stop, chocolate. Or Chocolat, to be precise. Dan brought out the French game with macarons (first time making!) and a dry-ish red wine. The cookies (is it bad to call them that?) were a hit!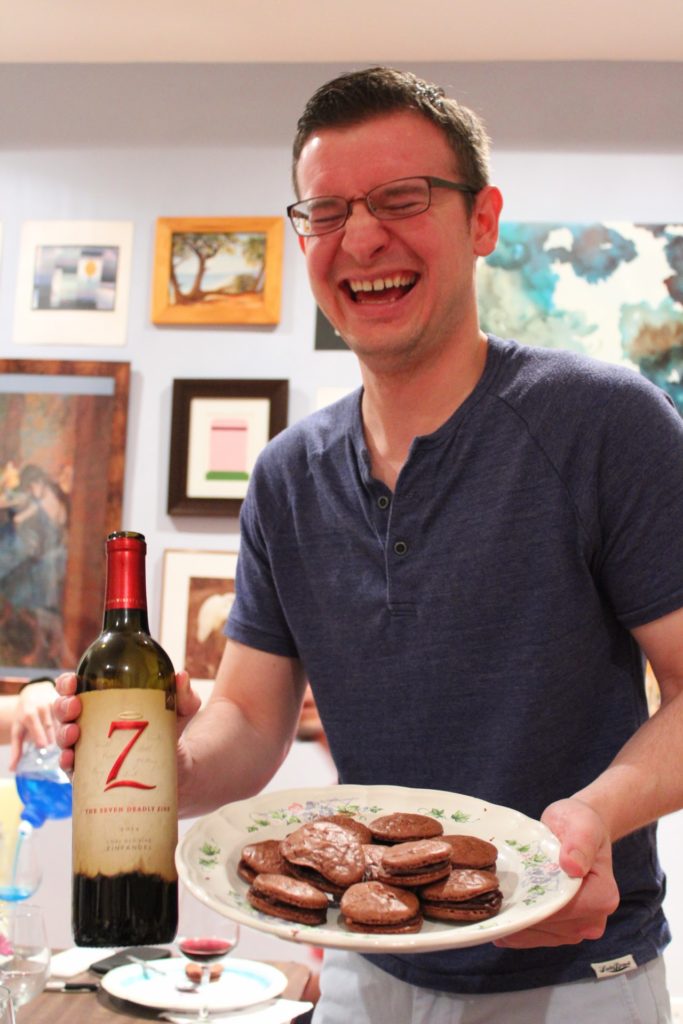 Dish 9: Inglorious Bastards' Apple Strudel paired with Fetzer Vineyards Gewurztraminer
Second to last dessert was G.T. with a killer apple strudel inspired by Inglorious Bastards. G.T., a previous TWO TIME WINNER, always brings his A game and consequently I'm always super pumped to eat whatever he makes. This was no exception. The wine was also a crisp, summery white - good pairing with apples, especially if they are a little tart!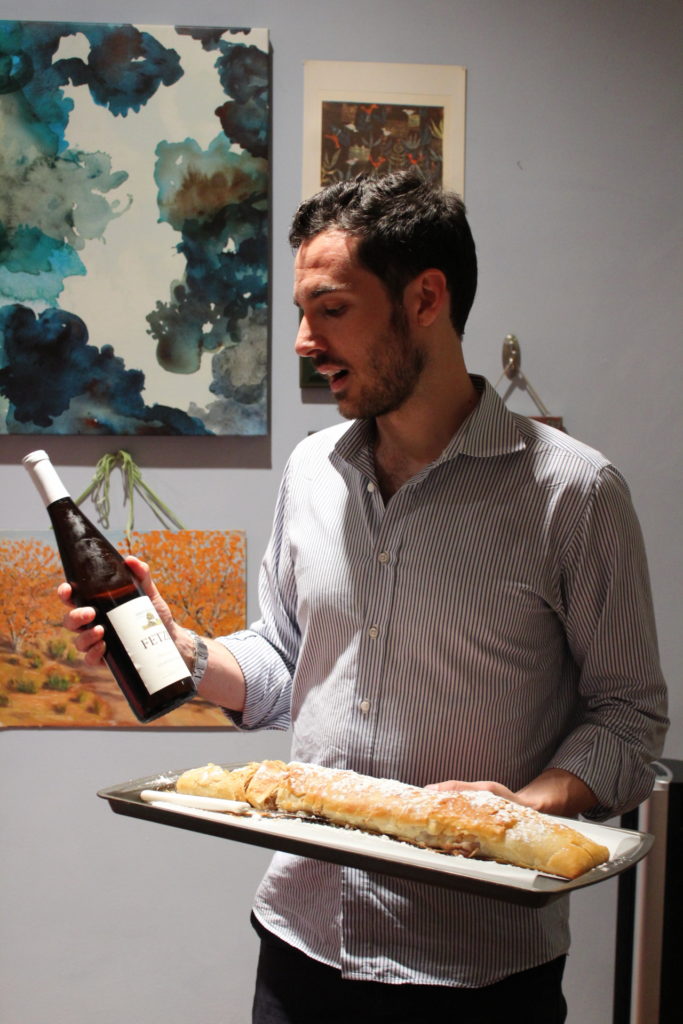 Close up because NOMS look at that crust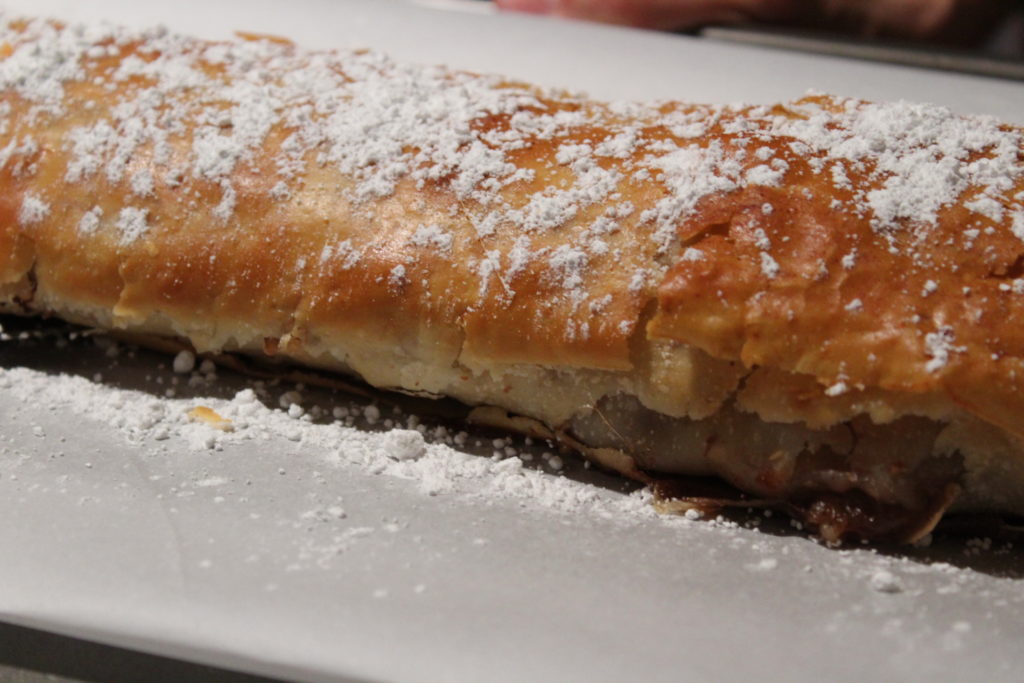 Okay, are you full yet? One more to go!!
Dish 10: Julie & Julia's Chocolate Pie paired with a German sweet red wine
This was my dish! Inspired by Julie & Julia, of course the most fitting movie from me. I of course took a healthier spin on it and made a vegan // grain free chocolate silk pie, courtesy of Minimalist Baker. The research I did about chocolate and wine pairing returned mixed results, with some saying it's impossible to do. I was happy after reading a few sources that said the sweeter the chocolate, the sweeter your wine pairing should be, so I went with that theme (not too sweet for both food and wine). The reasoning is that if you have a sweet dessert and a dry wine they will contrast too much and the red wine will taste even more dry. As always, though, it's up to you to decide what you like!! The red wine I found at Trader Joe's was a tad sweet but just the right amount and I enjoyed the pairing more than I thought I would.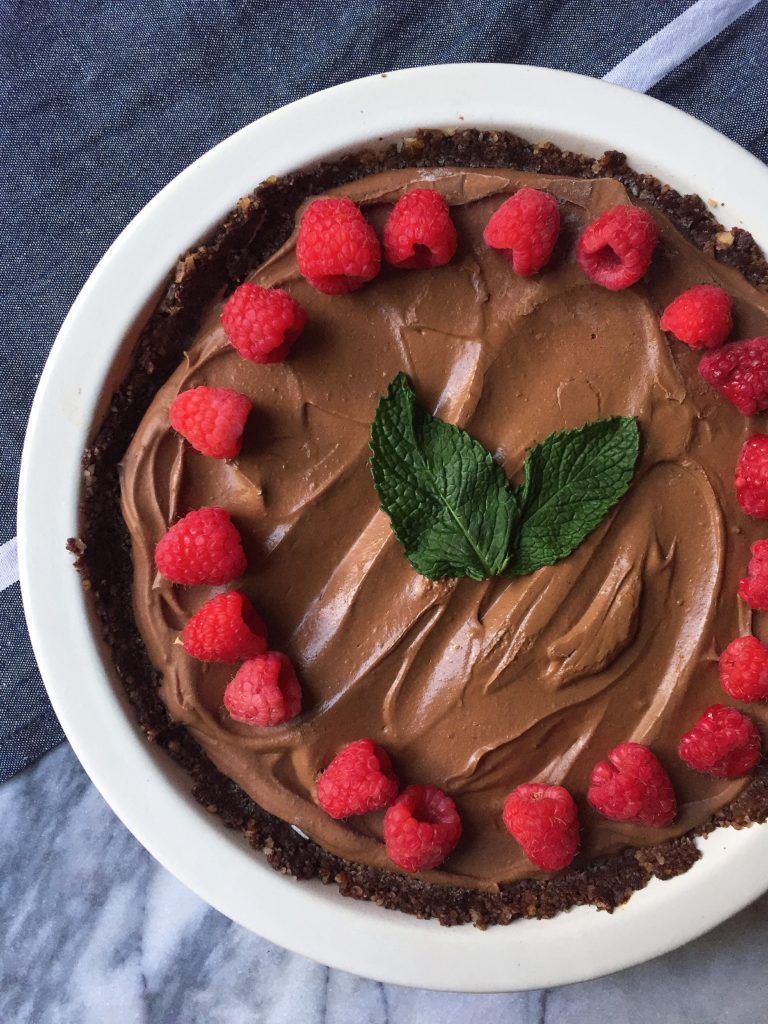 Dat creamy tofu swirl though...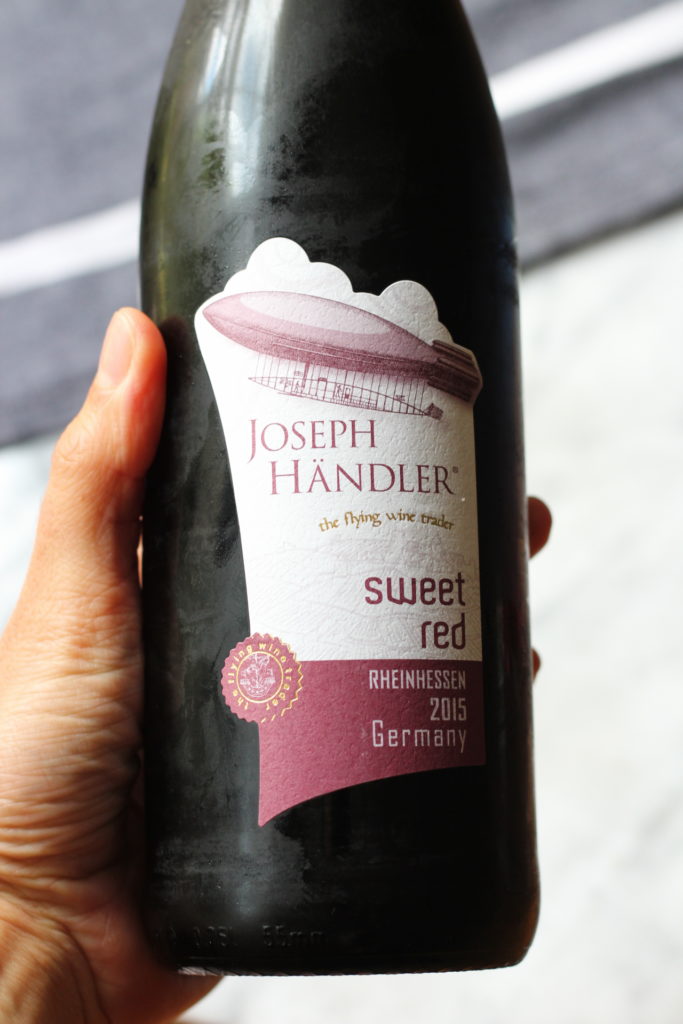 WOW yes we made it all the way through. Stuffed and full of wine and happiness, as always. Pacing is definitely a key to this event, and we all did well this time with a few more bite sized dishes. #strategy
The theme for next Winedown is still TBD but some good options have been thrown around. Stay tuned!!