Yikes! We are overdue for LAST winedown which was Harry Potter themed, sorry for the delay!! If you haven't read about Winedown, start here to read about our competitive dinner party!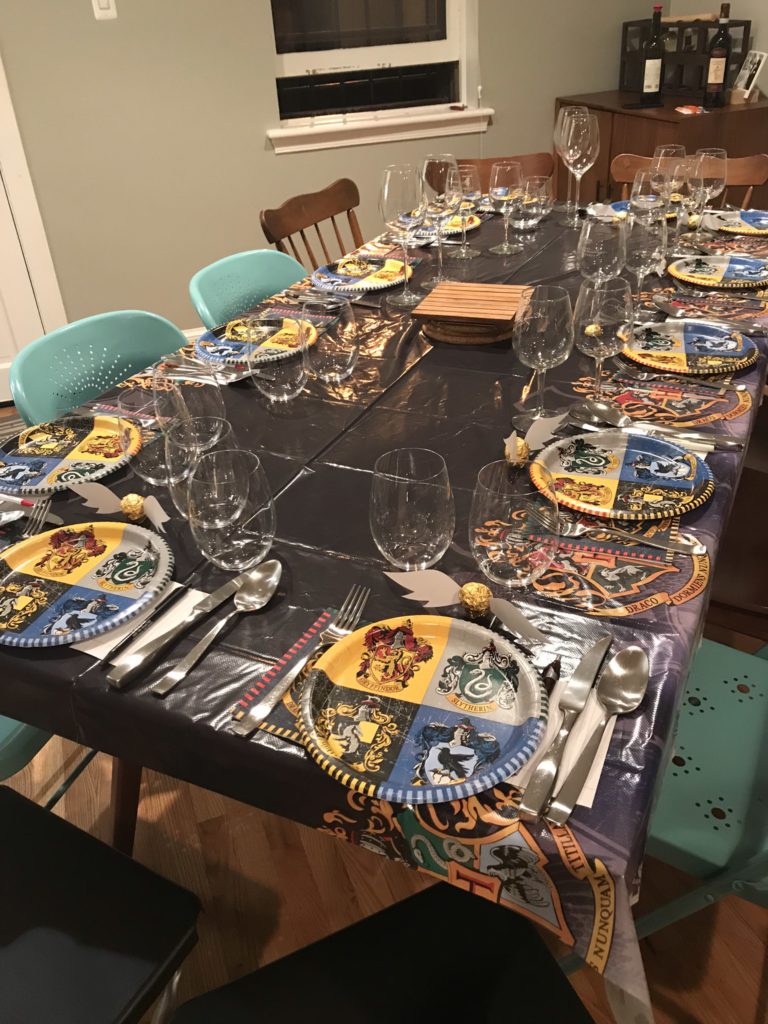 We went all out for this theme - check out me and Pedro. The only time winedown has seen costumes.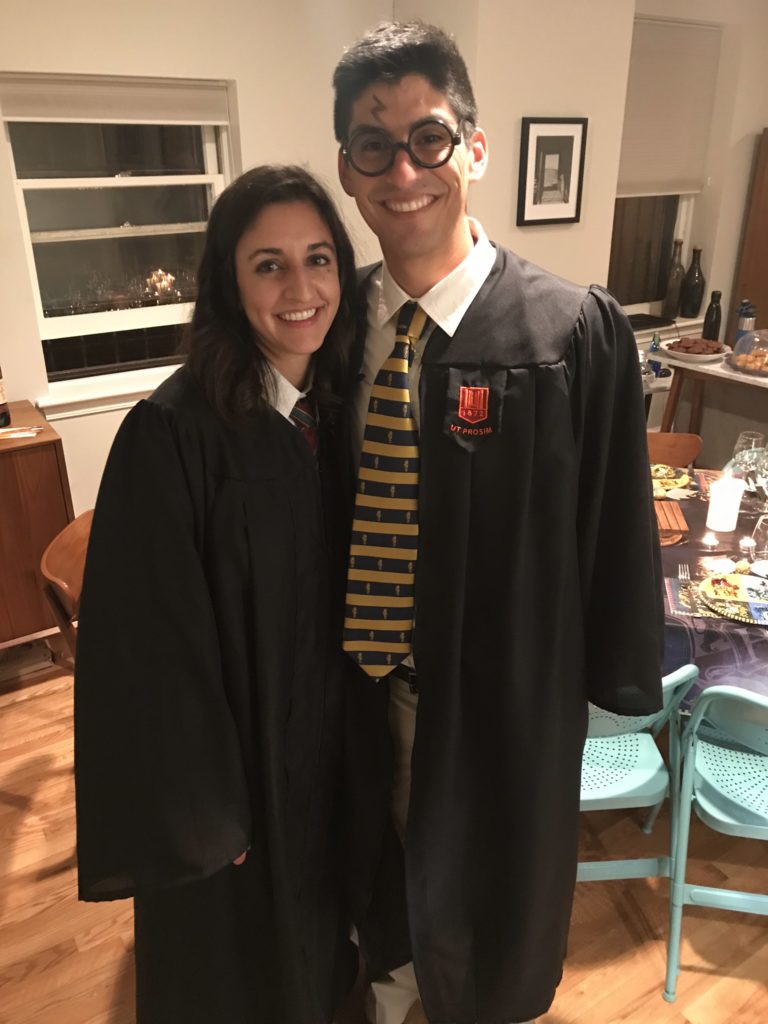 We even had appearances from other wizards!!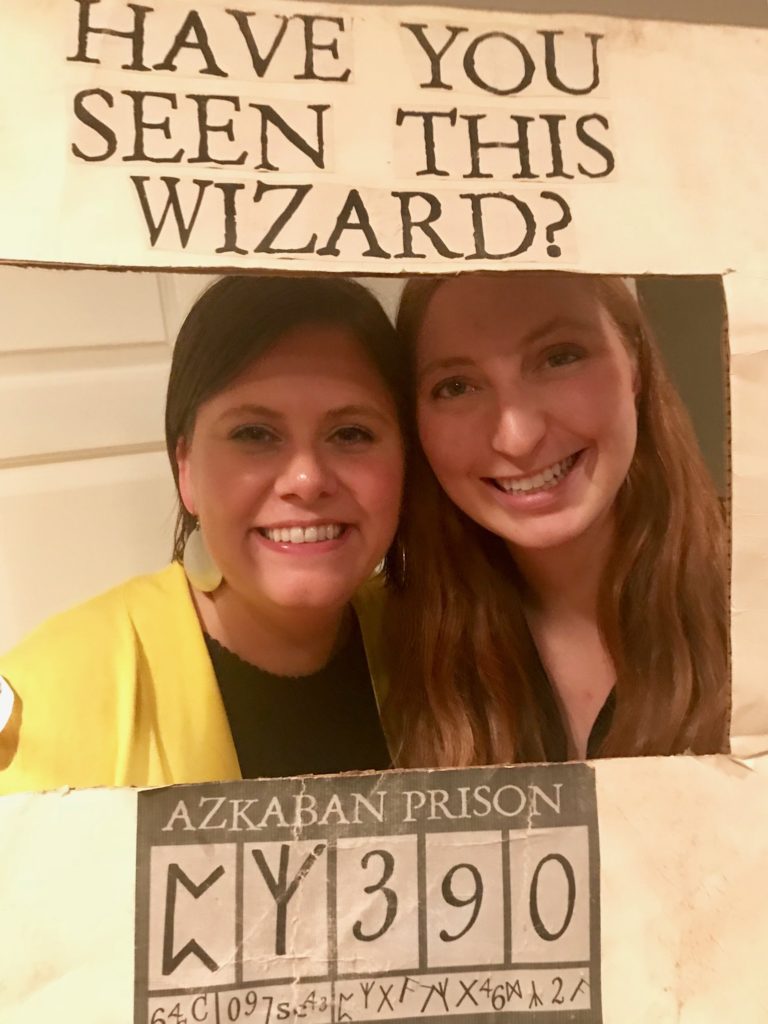 Now onto the food, because that's what we're here for after all. Here was the rundown - can you guess who the winner was before getting to the end? Remember, it's all about the pairing!
Pedro started us off with a play on Slytherin - a snake shaped cucumber, tomato and feta salad paired with a refreshing and crisp sauvignon blanc. His wine (and mine) were both from our local wine store, which never disappoints!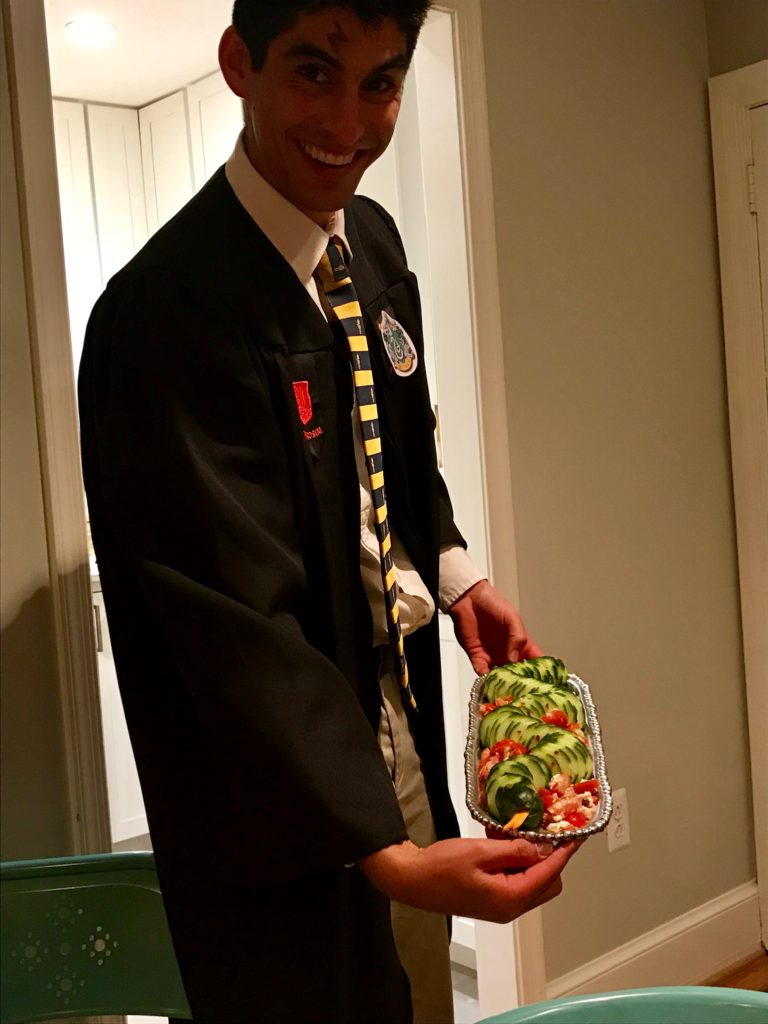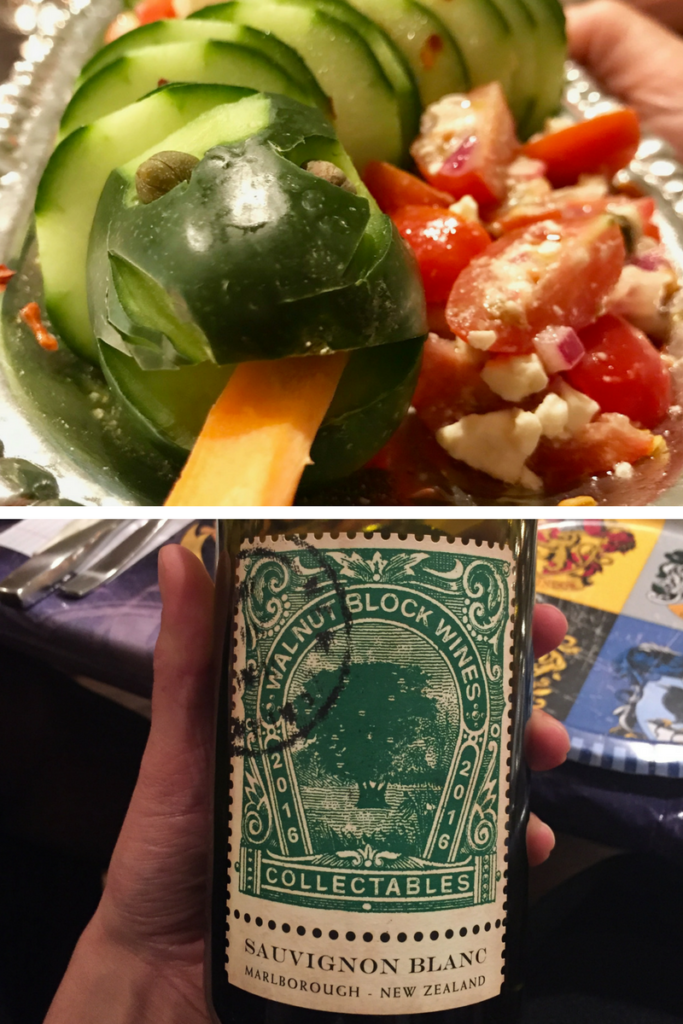 John was next with savory pumpkin pasties paired with a fresh Gruener Veltliner. We loved how the white complemented the sweet and savory feel of taste of the hand pies. Look at the crispy, buttery texture! And pumpkin, perfect for a fall evening.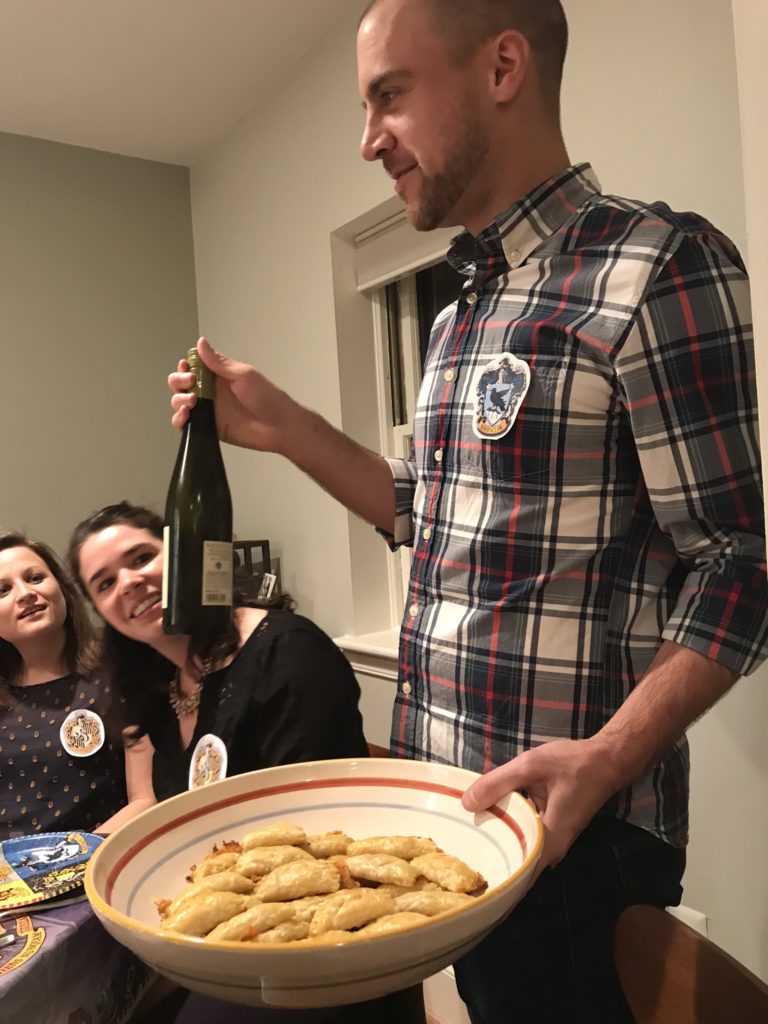 I rounded out the appetizers with a savory version of Hagrid's rock cakes!! Translation: savory scones made with jalapeno and cheddar (a la Smitten Kitchen). I paired mine with a cabernet sauvignon, a dark red to complement the fats in the cheese and the spice of the jalapeno.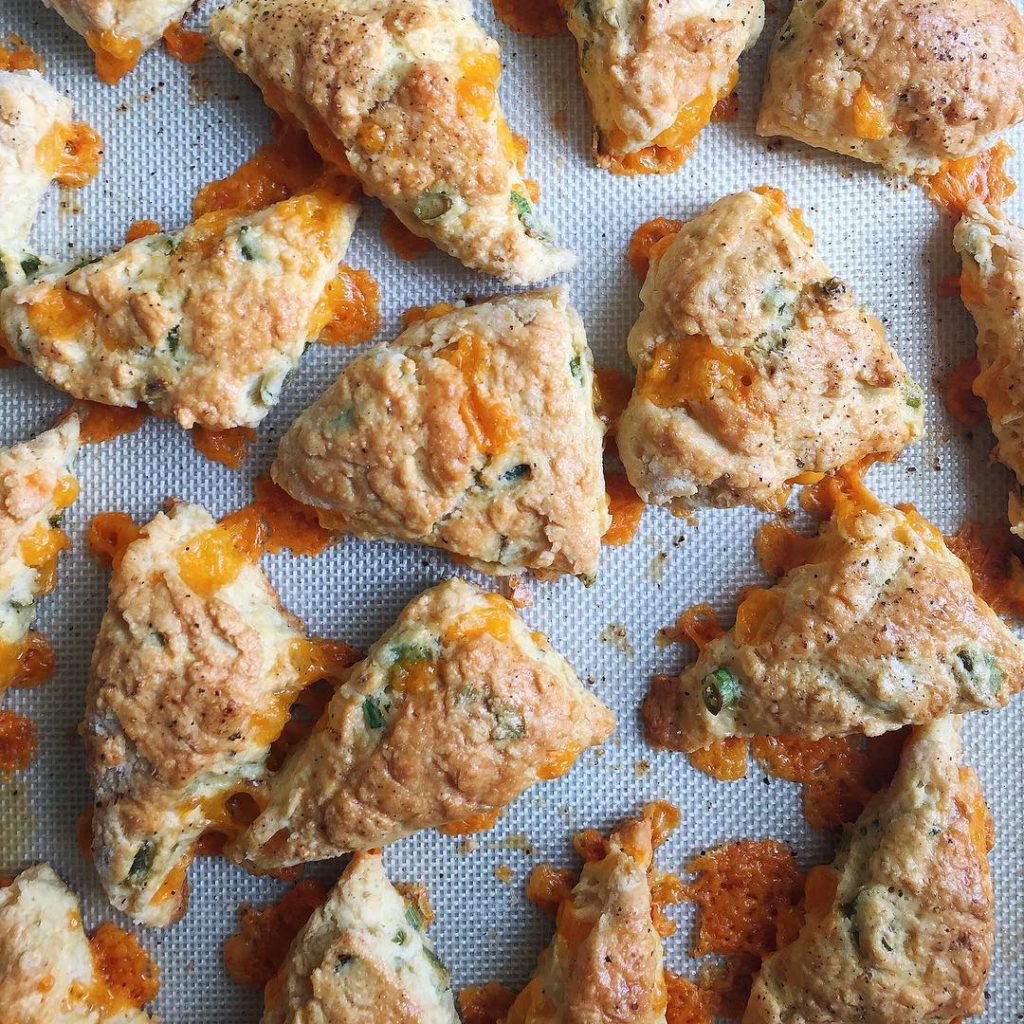 Mckinsey was up next with a unique dish to Winedown - soup!! Technically, "cauldron soup" to go with the Harry Potter theme, made super spicy with red pepper and creamy curry. We haven't had too many soups lately but it's a great make ahead and easy option for a big group. Paired with a pinot blanc!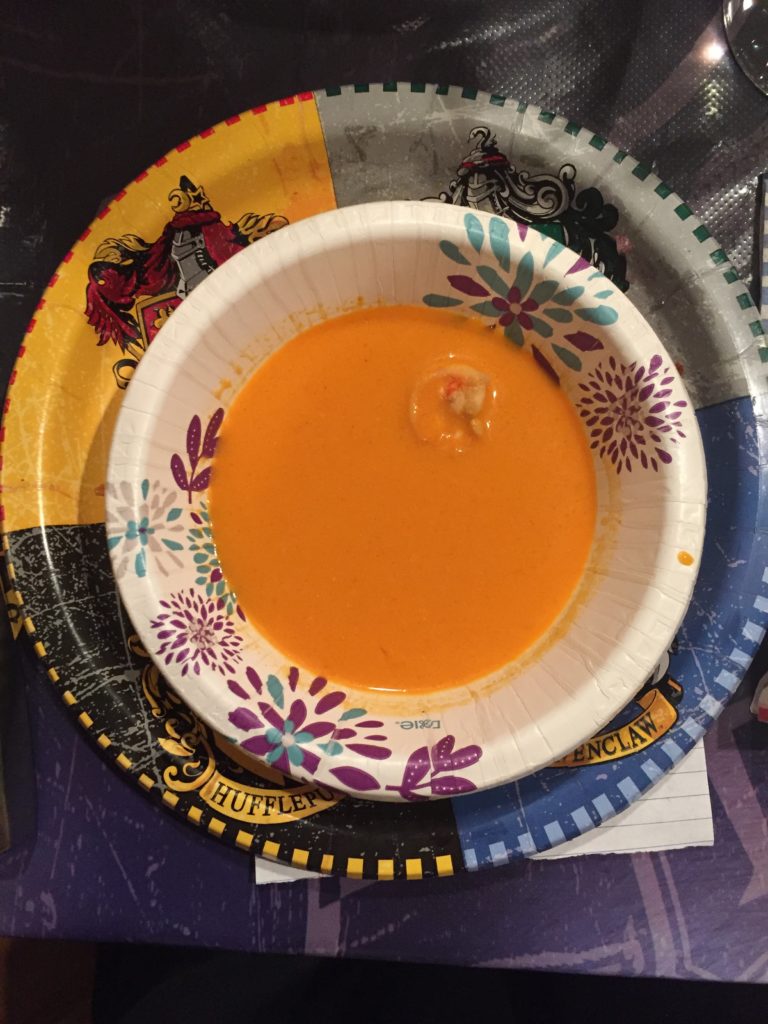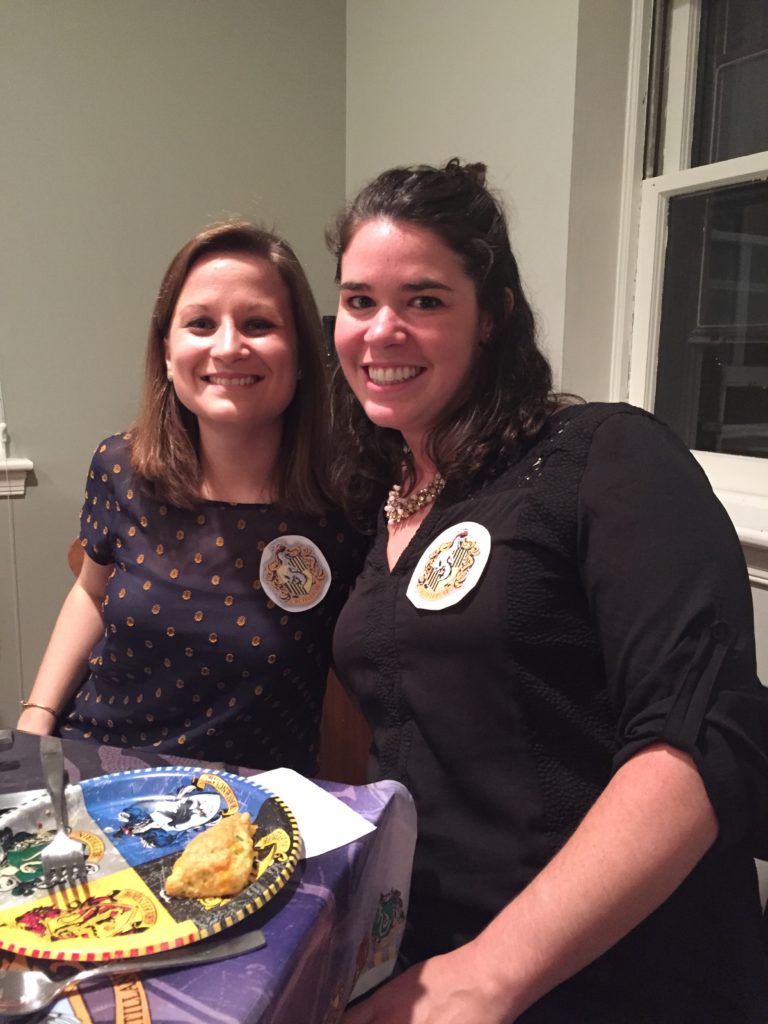 Bryan came next to round out the savory mains - kidney pie paired with Malbec! Everyone loved this savory, hearty take on pie.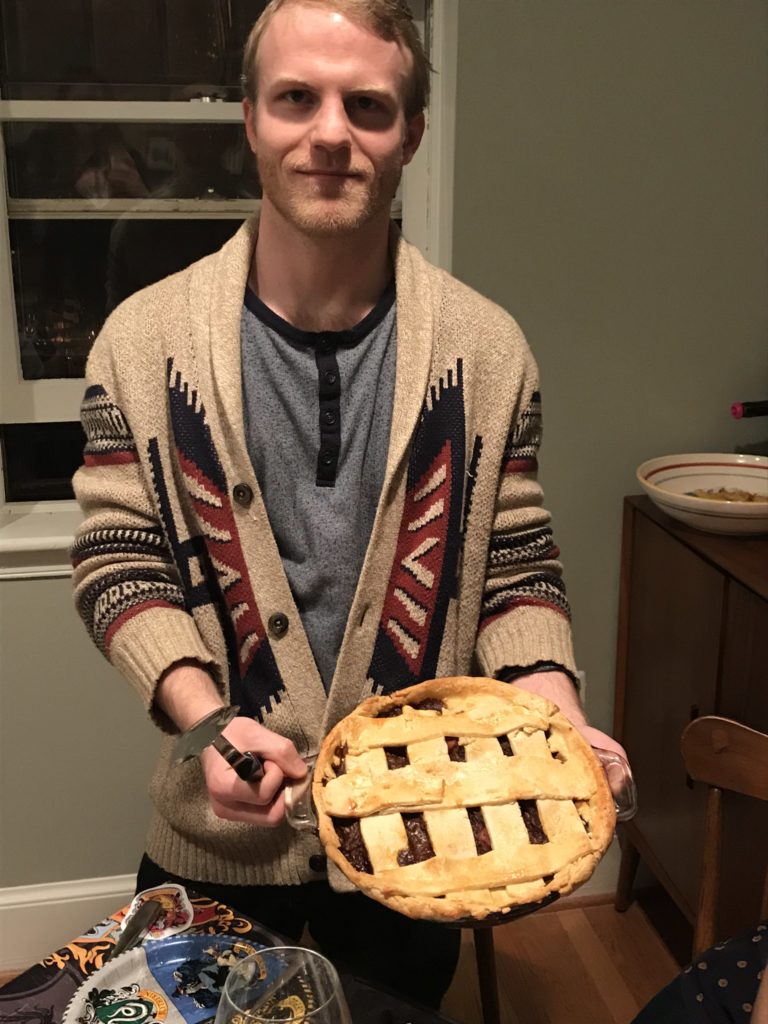 Ready for desserts? The group was big so we had FIVE!!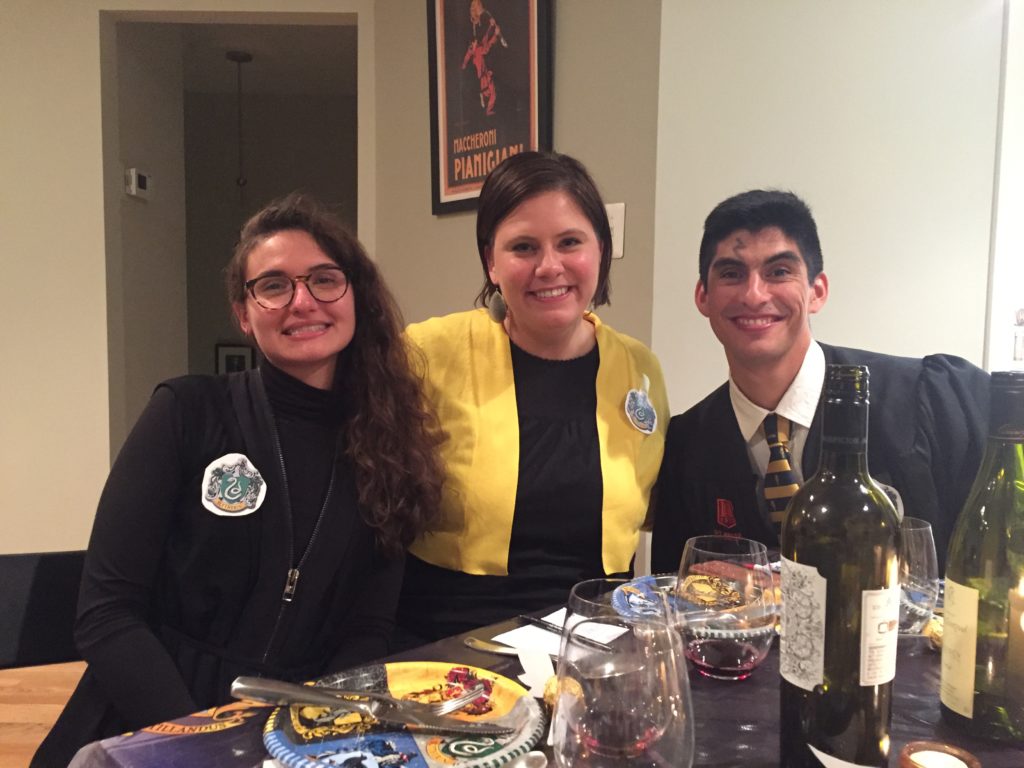 Ray came first with a trifle: lemon and raspberry flavored, paired with Sherry! We don't usually have fortified wines but enjoyed this one as a transition to dessert.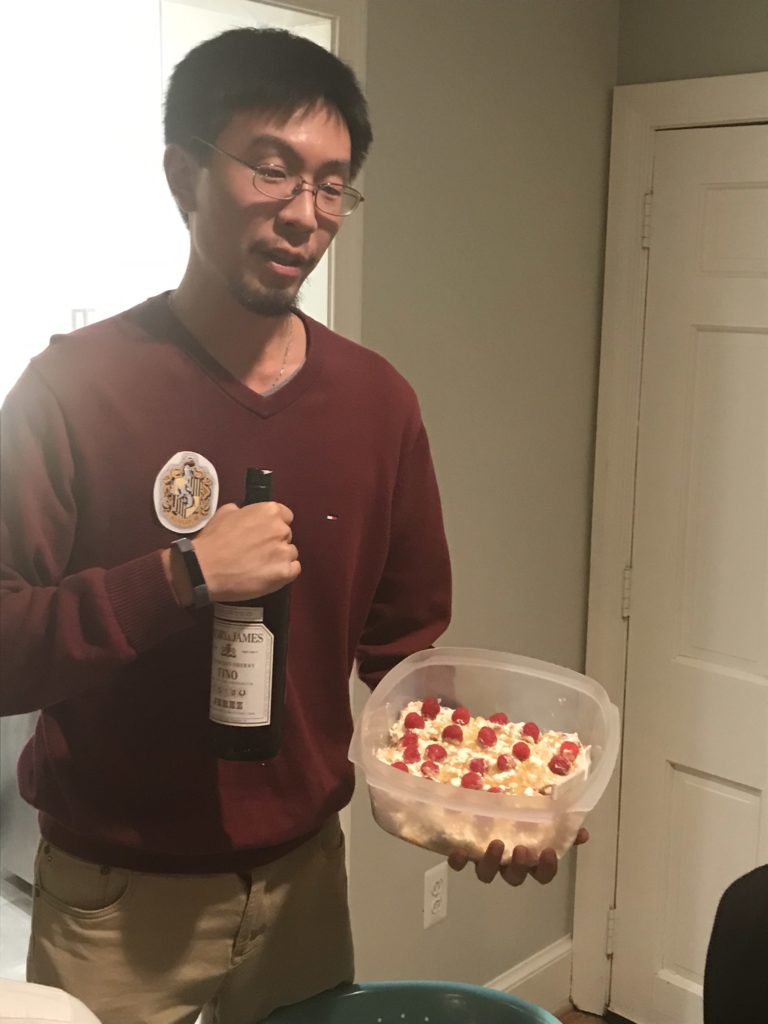 Meghan came next with a fun take on fizzing wizbies - chocolates made with pop rocks that fizzed in your mouth with prosecco. So unique!! And of course I loved the bubbles.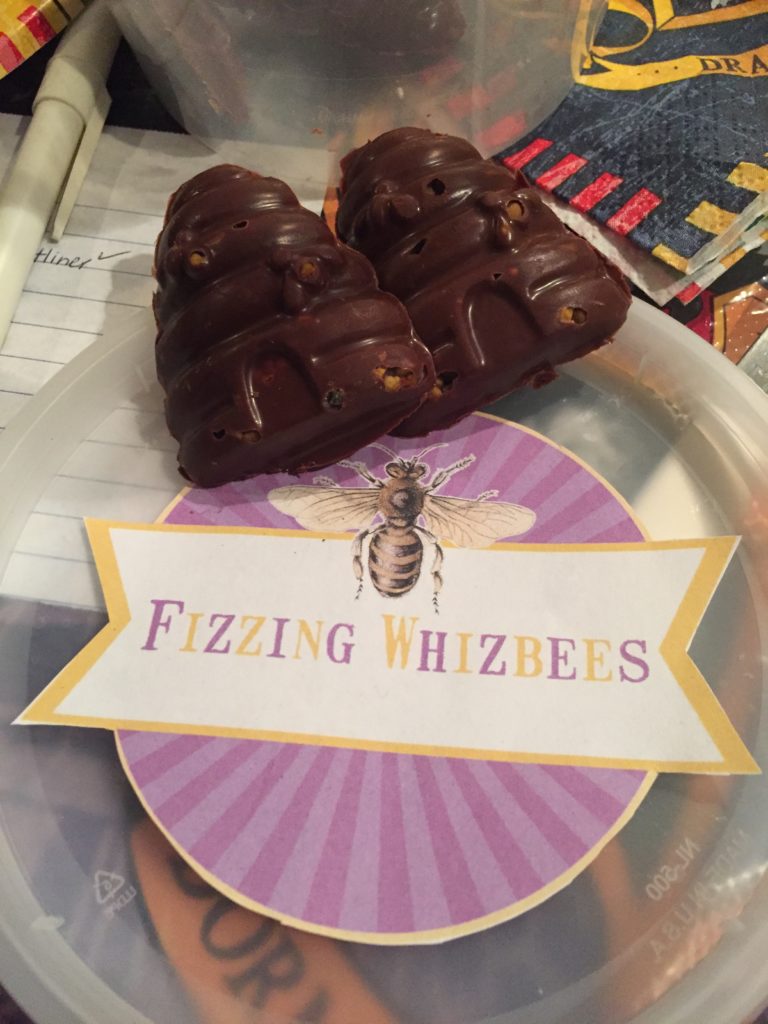 Caitlin came next with a butterbeer inspired cake paired with a gewurztraminer. Can you see the design on top of the cake?!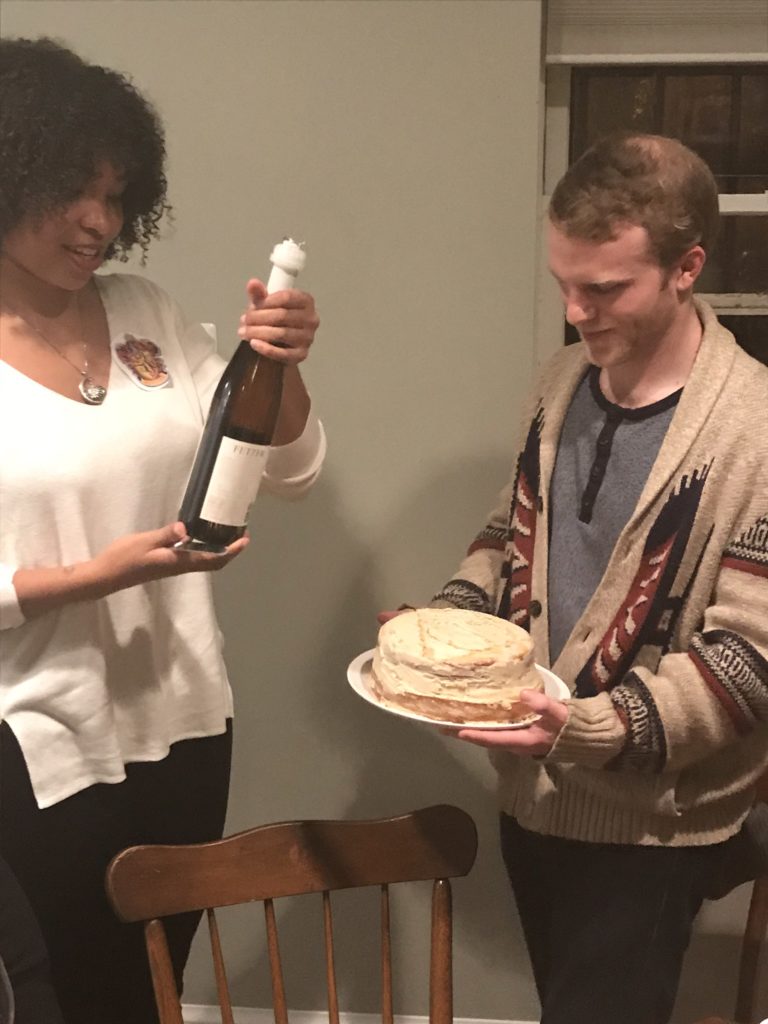 Lauren rounded out the chocolate game with chocolate cookies paired with a sweet wine.  Oh my, getting full just typing this up...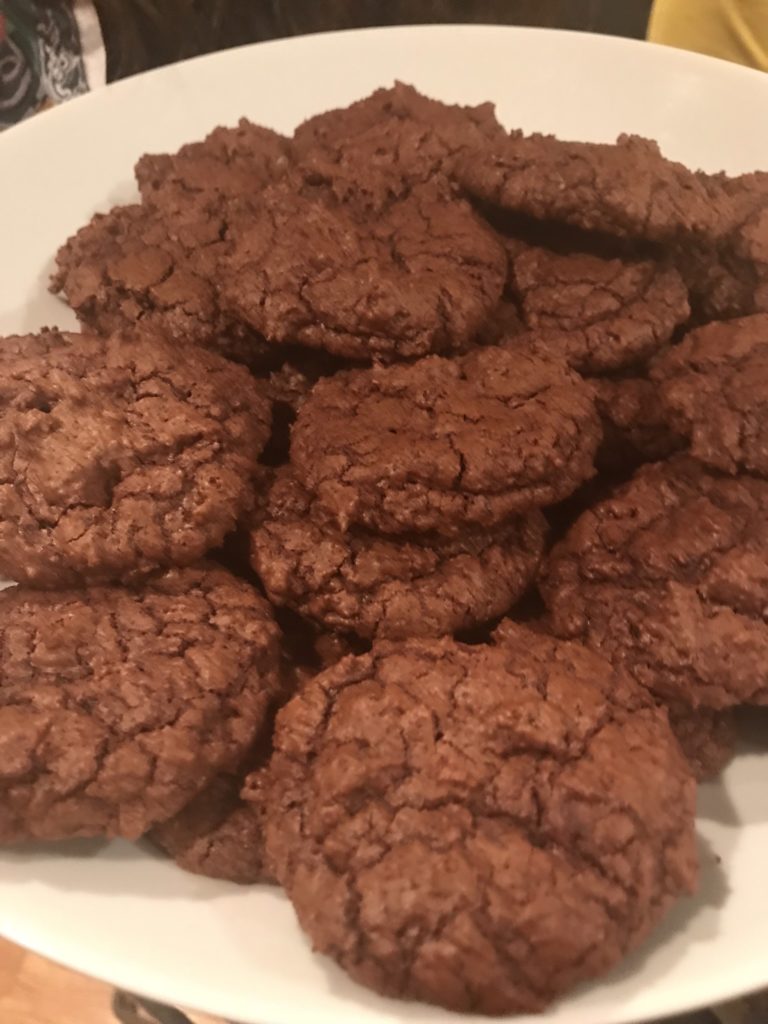 And finally....you bet we were full at this point....Joy with golden snitch cake balls paired with a Ravenswood zinfandel. One of my favorite red wines!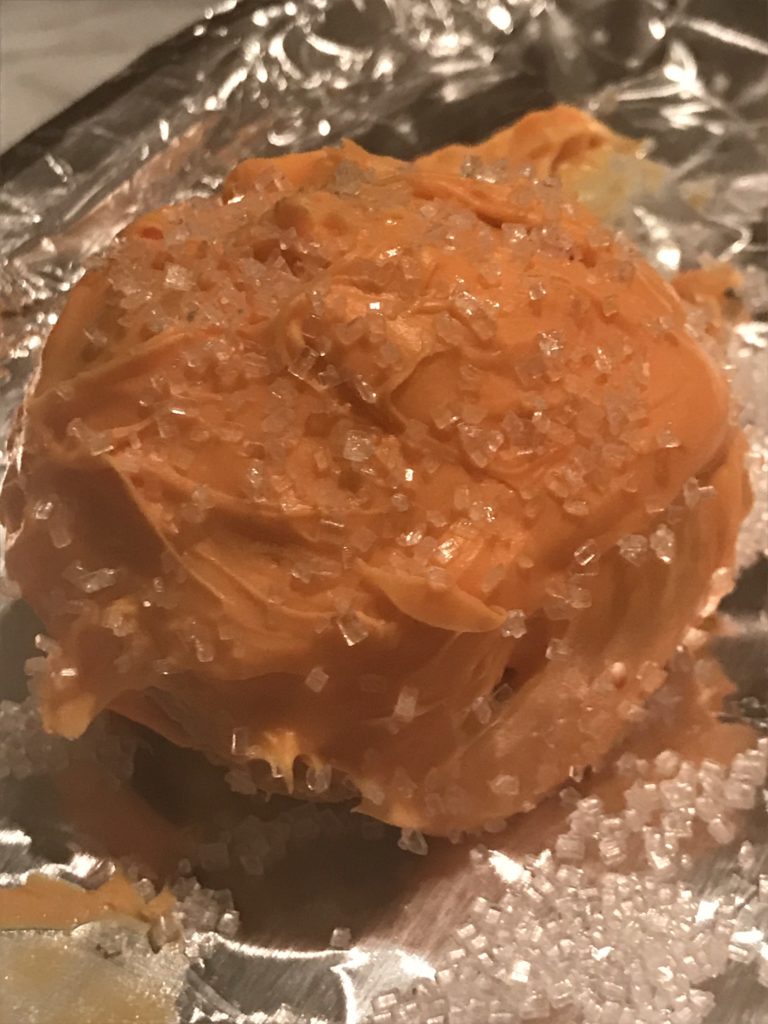 And the winner was....John!!! The savory pumpkin pastie took home the crown, paired with a light white - a classic winner from Winedown it seems. Whites just seem to pair so well with the food that we eat. We decided a red might win if we serve straight up steak, however.
You can also see the snitches that I made out of Ferrero Rocher and wings! The cutest.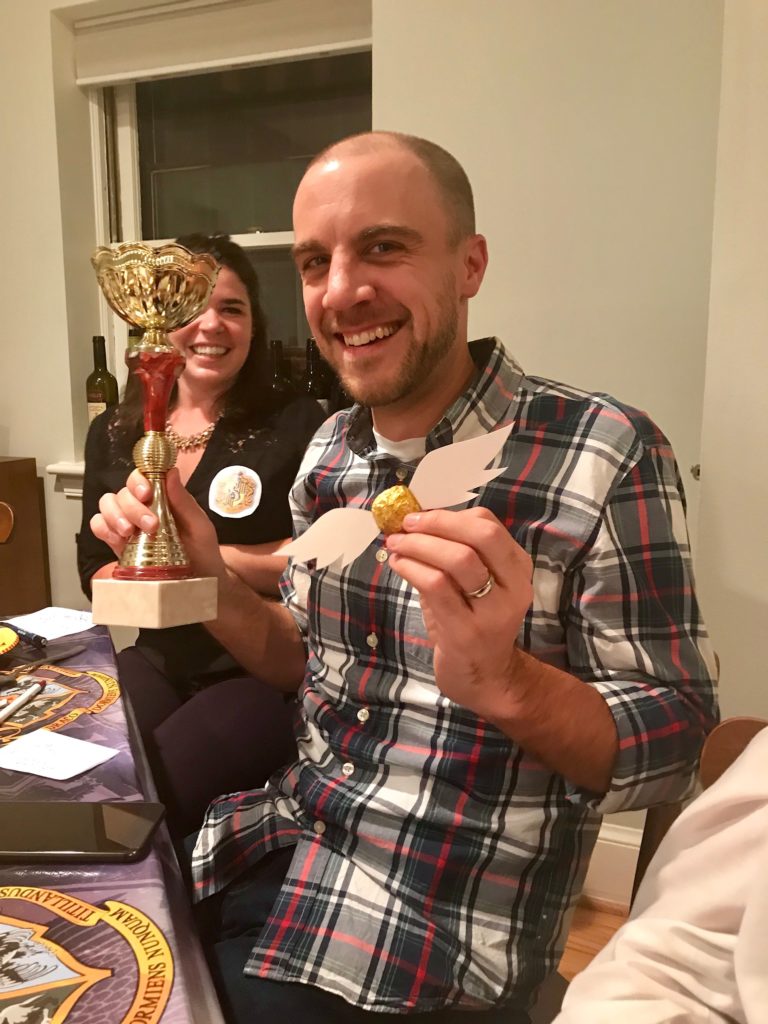 Until the next Winedown recap!!