Also known on my Instagram as the Mordor tower of doom.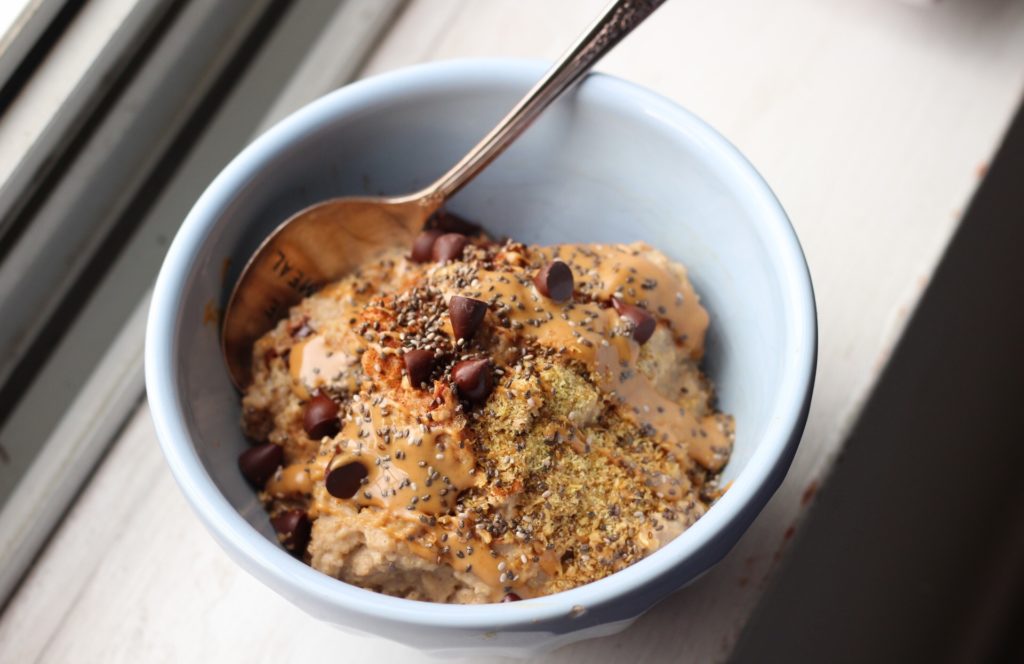 Why you ask? Because look at how high that stacked up! I probably could've used more liquid to make it even more porridge-y, but was totally happy with how this layered up in my bowl.
What a way to start a short week! We were out of eggs (what?) so oatmeal was the next best choice for my still healing sore teeth. I had seen a cookie dough oatmeal post somewhere and was inspired by the use of coconut oil and nut butter in the batter - so that's what we have here! Also can we talk about oat bran? Thanks, Meghan, for reminding me to bring this back into my life. It's been too long! I used to loooove using oat bran because of how creamy it made my morning oats. I hadn't seen it in a while but I'm so glad it's back. #fiber.
I started this by stirring up the oat bran with almond milk.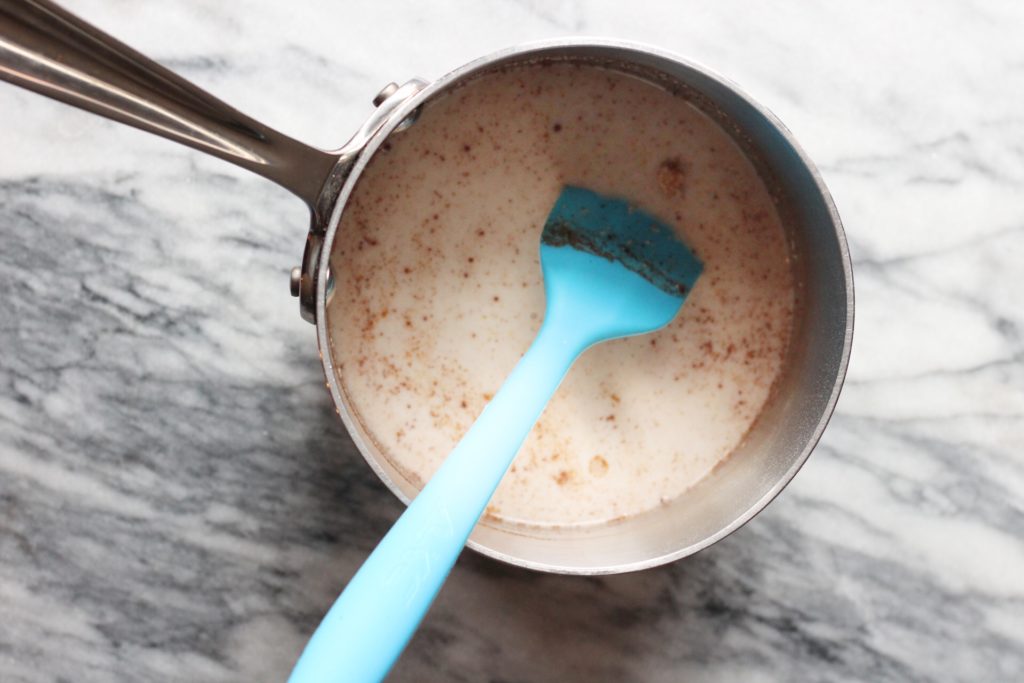 Then, added in the peanut butter (almond butter, especially raw, would be awesome here too). I also threw in a teaspoon of coconut oil (healthy fats!), ground flax seed and a scoop of Vital Proteins Collagen Peptides
 for a little extra protein.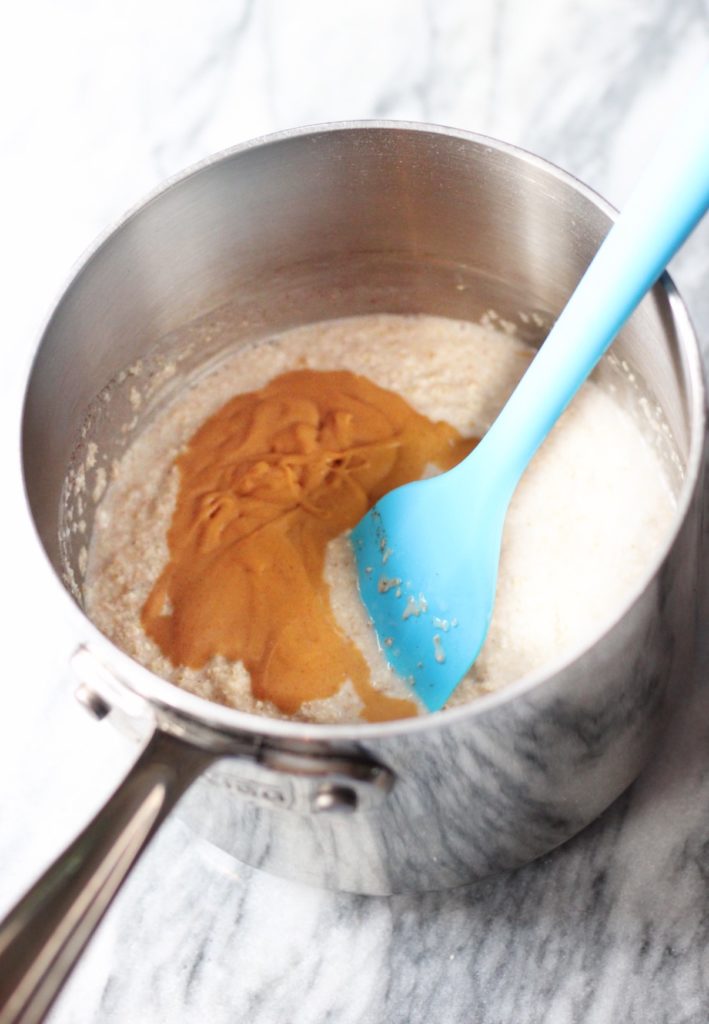 Then combined it all until it got a bit bubbly (this is faster than normal rolled oats) and topped it with all the things. You could definitely make this à la overnight oats and take it on the go. Working friends, I definitely recommend this is you are a fast in the morning person! Fill up on something delicious to hold you over to lunch (or mid morning coffee...).
BOOM that overhead though. Notice the chocolate chips cascading down. Um, yas. This definitely helped the physical / emotional healing process of the whole wisdom teeth thing.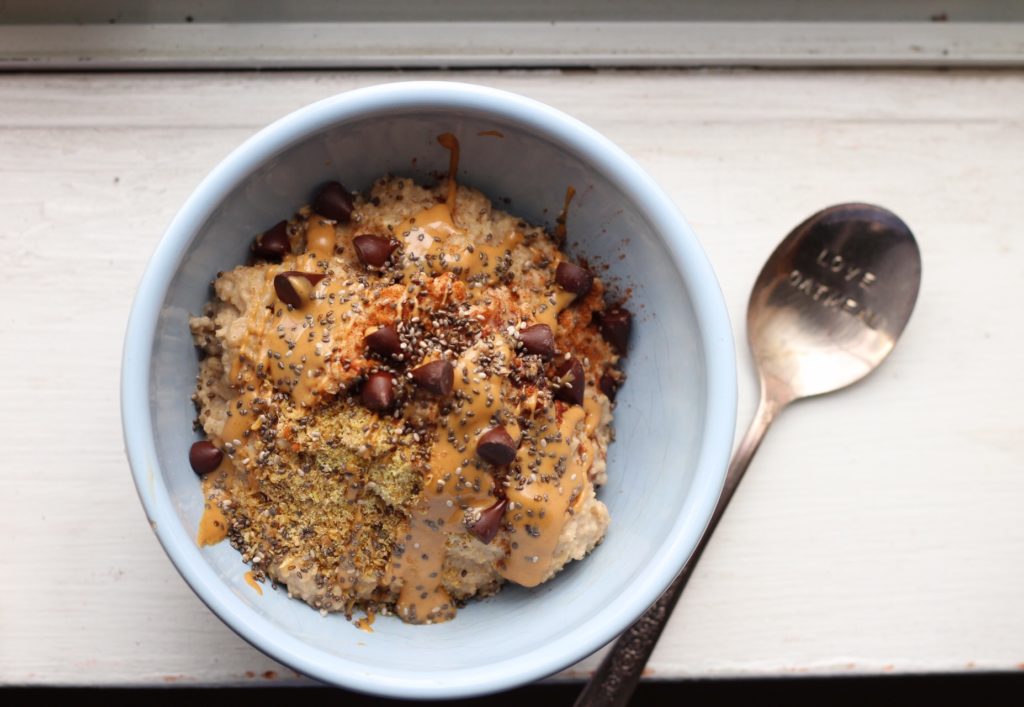 Okay, enough about me - go try it and let me know how it turns out!! Have yourself a grand old breakfast.
Chocolate Chip Cookie Oat Bran Porridge
Oatmeal gets a throwback to oat BRAN. Spice up your texture with the super creamy version of oatmeal. And feel like you're eating a cookie for breakfast, too.
Ingredients
⅓

cup

oat bran

¾

cup

milk

I used almond

1

teaspoon

cinnamon

1

teaspoon

coconut oil

1

Tablespoon

nut butter

1

Tablespoon

ground flaxseed

1

teaspoon

coconut sugar

optional

1

Tablespoon

chocolate chips

I probably used more!
Toppings
More chocolate chips

chia seeds, flax seeds, hemp, etc!
Instructions
Mix the oat bran and milk in a small pot. Bring to a light boil on medium heat. This only took about 3-4 minutes for me, a bit faster than normal rolled oats.

Once mixture starts to look creamy, add in the cinnamon, coconut oil, nut butter, ground flaxseed and coconut sugar (if using). Stir until well combined. If the mixture looks too thick, add a bit more milk to thin it out.

Stir in a few chocolate chips at the very end just before serving, or save them all as a topping! I like them melted in a bit.

Add the rest of the toppings and enjoy!
Bon appétit!