Hey guys!! It's been a hot minute since I posted here because I've been traveling every week for work. It's not too far but taking a toll on the cooking and recipes!! BUT, I thought it would be fun to share some of my creative meals from the past few weeks that have helped me feel balanced, healthy and more "at home" with healthy options.
There are so many temptations to splurge when you're traveling or out and not used to your routine, so it's *extra* hard to manage when it's week after week. I thought I'd put together this list to share as inspiration for you guys!

What is healthy?
Eating "healthy" means something different to everyone. For me, it's eating wholesome, minimally processed foods with lots of veggies and limiting dairy because that's what makes me feel the best. Your definition may be different and that's totally cool, but this post is to share my perspective with you, hopefully for inspiration.
While traveling for work, I don't let this definition of healthy change much. One change that I do make is that I try to snack less (since I'm not as active). This can be hard because there are always so many temptations around, so instead I focus on having filling meals and staying hydrated throughout the day.
If I'm traveling with others I find that it's even harder to portion control and eat healthy because everyone wants to eat out, so instead of restricting myself while eating out, I just focus on getting as many veggies as I can! This usually translates to big salads, but also great dishes like fish/steak/chicken with roasted veggies and potatoes. I will indulge in a homemade pasta at a good Italian restaurant though!!
Anyway, let's do a *visual* walk through of some of my other tips for eating delicious, healthy, beautiful food on the go 🙂
BYO toppings.
This is my favorite tip for making decked out oats for breakfast! This is one of my favorite tips because I feel a little more at home with just a few small items that I pack from home. You can bring almost any pantry item to make a plain cup of oats more exciting, nutritious and delicious. Most hotels (and of course Starbucks) serve a water based oatmeal with a toppings bar that's sugar heavy (sweetened dried fruit, sweet coconut, brown sugar, syrup, etc.), so doing your own toppings can also keep it much more balanced. My favorites are berries (if I can grab them somewhere close by), nuts or nut butter, protein powder, chia seeds, flax seeds and hemp seeds. The healthy fats + protein addition helps keep me fuller longer - avoiding sugary drinks or mid-morning snacks. I use small tupperware like these mini containers
 to pack in my carry on.
Starbucks oats with berries, nuts, granola + hemp seeds added: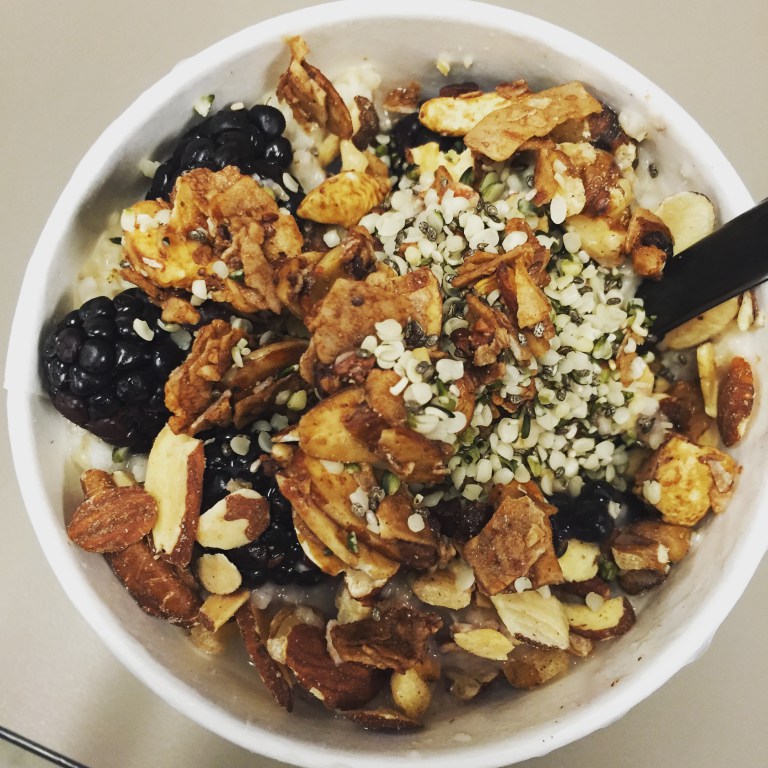 A BYO oatmeal cup with maca. Added nut butter and granola on top: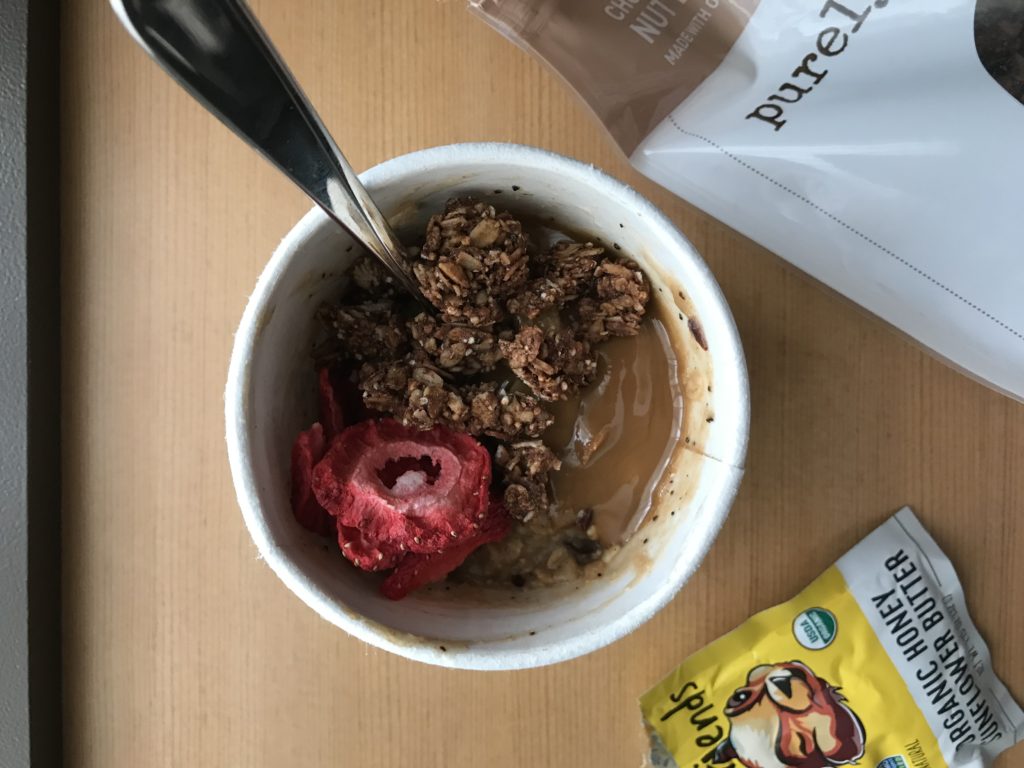 Hotel oatmeal updated with berries and granola (walnuts from the hotel!):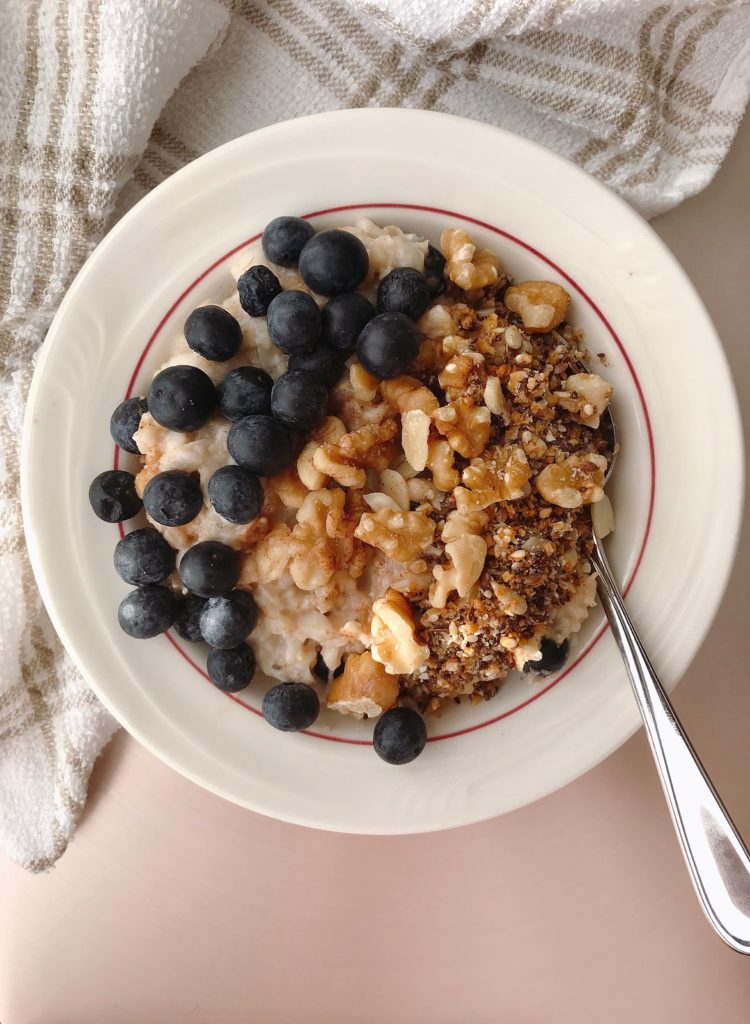 Hotel oatmeal with cinnamon, hemp + chia seeds mixed in. Dried + fruit and granola on top. Sensing a trend?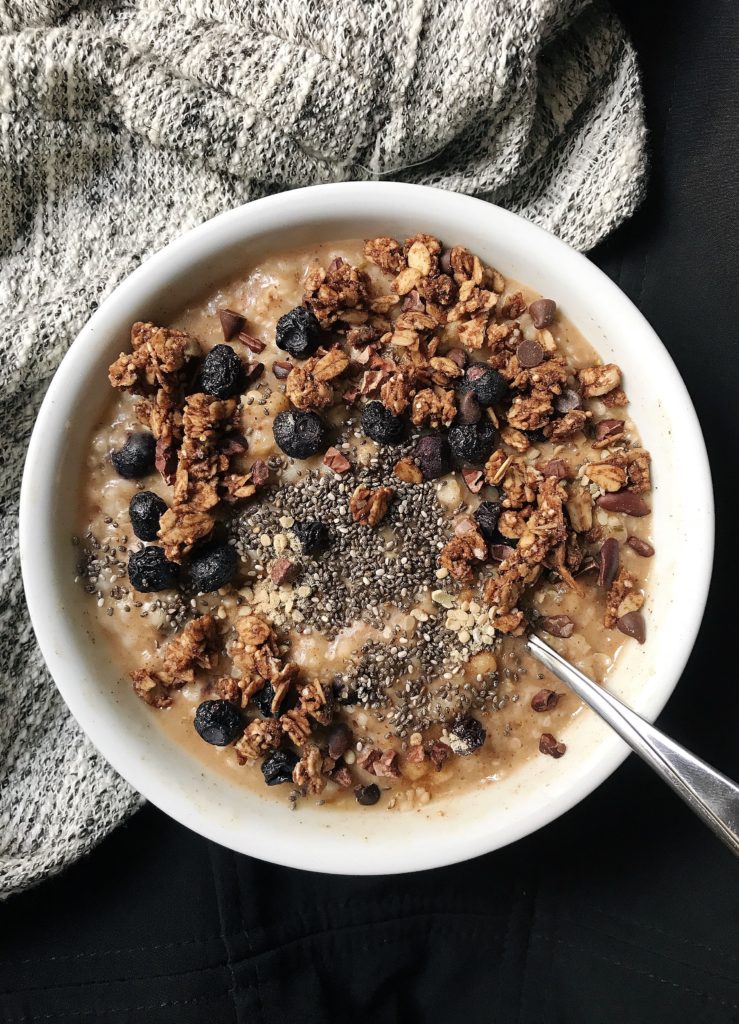 Another hotel oatmeal with granola, hemp, chia, cocoa nibs and chocolate chips on top: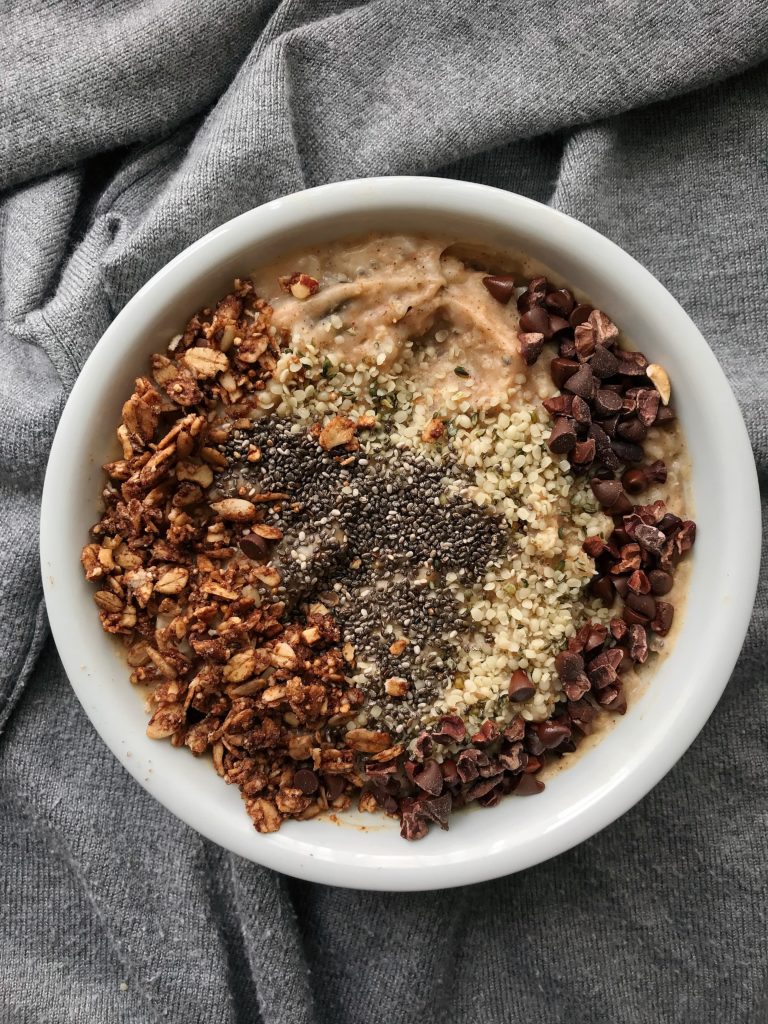 Same thing with banana!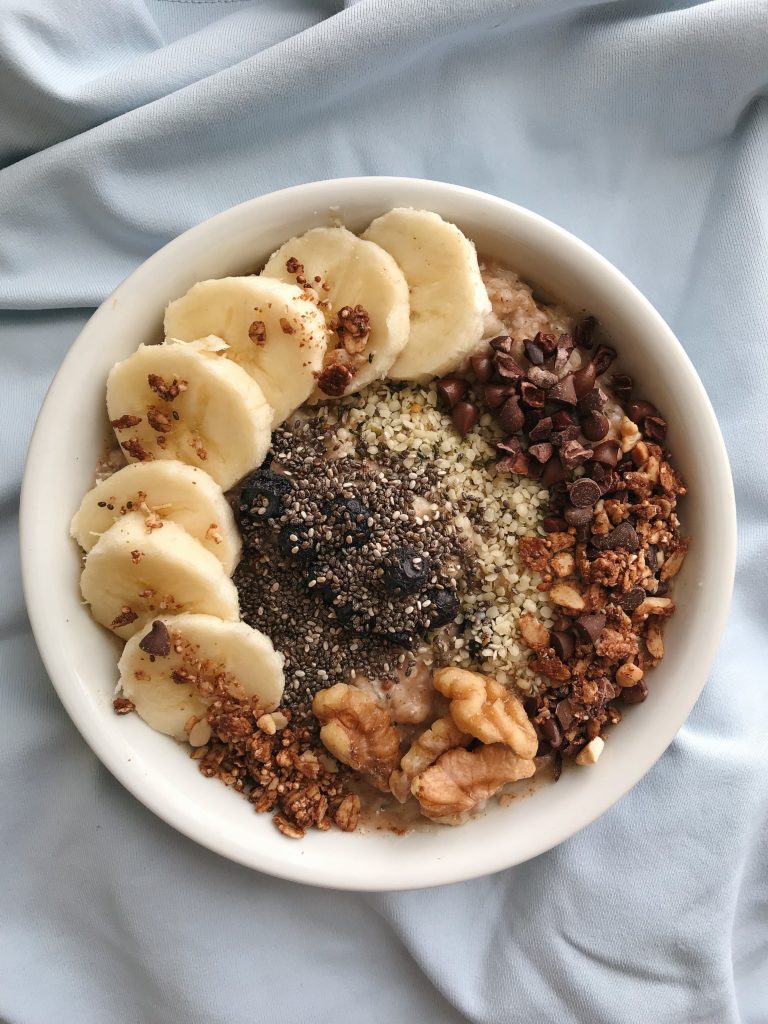 Okay, but do I eat anything than oatmeal? Why yes! Read on 🙂
BYO Snacks.
Not only do snacks on the go add up, they probably have a lot more sugar and added ingredients than you though. You can make a snack like granola bars for yourself before traveling that will store well, or throw some nuts in a bag for an easy to grab snack. Try out these hemp bars!
Just BYO Meal!
Some weeks I just want *my* food. And I don't want to waste what I have at home! So I pack up a little lunch like I would at home and carry it in an insulated lunchbox. Yes, my coworkers make fun of me. No, I don't care because I'm eating something delicious and healthy! I usually do this for breakfast or dinner at the airport, and sometimes even for a lunch when I leave in the morning. Check out this curry I packed from home (note: it only had veggies, curry broth and tofu so I thought it would be easier to transport. Wouldn't recommend for fish/chicken/other perishable foods).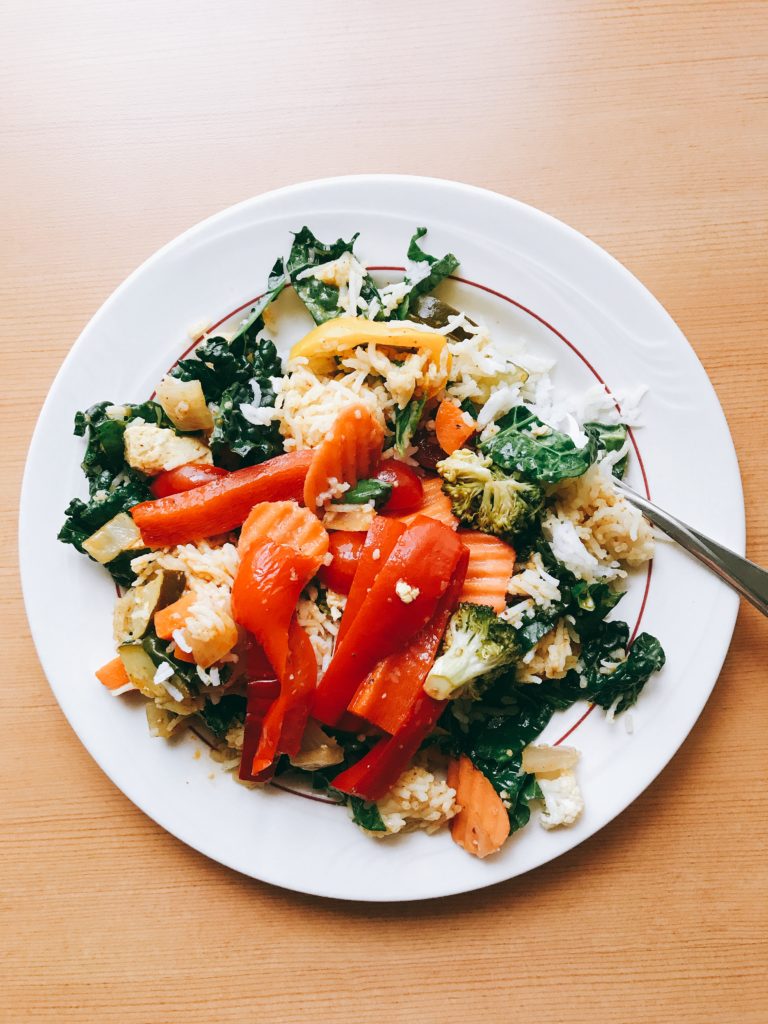 Hit up a grocery store.
If you're near a little market, Target, WalMart or grocery store, you'd be surprised what healthy meals and snacks you can come up with!! If you're with co-workers and they want to eat out, you could offer to cook, or at least grab some things for a healthy breakfast. I find if I have a good veggie filled breakfast, it sets a better tone for the rest of the day. Less temptation later if you fuel right to begin with! A fridge is usually necessary for this, though, and a microwave is helpful. My favorite ideas are:
Breakfast: Grab some berries, hard boiled eggs, hummus and/or easy to eat veggies like spinach, bell peppers or carrots. If you have a microwave you can heat up some veggies to wilt them slightly. Save a little salt + pepper packet from a fast food restaurant to season it.
PRO TIP: Most hotels will have a plate or something you can ask for to heat up your food (even if the hotel doesn't serve breakfast sometimes the hotel restaurant will give you one).
Snack: Grab some berries or nuts for a snack rather than pre-packaged bars. Hard boiled eggs are also great!
Lunch/Dinner: Heat up a good soup with some greens for a quick and healthy meal. Tomato or lentil soups are my go to's! Plus you can usually heat it up in a coffee mug if needed.
Save (veggie) leftovers.
Portion control, but also ensuring you have veggies for tomorrow! Sometimes my hotel has happy hours with good items, so even if I'm planning to go out to eat, I'll grab some to save for later (see the awesome Mexican plate below!). Other times I'll take home dinner leftovers for breakfast. This helps me not overeat because I don't feel like I have to finish it all at once.
This was dinner one night (for four...)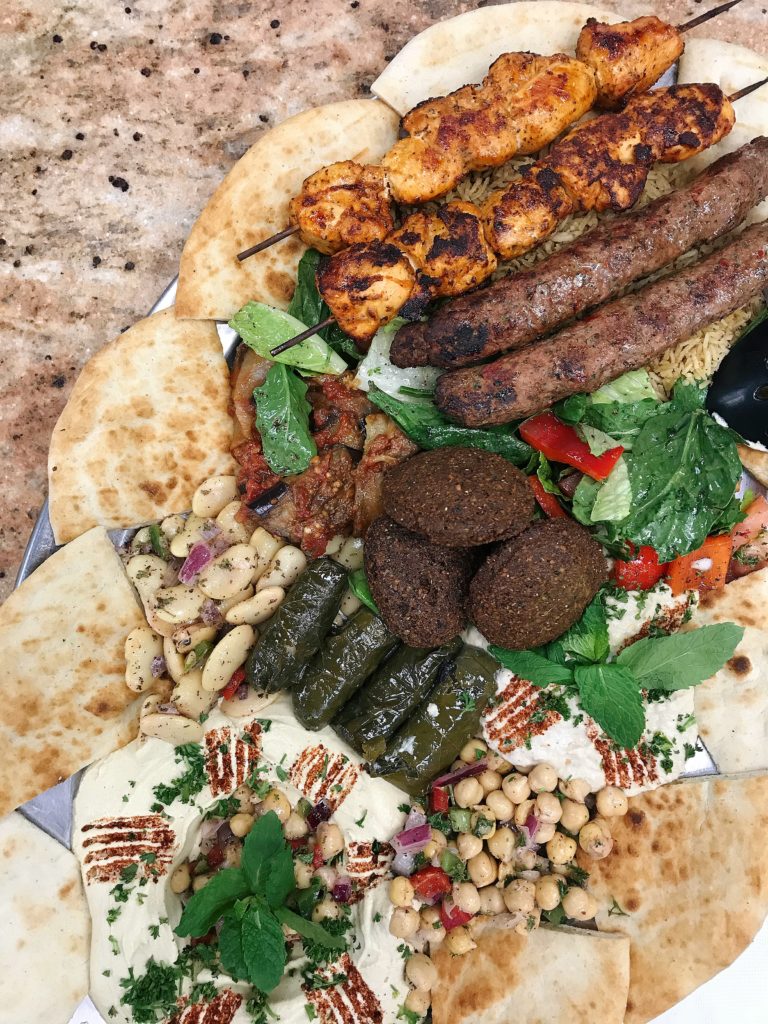 Turned into breakfast the next day: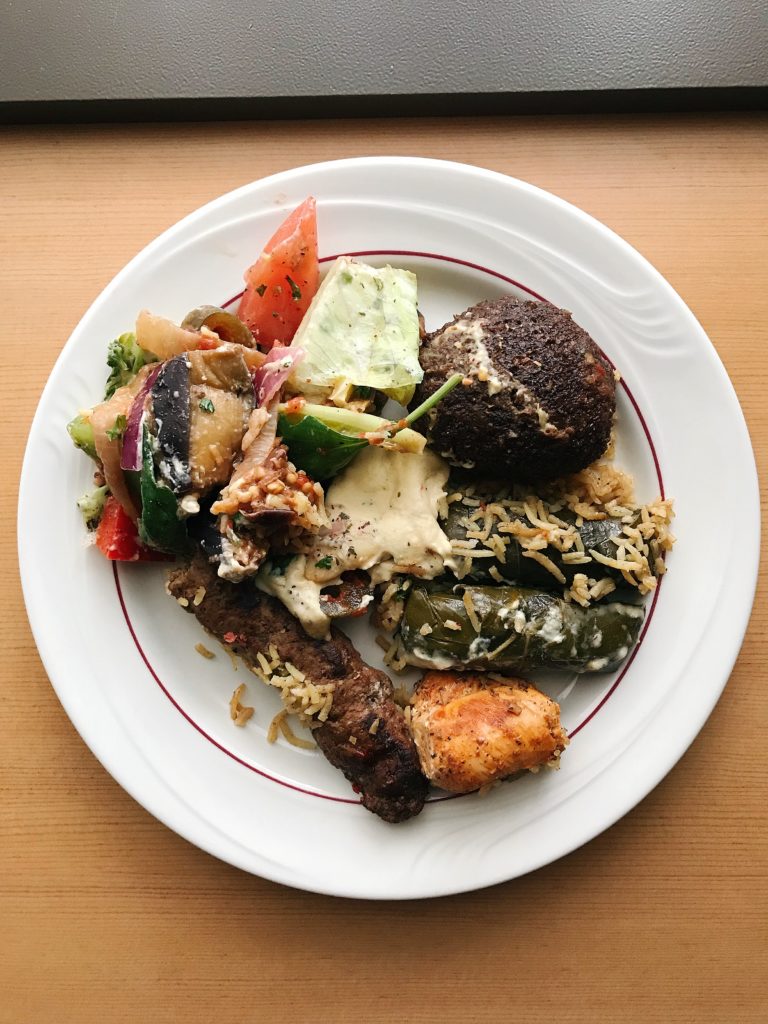 And check out this stellar happy hour taco plate from my Marriott hotel!! Skipped the tortillas, sour cream and cheese and opted for lots of cilantro, tomato, guac, meat and a little rice: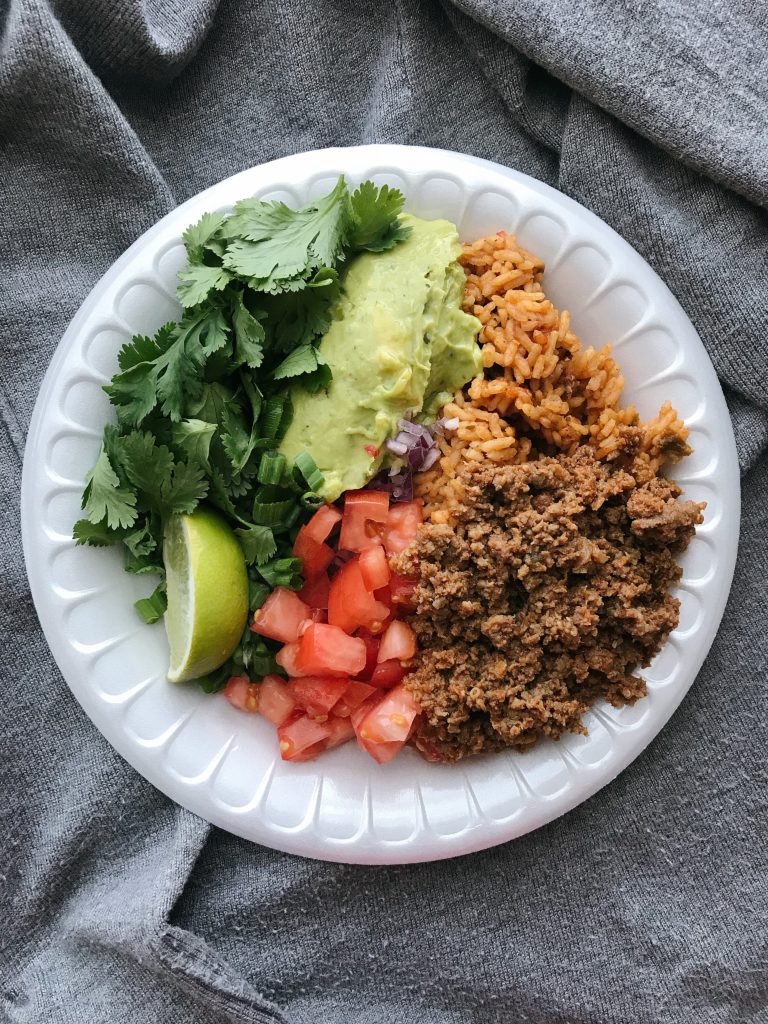 Make it a salad!
I've been loving the salads that I've found the last few weeks on my trip!! I haven't been afraid to ask a restaurant to modify, or even ask the cafeteria chefs at the office to switch up a main entree and just add lettuce instead of bread. It can still be simple but delicious!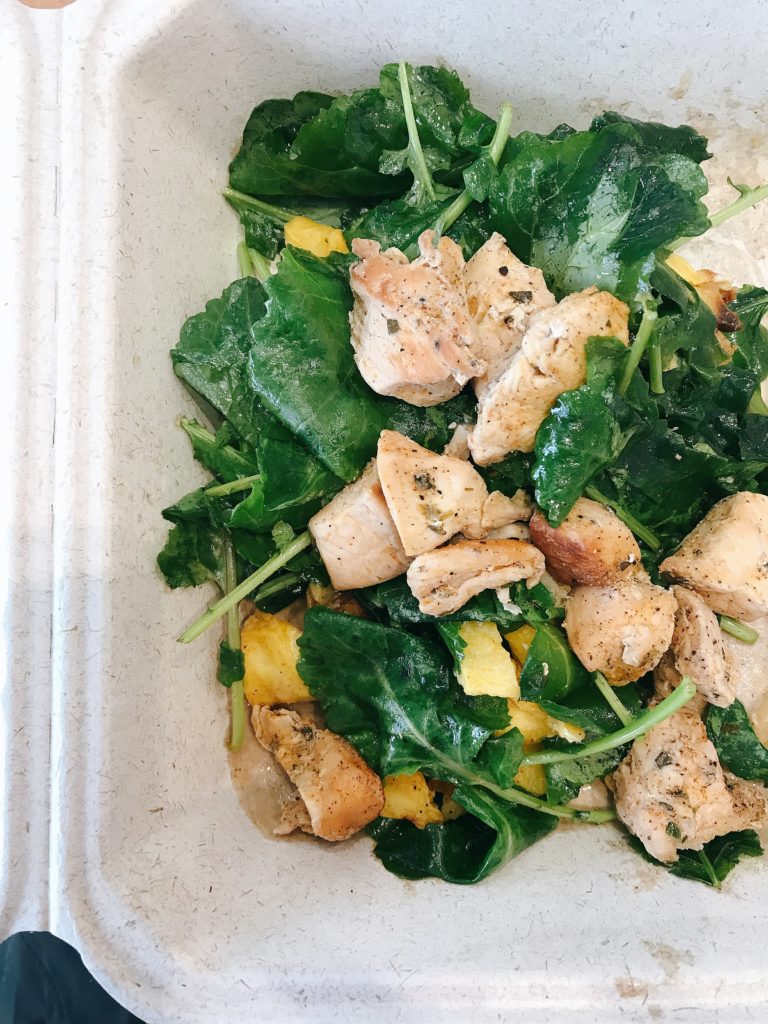 Here's a great (and easy) kale salad with citrus dressing and grilled chicken. Red onion + apple on the side. So good!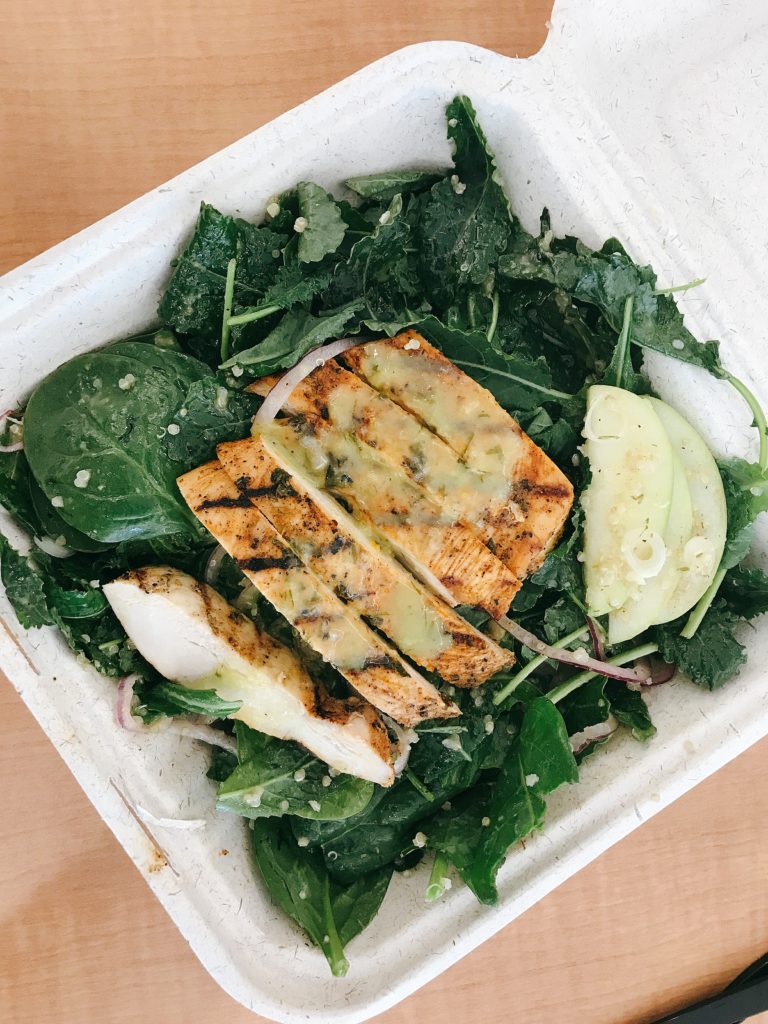 Revisit old classics.
Ever since doing Whole30 I'm more in tuned to healthier options that you can make - anywhere! Eating at Chipotle? Make it lighter than usual by skipping the heavy toppings (sour cream, cheese, rice) and stick with a veggie centric meal with a salad base. Panera? Opt for a salad and fruit instead of pastries and bread bowl options. Burger place? See if you can add a side salad or get a base of greens!
Here I asked for lettuce instead of a bun, then added all the veggie toppings. Basically a salad with extra delicious protein hiding underneath 🙂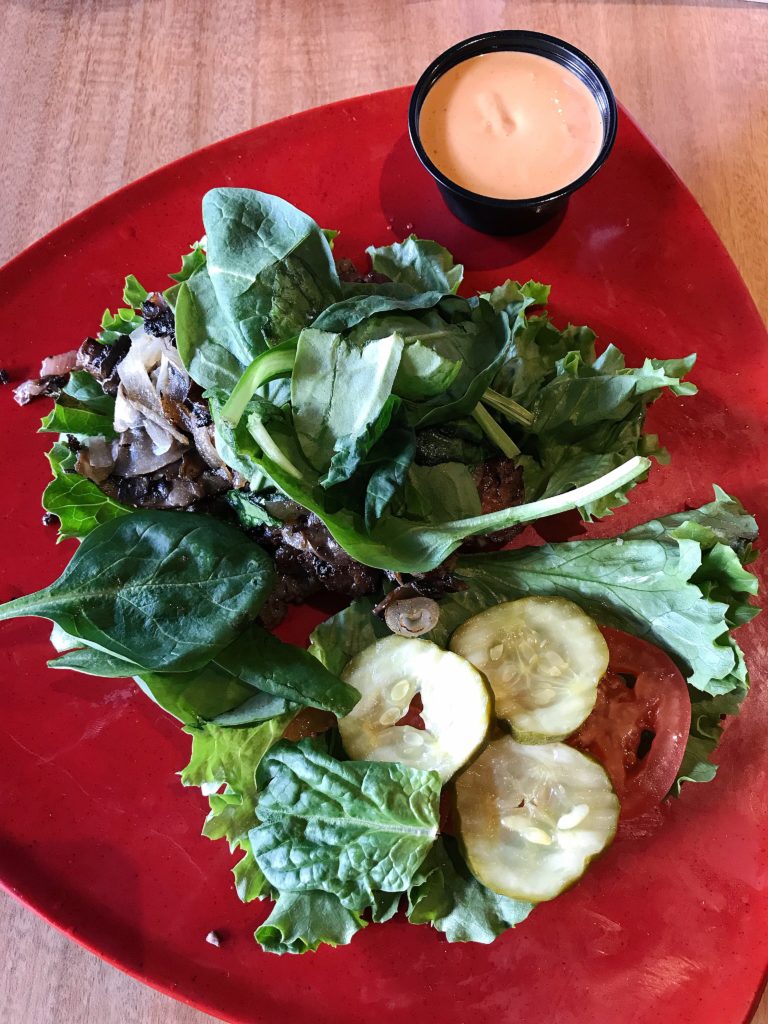 Chipotle salad FTW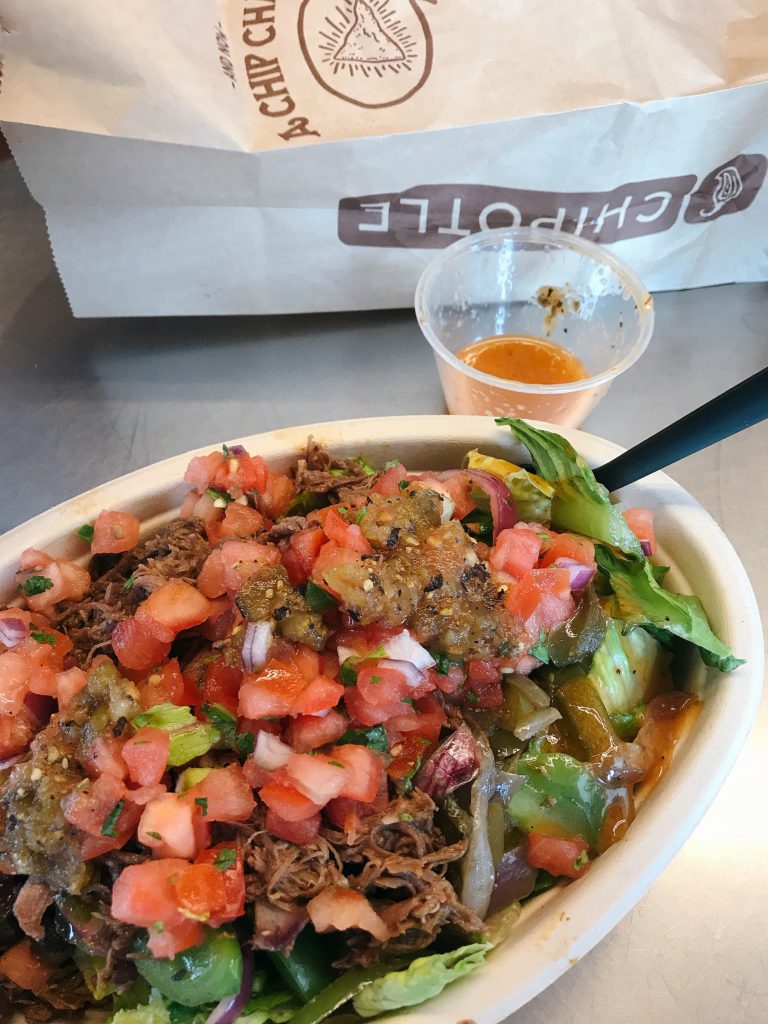 That's all for now - hope you have some good ideas for next time you're traveling!! Any other tips for eating well while on the go?