I've had a few people ask, "How do you make your oats?!" Well friends, there are so many ways. Overnight, stove top, stove top then overnight, slow cooker...the possibilities are endless! I'm going to start with the easiest recipe, overnight oats, to get started. Prepare yourself for delicious.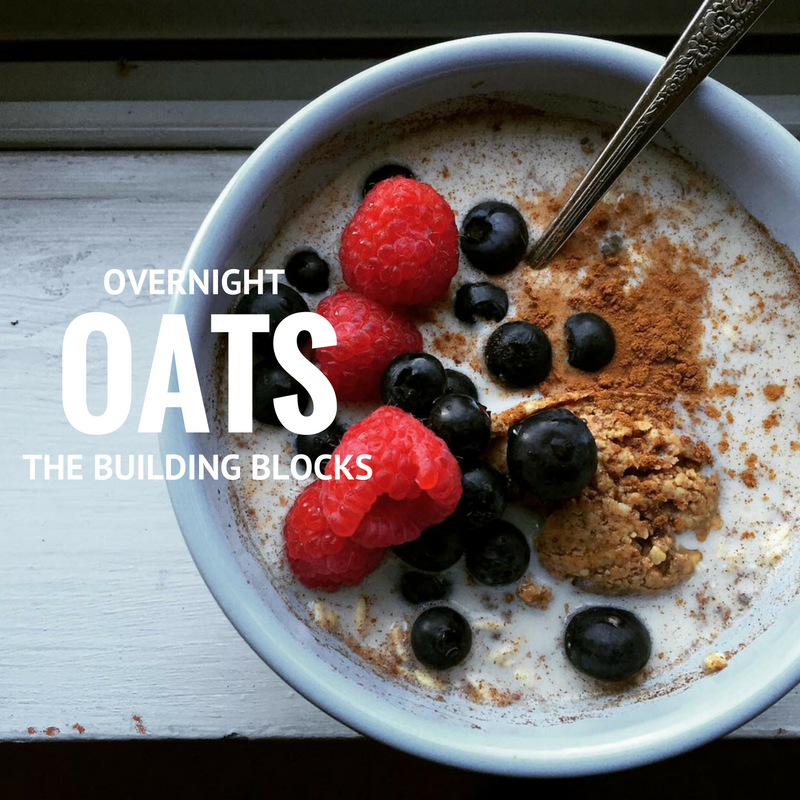 To start, you'll need:
+ Rolled Oats
+ Milk
+ Yogurt (optional, adds creaminess)
+ Sweet add-ins: banana, berries (dried or fresh), jam, honey, maple syrup. I like to add something for a touch of sweetness.
+ Other add-ins: nut butter, chia seeds, flax seed (all optional, they do add thickness, especially the chia seeds)
+ Spices: cinnamon, nutmeg, and cloves are my staples.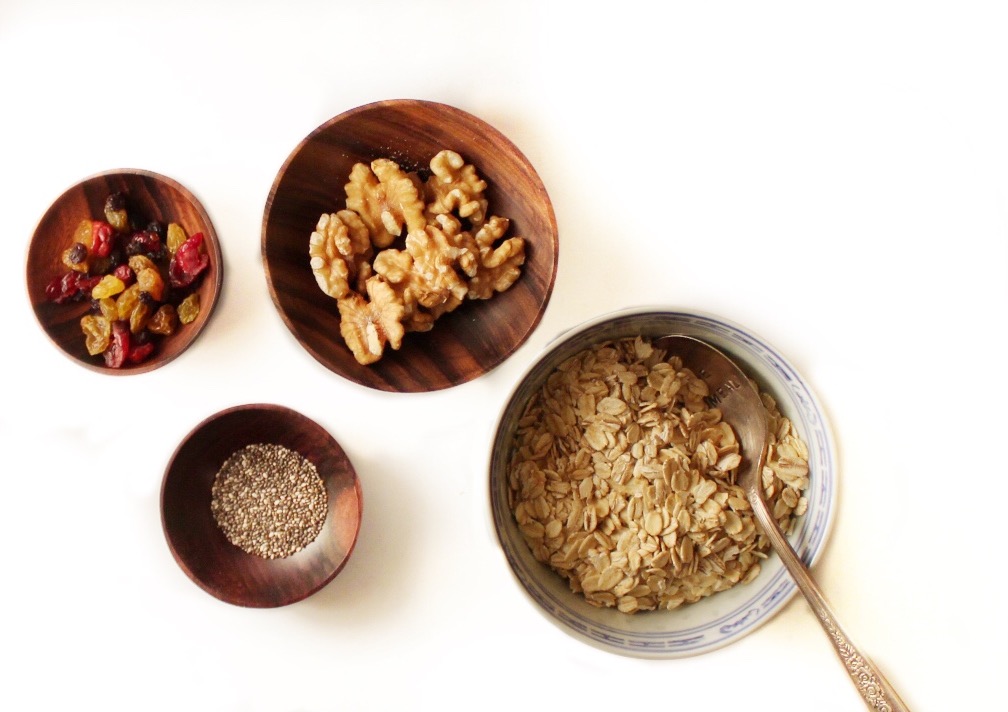 STEP 1 - MIX IT
Mix everything in a bowl. You can add in a little yogurt, too, if you want it to taste a little more like muesli. That's it! If you're feeling fancy you can use a blended liquid mix (banana + milk + nut butter) for a smoother consistency. You can add some chia seeds at this point; it will thicken the mixture but you can add more milk in the morning to thin it out if you like a more liquid texture.
STEP 2 - FRIDGE IT
Set it and forget it - cover oats and place in the fridge overnight. I've done this anywhere from 8 to 12 hours.
STEP 3 - TOP IT
Add any toppings you like in the morning - basically anything you wouldn't want to get soggy. My favorites are seeds (chia, flax, hemp), nut butter, jam, nuts, granola, fresh fruit...or a mix of it all. I let the season and feel of the morning dictate what goes in,.A lighter morning calls for berries, whereas some days you just need all the chocolate (nut butter + chocolate is another fav!). I eat my oats chilled right out of the fridge in summer, and heat them up a tad in winter (just warm them up in the microwave for a minute).
So there you have it - easy steps to a healthier and more delicious breakfast! Summarized below. Print + stick to fridge if additional inspiration needed.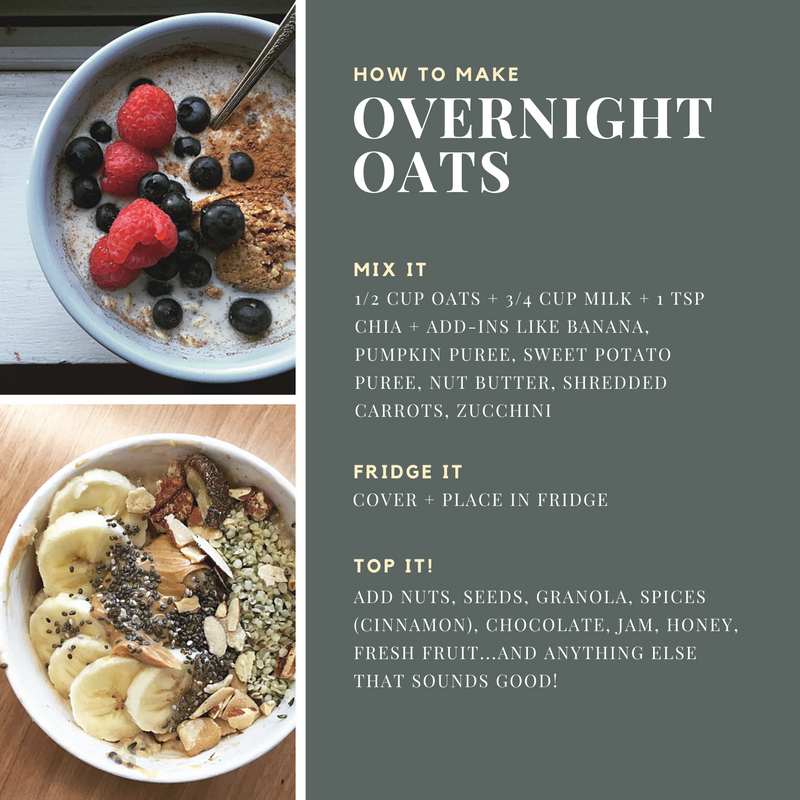 Notes: If you're traveling you can make this in your hotel room with some basic ingredients and a mug! Starbucks oatmeal is also a good base. It's made with water so sometimes I'll splash in some milk or latte (!) if I have either on hand.
Here are some of my favorite combinations for inspiration (scroll down for a summary + recipe!):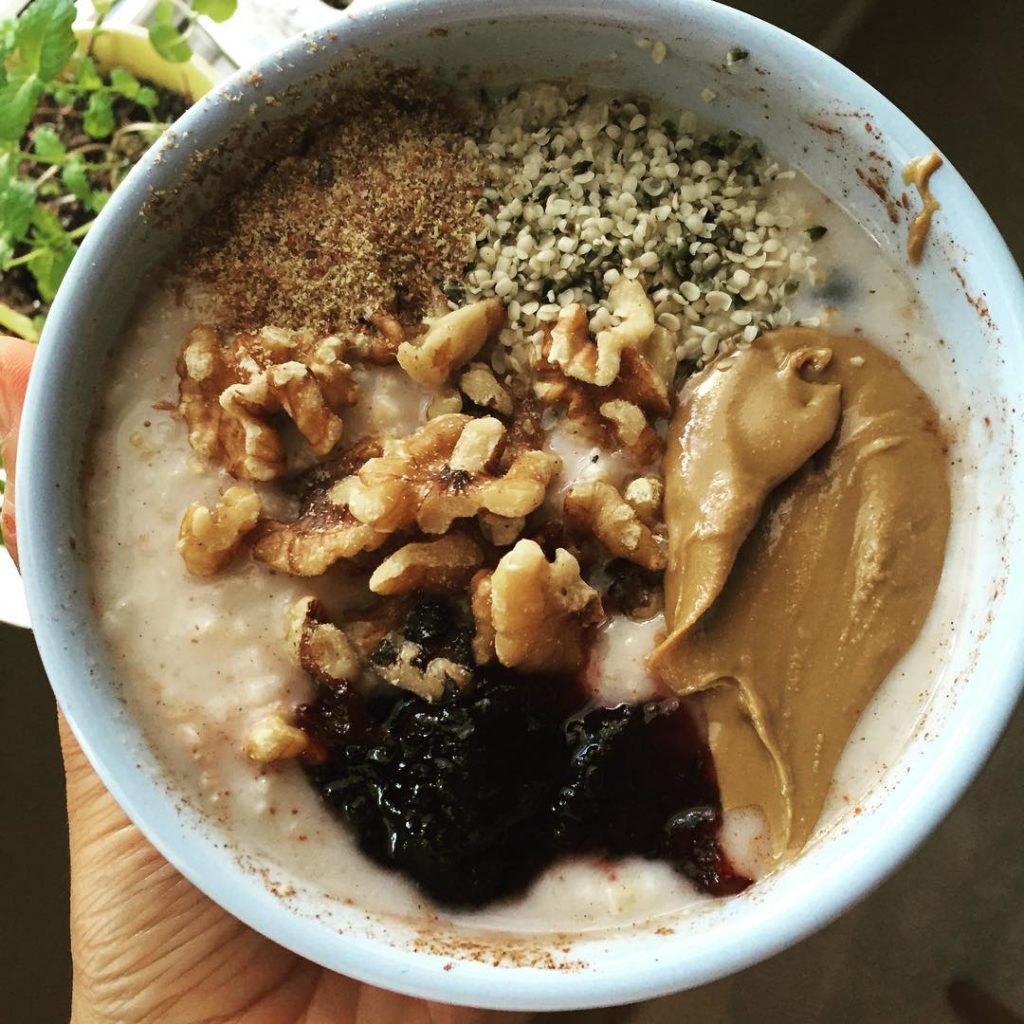 walnuts // flax seed // hemp seed // blackberry jam // peanut butter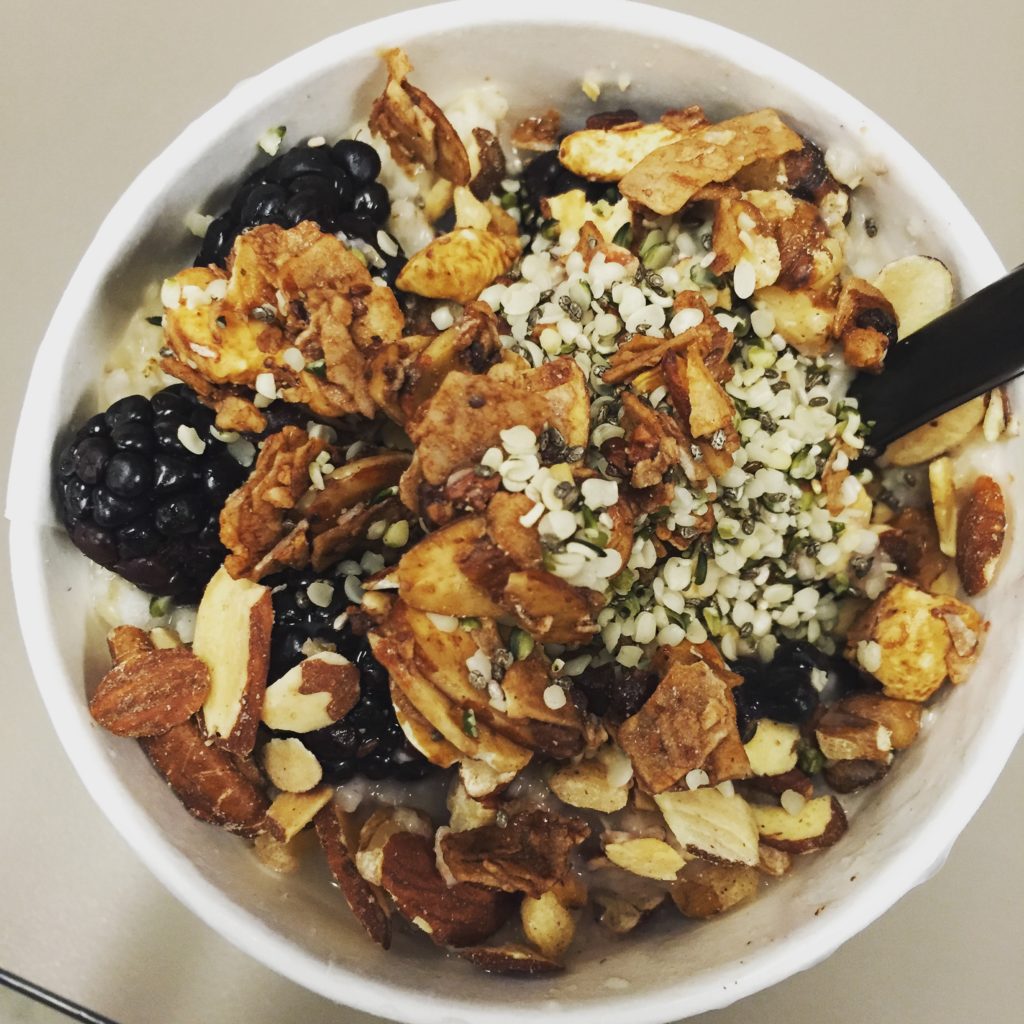 mixed nuts // hemp seeds // chia seeds // blackberries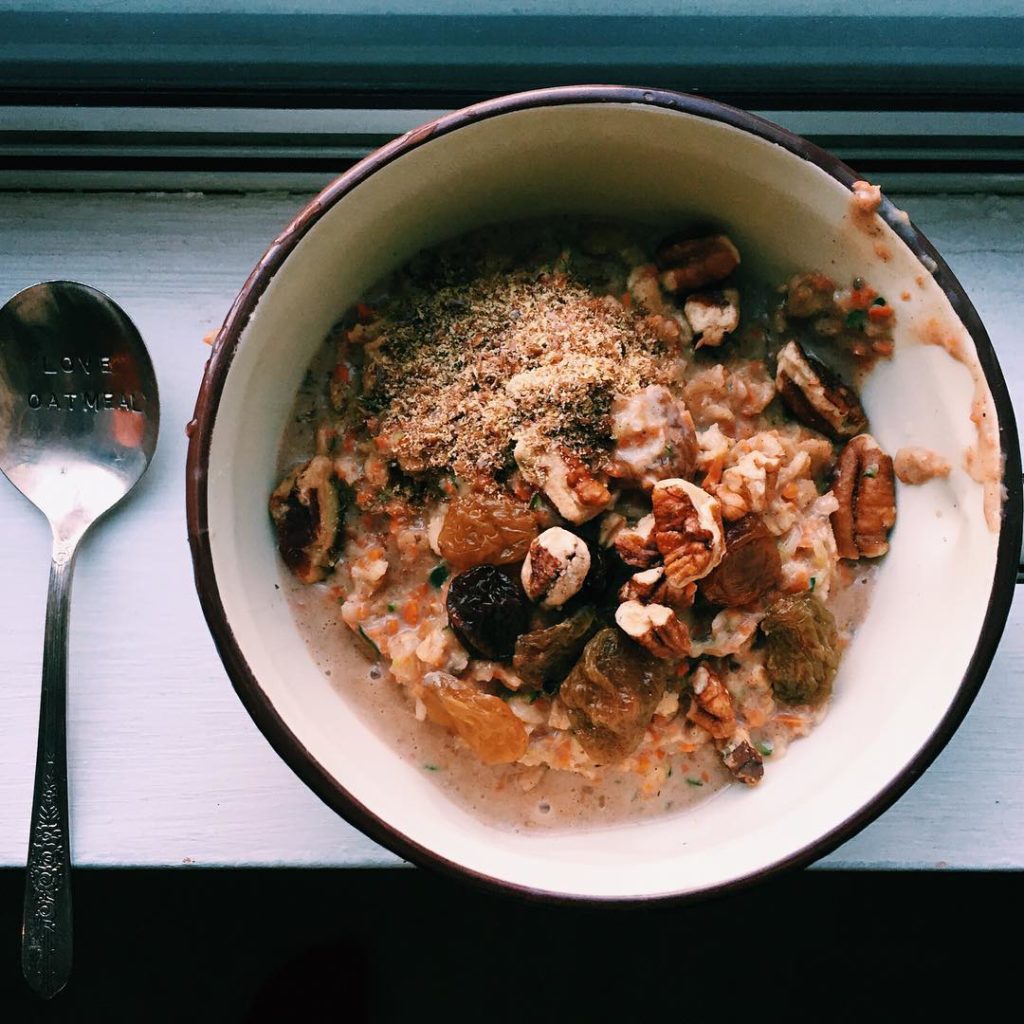 shredded carrots & zucchini // topped with mixed raisins // pecans // flax seed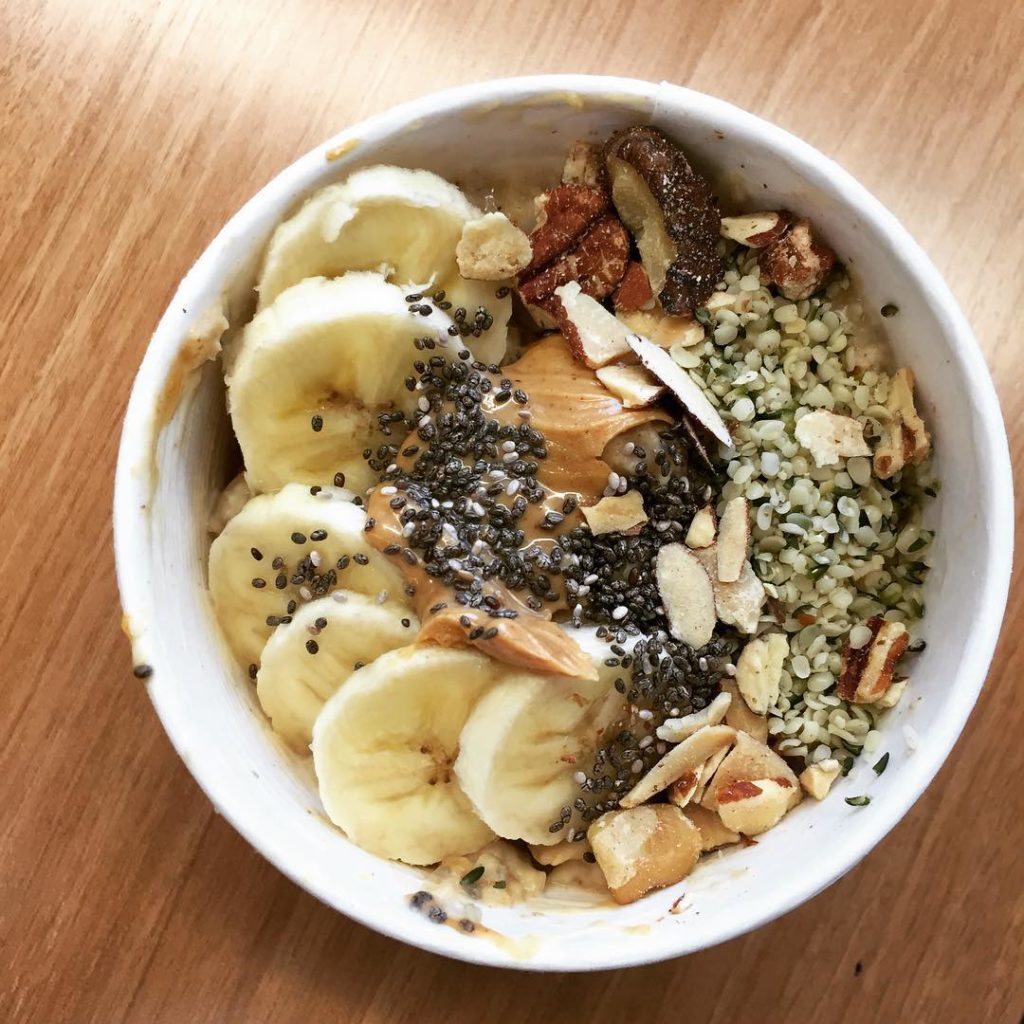 banana // hemp seeds // chia seeds // mixed nuts // honey peanut butter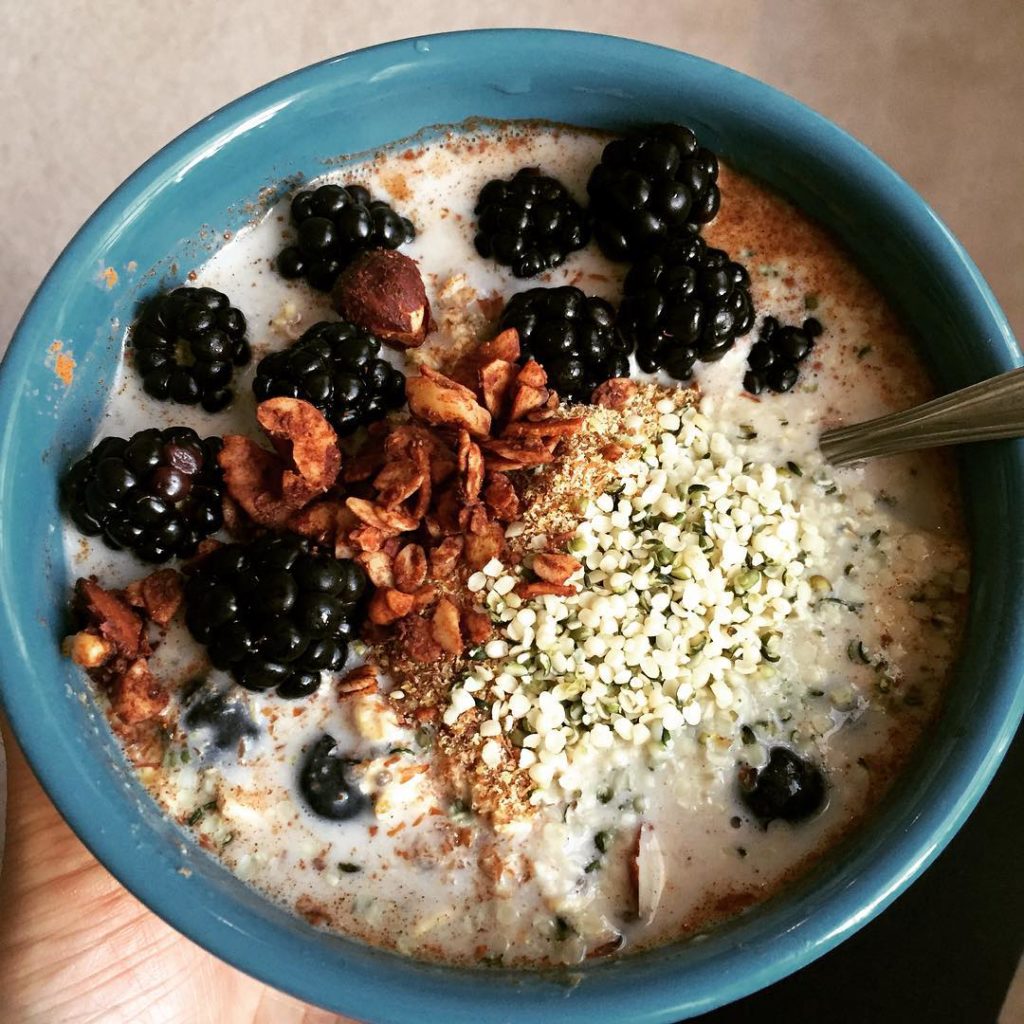 blackberries // homemade granola // hemp seeds // flax seed // cinnamon
Overnight Oats: The Building Blocks
Use this easy recipe as a base for overnight oats - it's so easy you'll be surprised you didn't try it earlier! Pack in glass tupperware if you're taking it to go.
Ingredients
½

cup

rolled oats

¾

cup

milk

almond or regular

½

sliced banana or other fruit

1

tsp.

chia seeds

Pinch

of salt

Dash of cinnamon
Instructions
Mix everything together in a bowl or tupperware.

Place in the fridge overnight.

Channel your inner oatmeal artist and top with nuts, seeds, fresh fruit, nut butter, granola, etc. in the morning!
Notes
Consistency will vary based on type of milk used. I've found almond milk to thicken a lot more than regular milk.
Bon app!