Oh hot damn, this is my jam.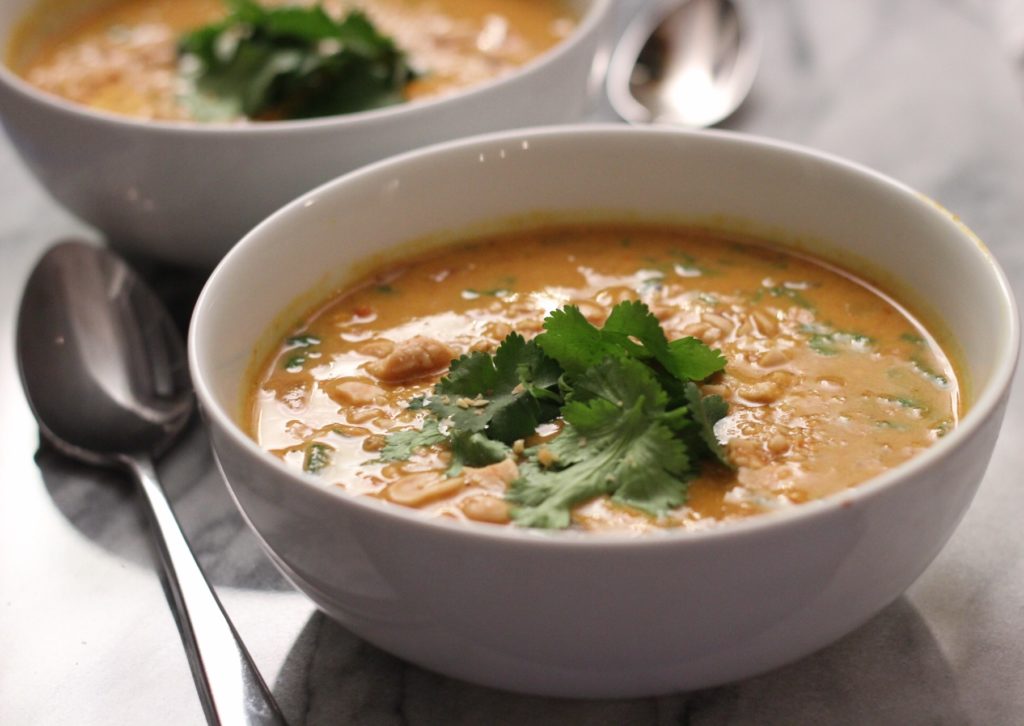 That was stuck in my head because Mr. P has been singing it here and there...but also because I get excited about sharing things like this amazing soup!!! This recipe is a throwback to college (I still have the paper print out) and still one of my favorites. It was originally inspired by one of my best friend's visits to Rev Soup in Charlottesville, but now we have a recipe to call our own! It's creamy // comforting // spicy // and delicious. Need I say more?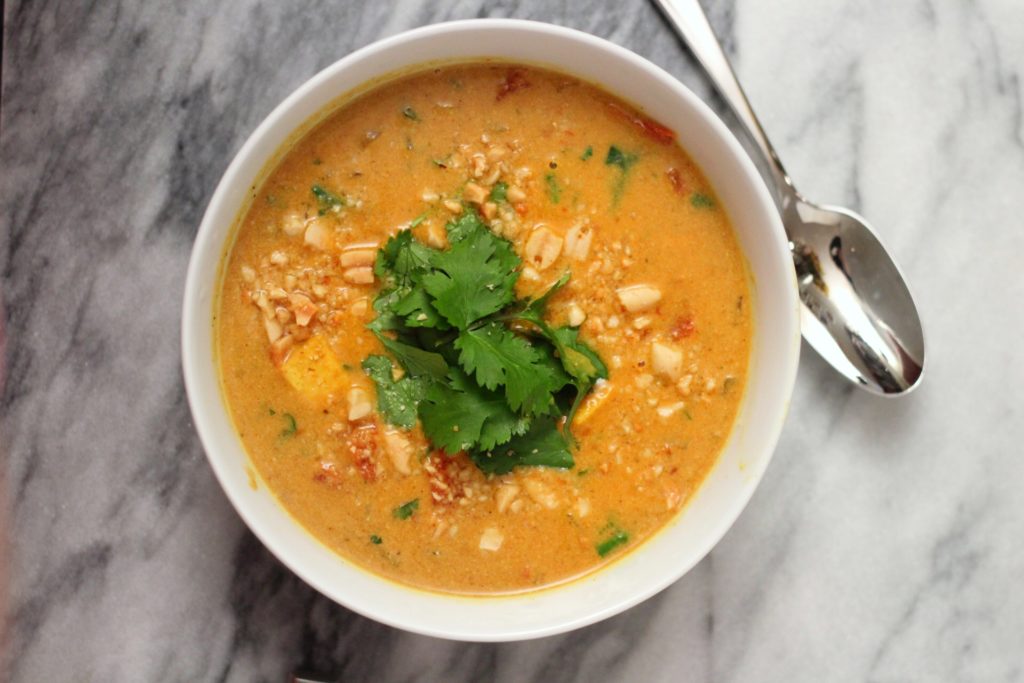 It starts like this: chopped onion + garlic, a WHOLE lotta curry powder (¼ cup! Think of all the turmeric benefits!), a big old can of diced tomatoes, coconut milk and...a whole lot of peanut butter too. This definitely makes  a hearty 4-6 servings so you can save leftovers for a rainy day! Don't fear the fat because this recipe has a lot of it (good fats!).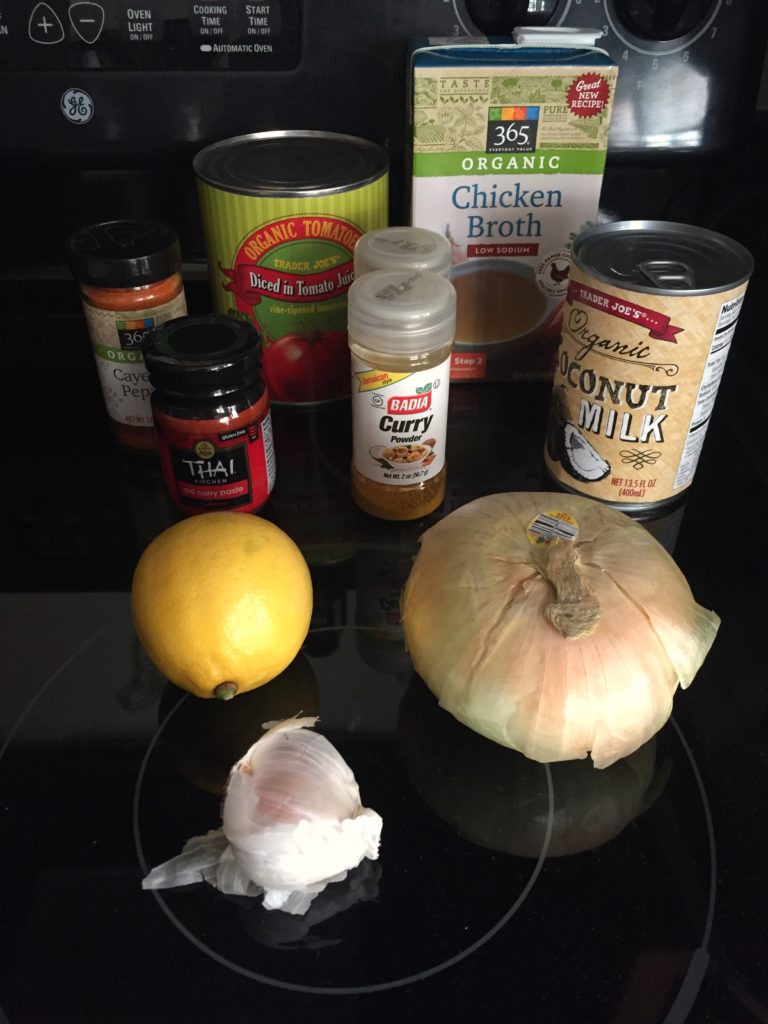 The recipe originally calls for chicken but I modified it to use tofu - a little cheaper and easier to have on hand since it lasts so well. Both are great and work well. This time around we cooked the tofu first (lightly pan fry in a little oil), but I usually just throw it in with the liquid and let it simmer to pick up flavor. If using chicken, cook it first, then add to the pan. I'll usually boil it to keep it simple, then dice it up to add to the soup.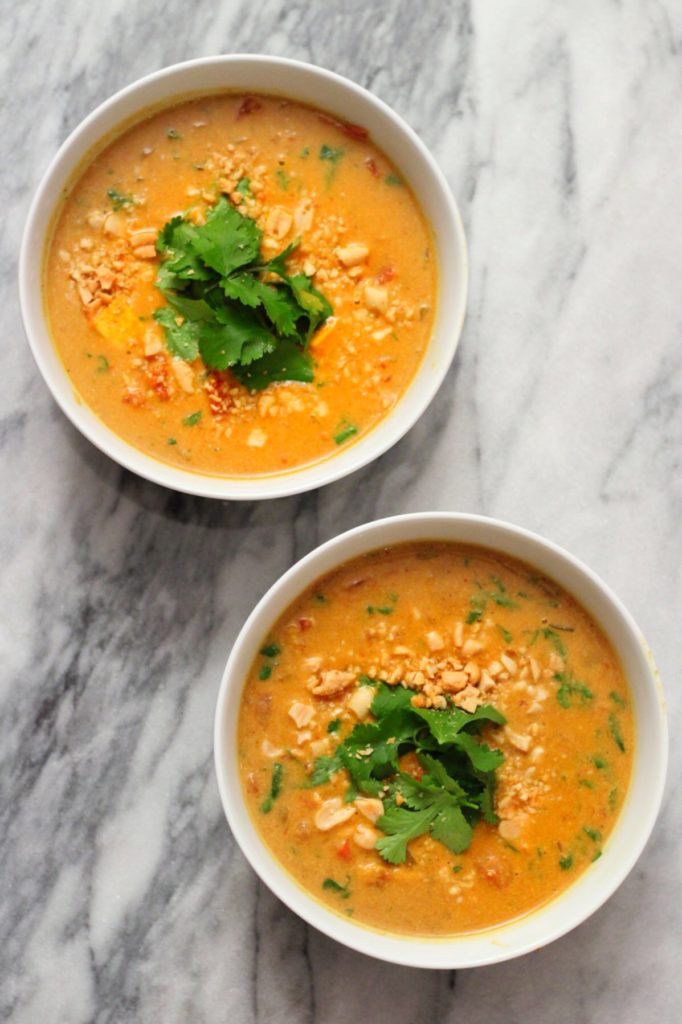 This is serious delish, so if you try it let me know how it turns out.
Senegalese Peanut Soup
"The soup should be silky and smooth, but not thick. It should be spicy, but not too hot. It should have a sharpness of tomato and lemon, but not be sour. It should taste of peanuts, but not of peanut butter." The original description is spot on and summarizes the taste perfectly!
Ingredients
1

large onion

chopped

2

garlic cloves

minced

¼

teaspoon

cayenne pepper

2

Tablespoons

coconut oil

¼

cup

curry powder

2

Tablespoons

red or yellow Thai curry paste

1

quart

chicken or vegetable stock

about 4 cups or 32 ounces

1

quart

diced tomatoes with juice

1

pound

tofu

diced (or sub chicken, about 4 cups cooked)

¾

teaspoon

red chili paste

1

cup

peanut butter

1

can

14 ounces coconut milk (I used full fat)

1

bunch cilantro

chopped

Juice of 1 lemon

Crushed peanuts
Instructions
Saute the onion, garlic, and cayenne in oil until the onion is translucent.

Stir in the curry powder and Thai curry paste; saute about 1 minute.

Add the chicken stock and tomatoes, then bring to a gentle simmer.

Add the tofu or chicken, then simmer about 5 minutes longer.

Add in the peanut butter and stir until smooth, followed by the can of coconut milk.

Turn the soup to low or off and add ¾ of the chopped cilantro (or as much as you want in the soup), and the lemon juice.

Serve in bowls and top with the remaining cilantro and crushed peanuts. Enjoy!
Notes
Recipe adapted from Food.com (http://www.food.com/recipe/senegalese-chicken-and-peanut-soup-109454)
Bon appétit!