Son of a peach....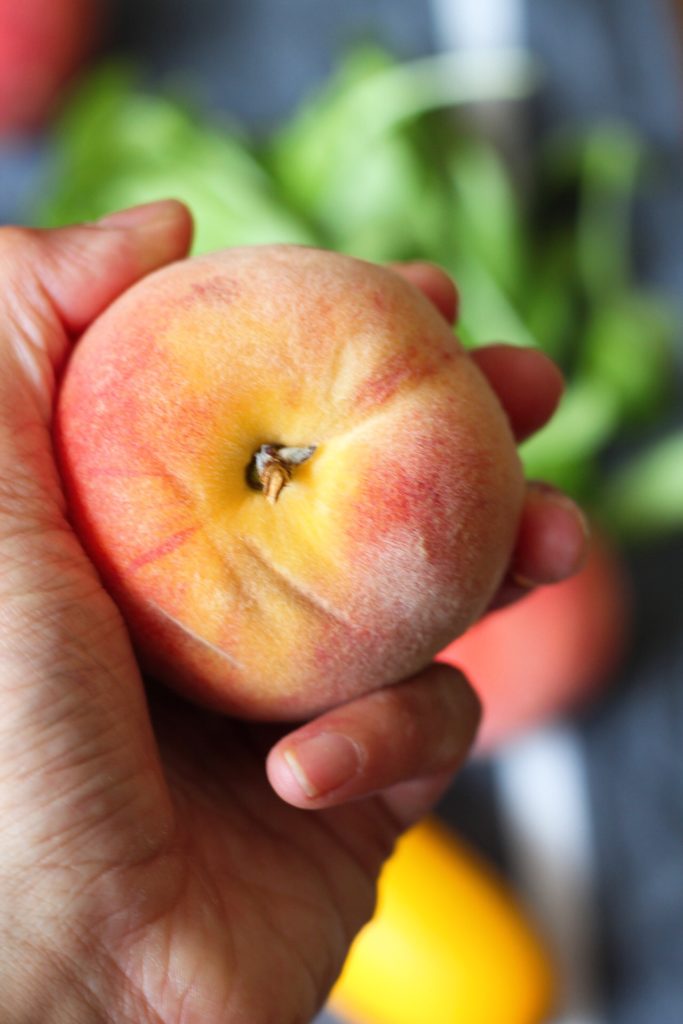 That was the name of a beer we had this weekend at Tupelo Honey Cafe! So delicious. Peach season is in full swing here in VA and I am thrilled to be a part of it. Picking them up at local farmer's markets whenever I can (Courthouse! Foggy Bottom!).
Anyway wanted to share this salad from last weekend, inspired by the market. It highlights some of the season's best produce!
Sweet corn. YUM. Underrated.
Peaches. Must be juicy not those sad store bought ones 😂
Greens. Arugula here.
Yellow zucchini.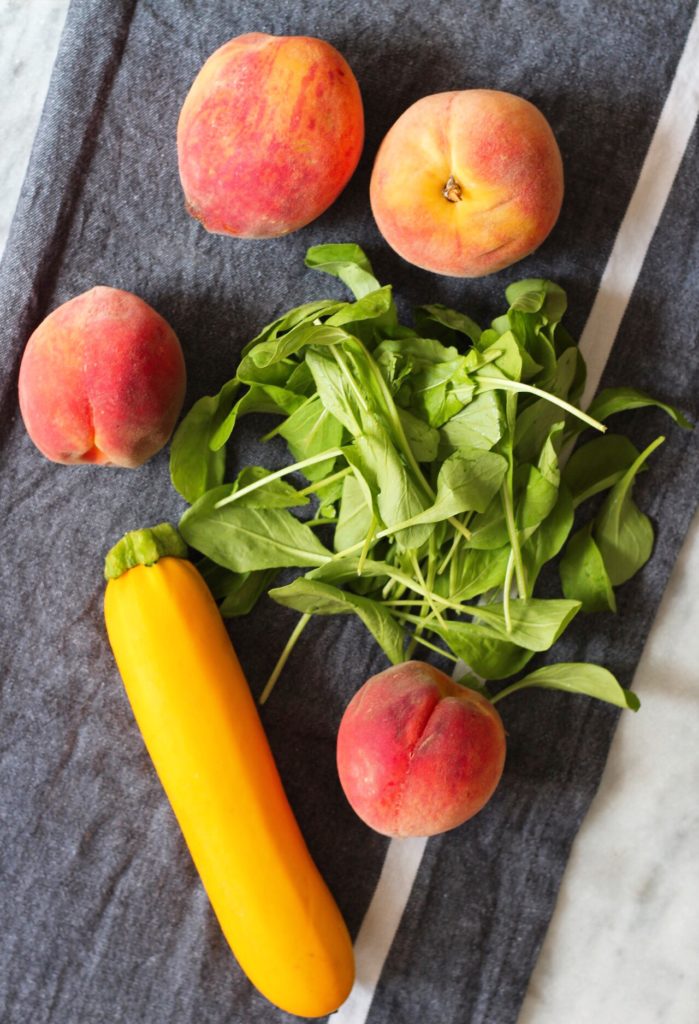 The base of the salad was zucchini that I ribboned using my handy peeler
. Then arugula, peaches, and corn on top. I kept the dressing light to let the produce flavors shine through. We had limes laying around so I made a lime vinaigrette, adding in olive oil, honey, a bit of mustard (to hold everything together), salt and pepper. The lime and honey was a perfect complement to the juicy peaches. I loved how well the salad piled up with the zucchini ribbons 🙂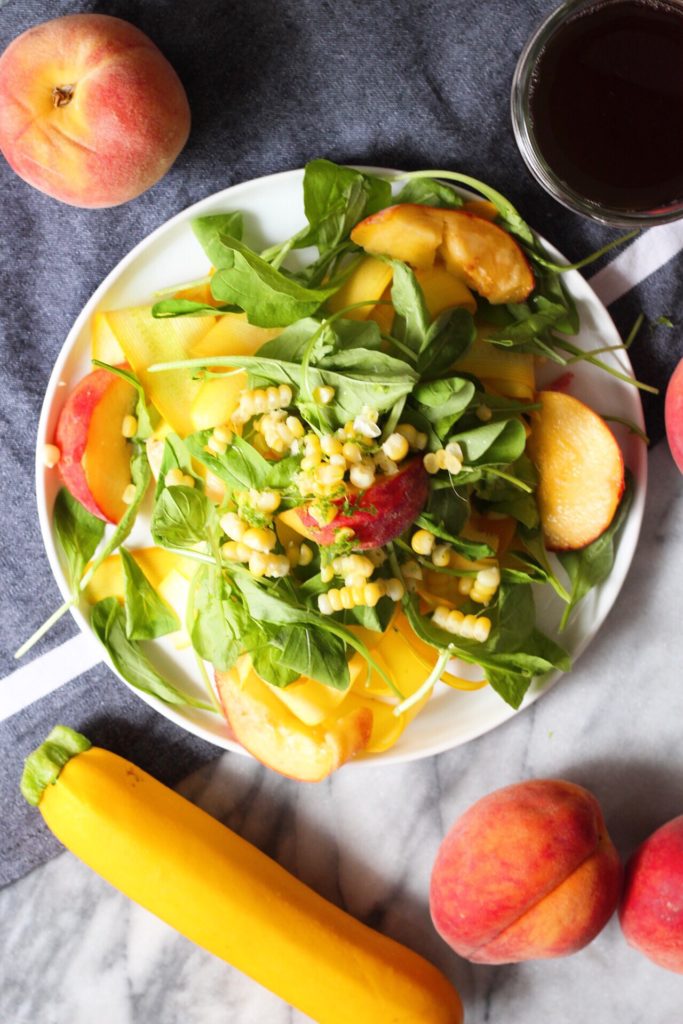 Full recipe below 🙂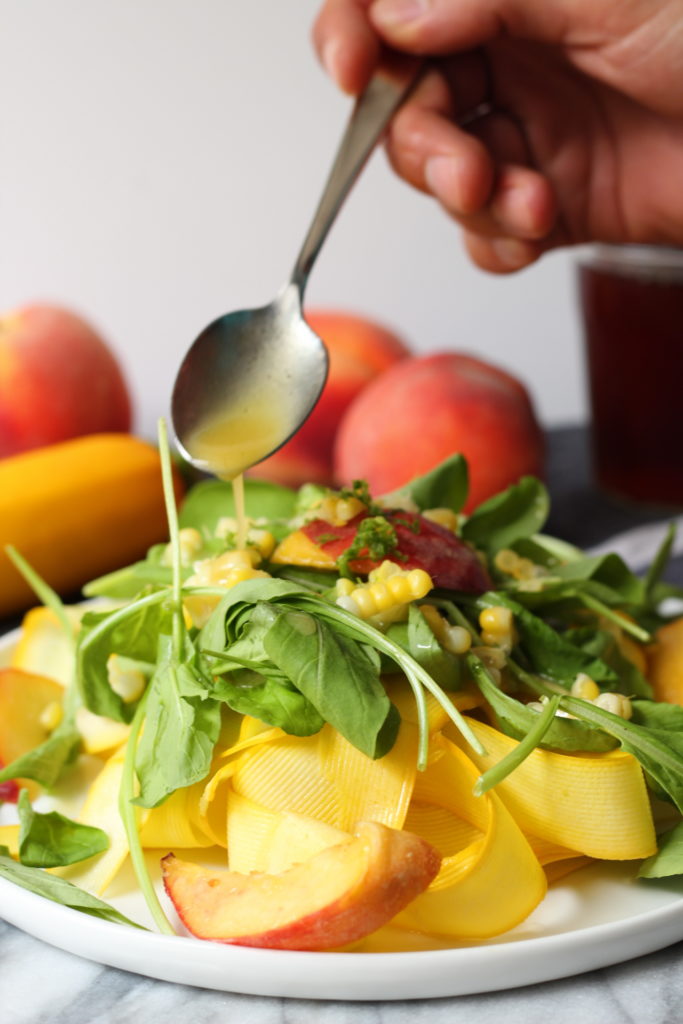 Summer Market Salad
An easy summer salad inspired by the farmer's market, topped with a honey lime vinaigrette
Ingredients
Salad Ingredients
2

yellow zucchini

1

bunch arugula

2

ears fresh sweet corn

1

peach

sliced
Dressing Ingredients
¼

cup

extra virgin olive oil

¼

cup

lime juice

about 1 big lime

½

teaspoon

mustard

1

teaspoon

honey

Pinch

of salt
Instructions
Bring a pot of water to a boil. Shuck the corn in the meantime. Once boiling, add the ears of corn and cook for about 5 minutes. Remove and let cool.

Make the dressing: mix all the dressing ingredients in a small bowl or jar until well combined (the mustard will help keep everything together). Set aside.

Next, thinly slice, spiralize or ribbon your zucchini. Place on a plate or in a large bowl and top with arugula.

Once the corn is cool, carefully slice the kernels off the ear into a bowl or onto a cutting board.

Top the salad with the corn + peaches, then drizzle on the dressing and dig in!!
Notes
You can also marinate the zucchini in the vinaigrette for extra flavor. This works well if your zucchini is thickly sliced.
I hope you are inspired to check out your local produce and make something easy, fresh and delicious this weekend!!
Bon appétit 🙂