Ah, Paris.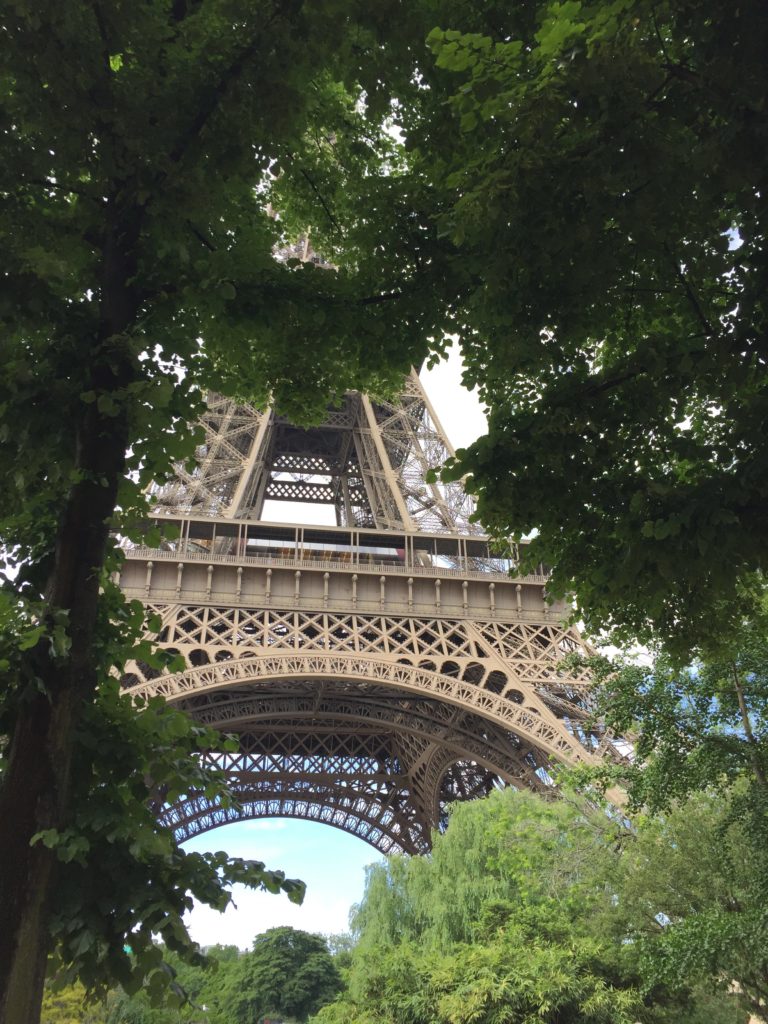 We found ourselves here again on vacation, meeting up with friends from all over the world for our big summer vacation 🙂 Pedro and his tennis teammates (and college rommates) planned to meet up and we chose Paris as the most central place (between London, Amsterdam and Itay!). Couldn't have asked for a more fun weekend with friends and good food! Quick recap here, along with some of the food places we made it to!
We arrived Friday and went straight to Roland Garros on the western side of the city. It was very crowded but surprisingly well organized! Tickets are normally quite expensive (and we waited until the last minute to buy them...) but we were able to get some evening tickets for 15 euros - a good deal if you get there early and are able to get into some matches!! Fun to experience it all.
After watching a few matches we headed back to the AirBnB where we were staying (here!) and met up with the first couple. We had a tasty dinner out - I got a vegetarian Poilane tartine at Le Petit Cler with good (and cheap) wine 🙂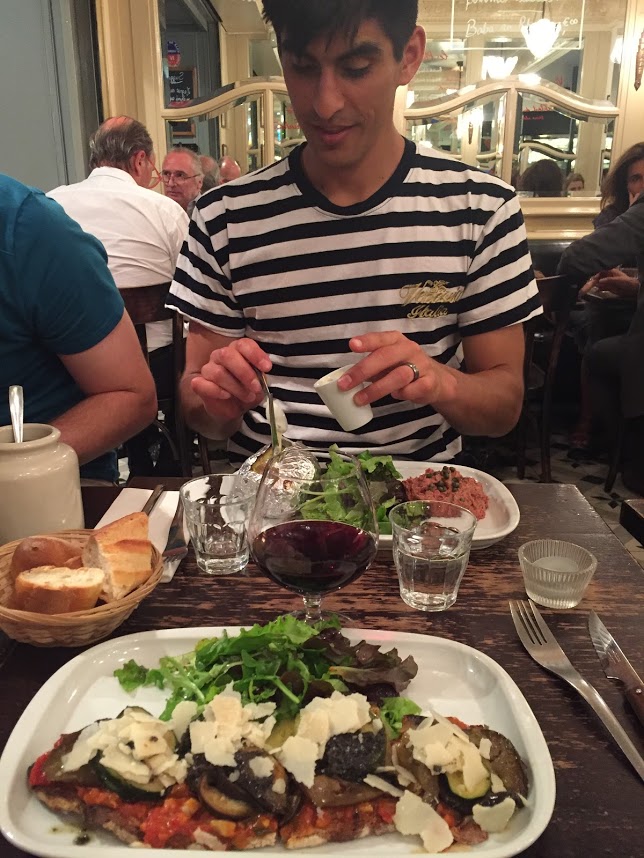 The next morning two more friends came in and we met up for breakfast - an assortment of pastries, fruit, and the best juice EVER!!! Most people got their pastries around the cornet at Other Douceurs et traditions Boulangerie Nelly Julien (85 Rue Saint-Dominique, 75007 Paris). I happened to see another place, Notre Patisserie, slightly fancier :), where I decided to get my almond chocolate croissant (chocolatine aux amandes). Did not disappoint. This was one of the best ones I had, ranking quite high on the flakiness scale (the most important for a croissant in my opinion).
Breakfast/meals were of course the highlight of the day....afterwards we walked over to Notre Dame and visited for a bit. I had been before but it's always impressive to see again. I saw that they have a crypt you can visit - I want to go back for that! We were headed back to Roland Garros for the evening so after wandering a bit more in the rain and visiting the famous Shakespeare bookshop (very cool history!), we snuck around the corner for some crepes. I had a smoked salmon one but couldn't help lusting after this sweet one.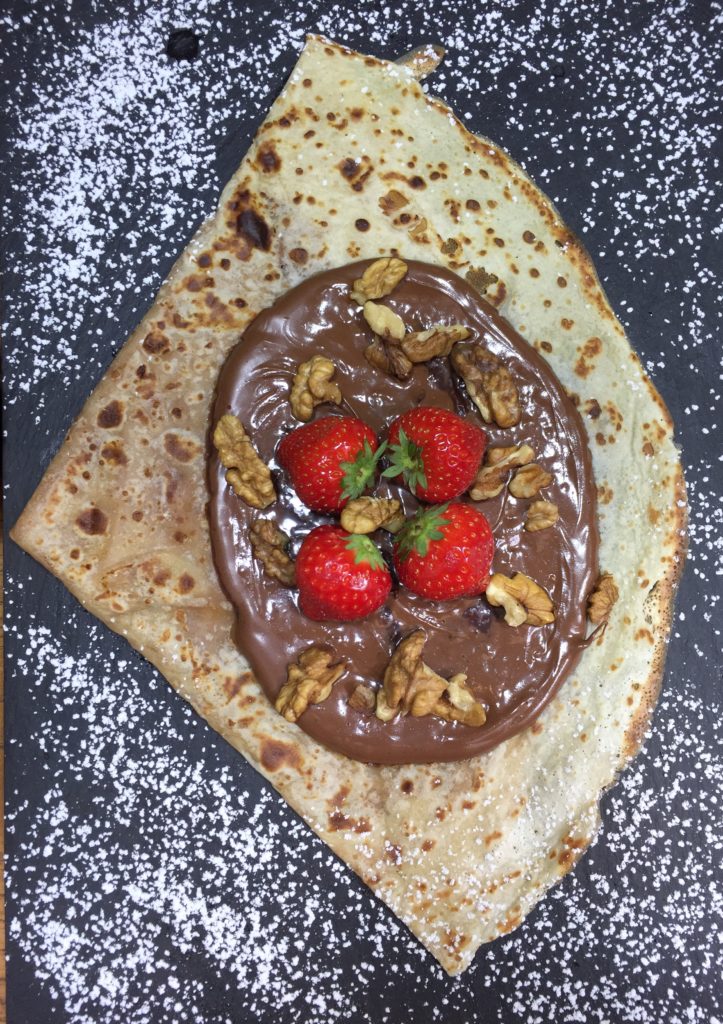 Tennis was less exciting the second day since the good matches had already finished, but we had fun anyway. We ate at another restaurant that night near the AirBnB which was also pretty good. I got a salmon and veggie dish but didn't great a great pic sadly!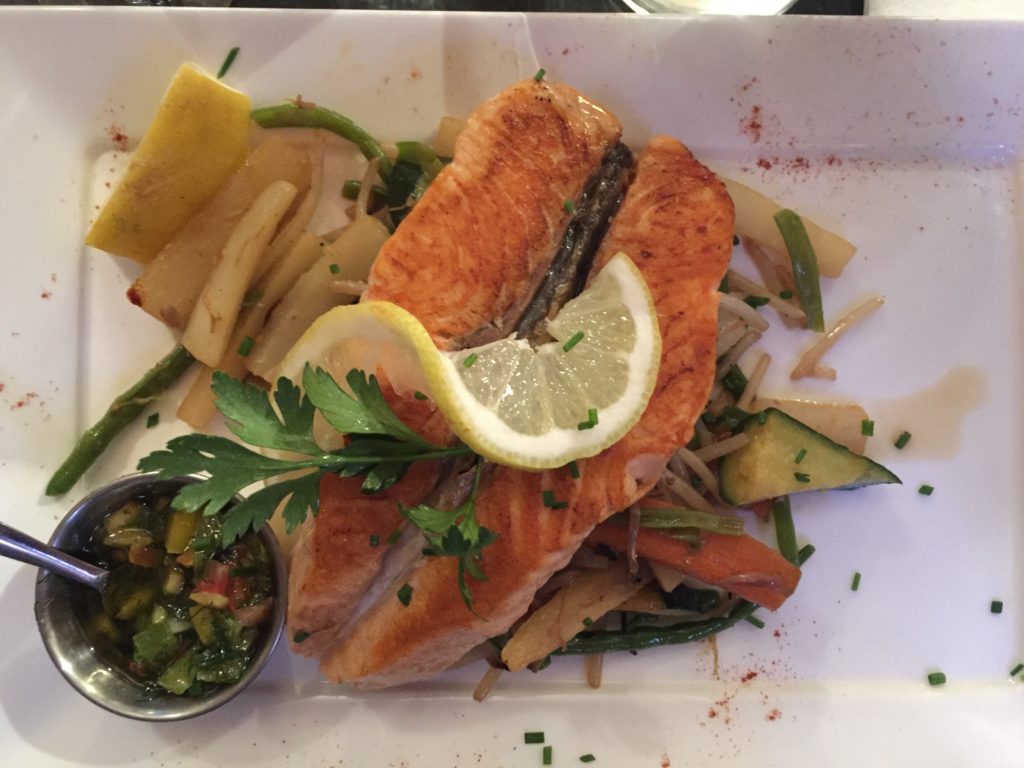 The next morning, feeling like I wanted something more substantial than flour and butter ;), so I searched out some avocado and eggs to go with my fruit. I ended up having a few bites of Pedro's patisseries but enjoyed the more balanced breakfast 🙂 When you're in Paris you can't *not* get croissants (the good ones) but you can balance it out with some healthier options like salad throughout the day as well as lots of walking. I am always able to find the most amazing fruit - see cherries below!! The apricots and cherry tomatoes were also delicious.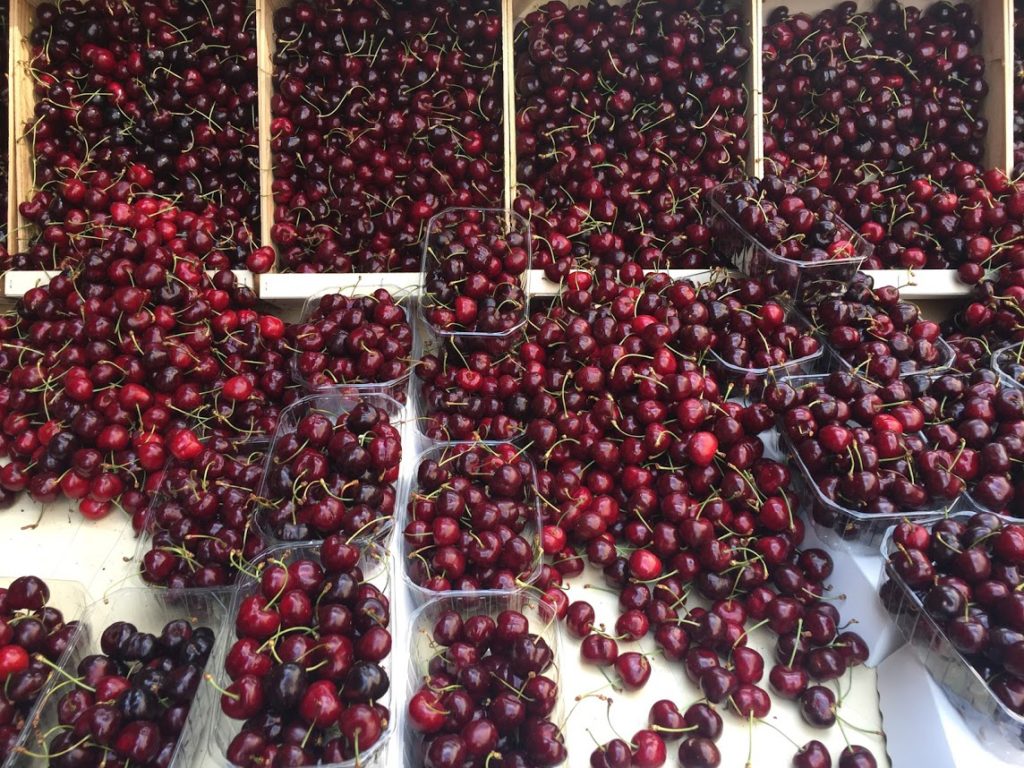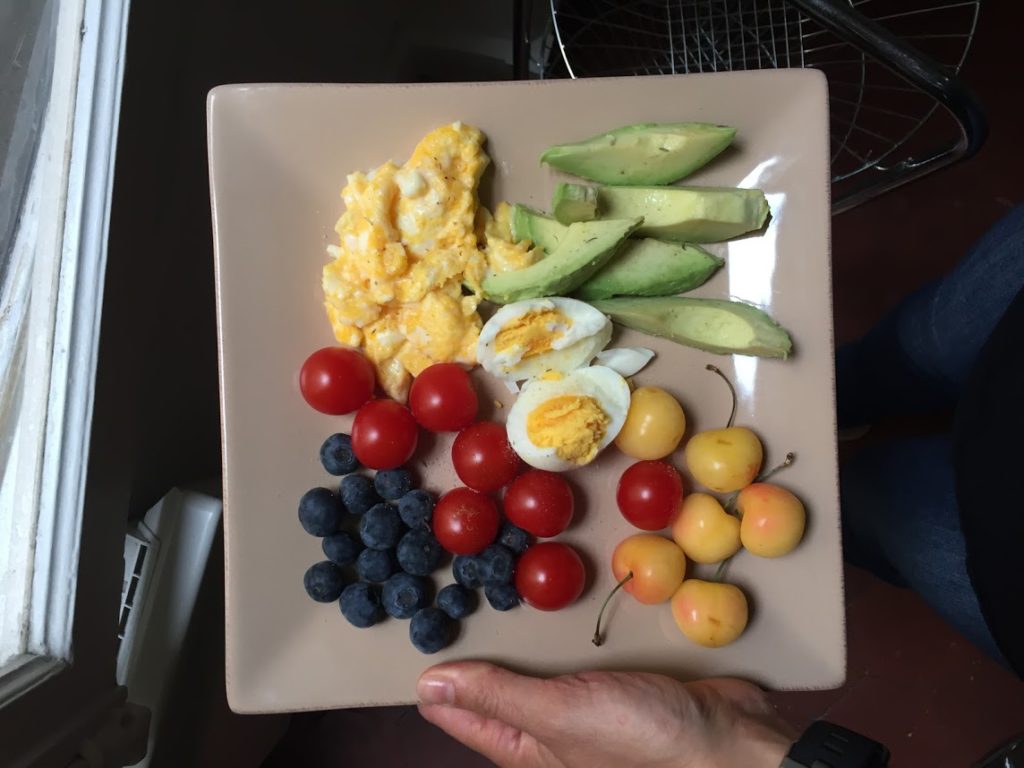 After our big breakfast the boys headed out to tennis for the morning (they had free tickets) and the girls out to wander 🙂 We ended up walking through the Luxembourg gardens, staring at the line at the Louvre and then deciding to go somewhere a little more quiet, Sainte Chappelle. We stopped for a coffee before heading in because we all had to use the restroom quite badly at this point!! Good coffee + tea break at Les Deux Palais.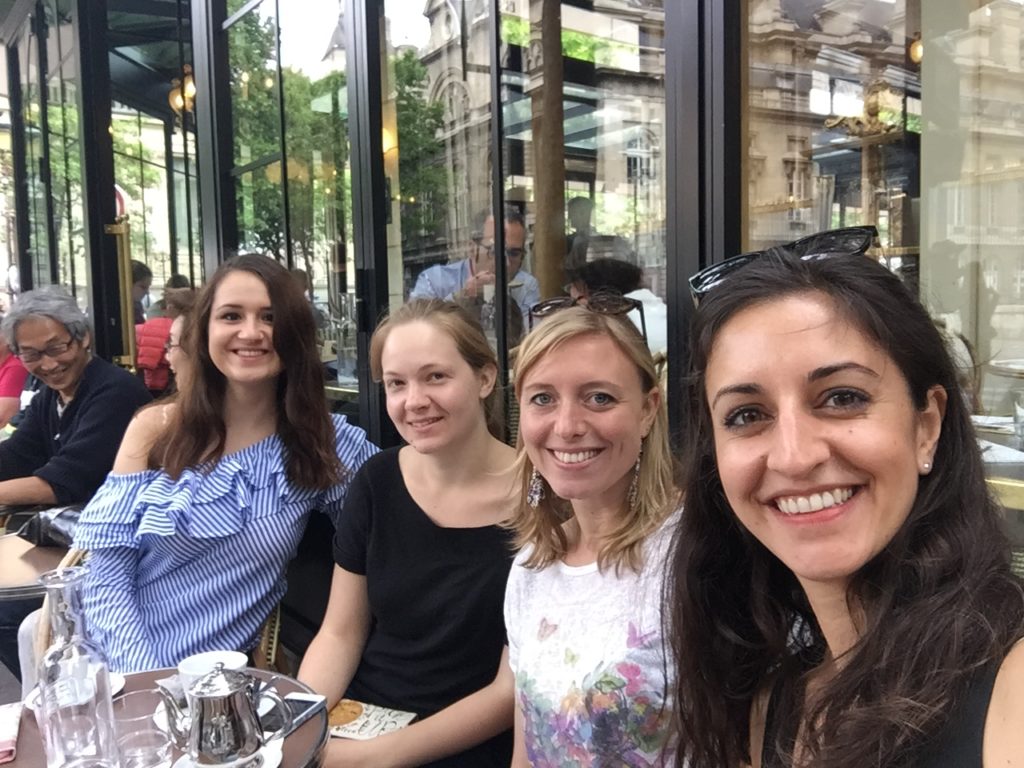 I had been to Sainte Chapelle before but it was breathtaking to revisit again. I got goosebumps when we walked in! The visit is only 10 euros, so a bit cheaper than some other touristy attractions, and more manageable time wise (side note: if you're looking for a great but smaller museum, I recommend the L'Orangerie. It houses Monet's water lily paintings which are HUGE! You get to view/experience them how he wanted viewers to see the art - immersed in it rather than staring at it. It's close to the Louvre.) Okay back to Sainte Chapelle - you can hardly imagine this from the outside but inside it's really glorious: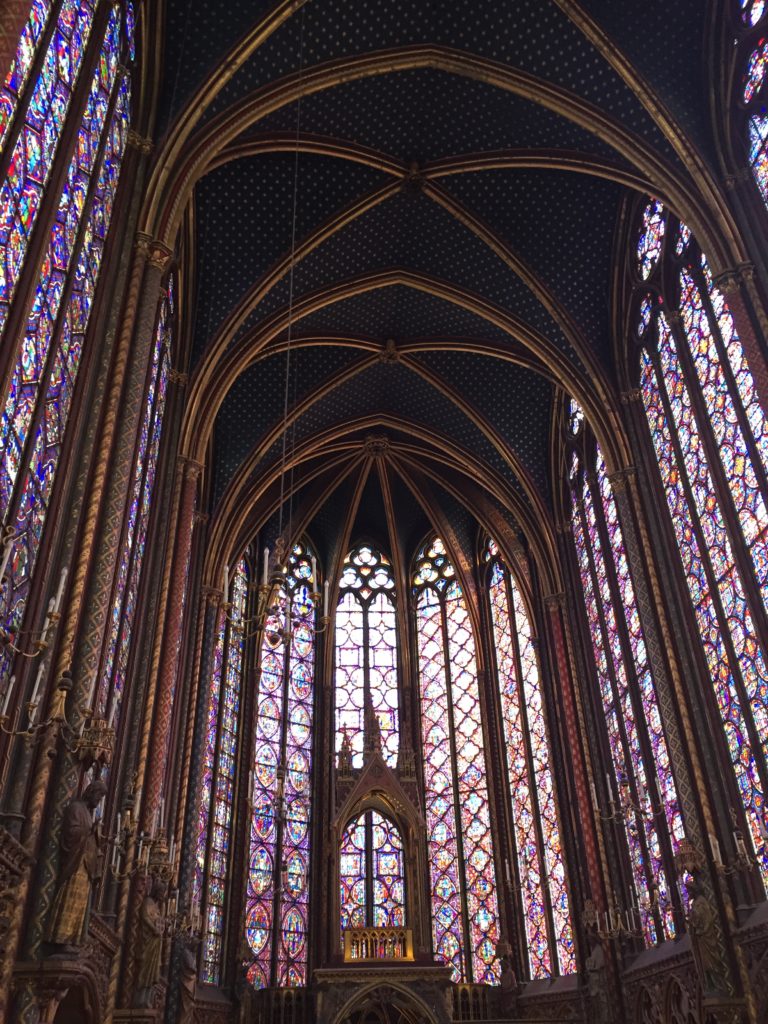 So beautiful! After our visit here we headed over to the Marais to window shop and grab a quick bite to eat. I love the quirky nature of the neighborhood and enjoy looking around at everything immensely! A different kind of art for the eyes :). Oh, and a little Nutella crepe to tie us over until dinner 🙂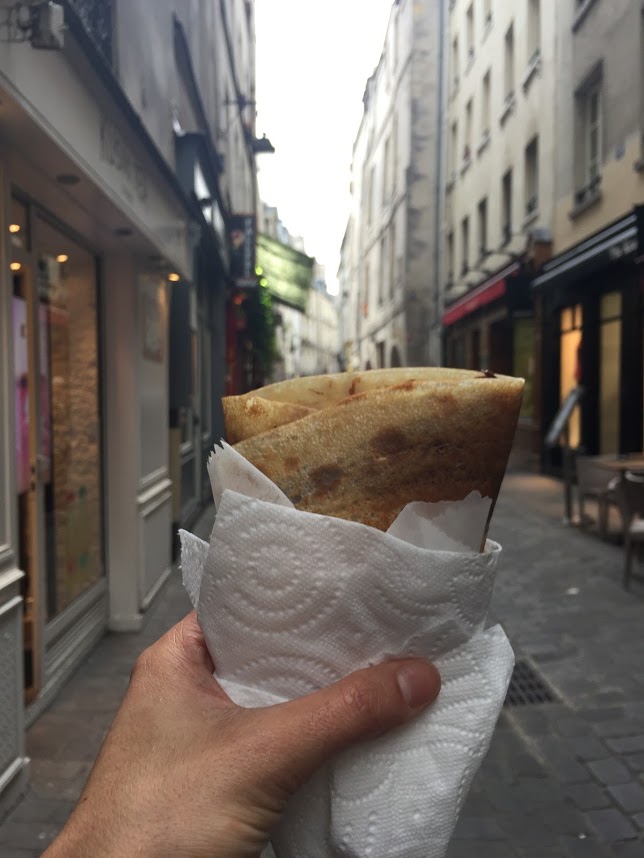 I picked up my favorite tea from Mariage Freres - I recommend stopping in for a visit if you've never been! It's so fun to smell all the great teas, and even more fun if you can stop in for tea service with all the accoutrements 🙂 Really special. We wrapped up the evening vising Montmartre and enjoying a nice long dinner together at a nearby cafe. We stopped at the "wall of love" for a few pictures 🙂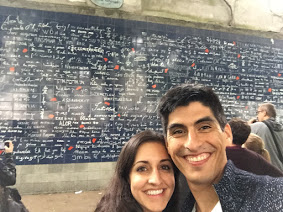 Sunday!! I draaaagged myself out of bed to fit in a little workout - I needed to stretch and wakeup some muscles after a few days off even though we had been walking a ton (>20,000 steps/day if you have a fitbit!). We worked out in front of the Eiffel Tower...no complaints there 🙂 If you're looking to work out while in Europe, I recommend trying to stay close to a park or green area where you can do some easy body weight workouts - transportable and flexible! Here is Pedro with a great jump (you can see a zip line that was put up for Roland Garros!!):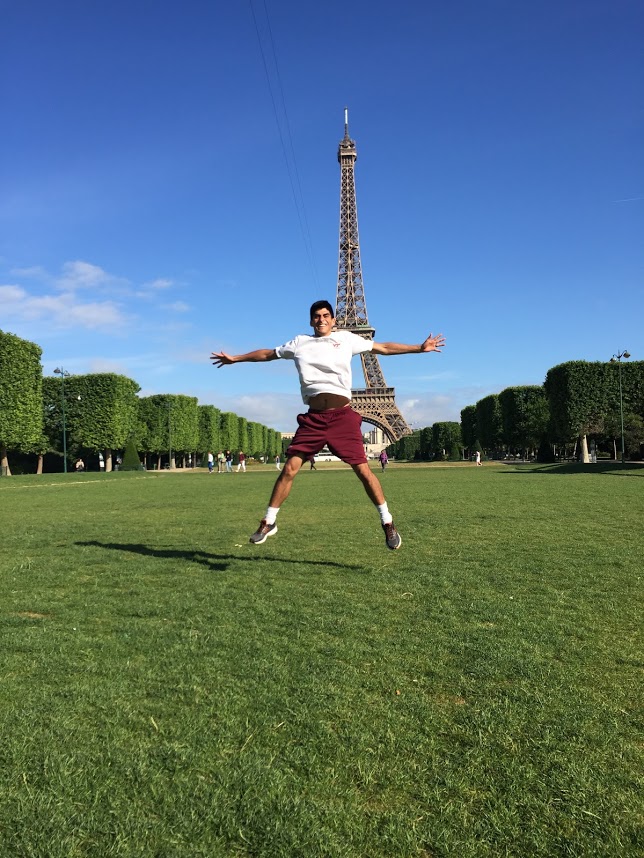 Our group had another great breakfast this time picnic-ing at the Eiffel Tower with all our treats we had picked up at Le Champ des Delices (145 Rue Saint-Dominique, 75007 Paris). Again, suuuper delicious pastries. It's hard not to get everything, but it's one of those places I would return for anything, even as simple as a baguette!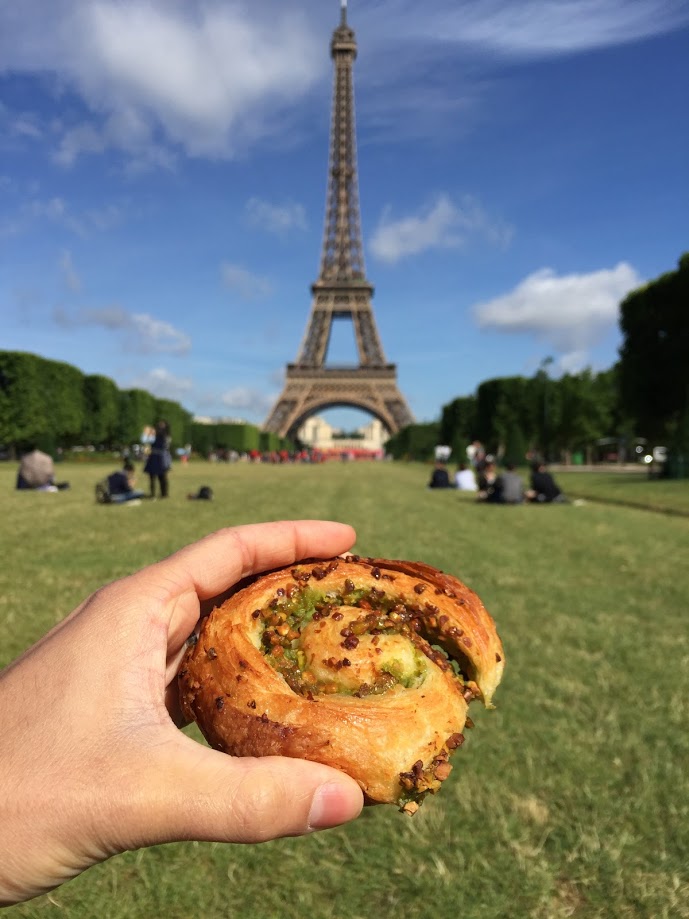 Two of our friends were leaving that afternoon so we just had a leisurely stroll around the Seine, stopping for a coffee along the way. The quai or sort of board walk area was great! Plenty of room for biking or running - I'd definitely do that when I return 🙂 We tried to go the catacombs that afternoon but the line was waaaay too long so we enjoyed a nice lunch (with wine, duh) nearby instead (a creperie on Rue Daguerre - lovely outdoor garden!). Look at that beautiful salad! Shared with Pedro's galette on the side (galette = buckwheat savory crepe. Naturally gluten free!)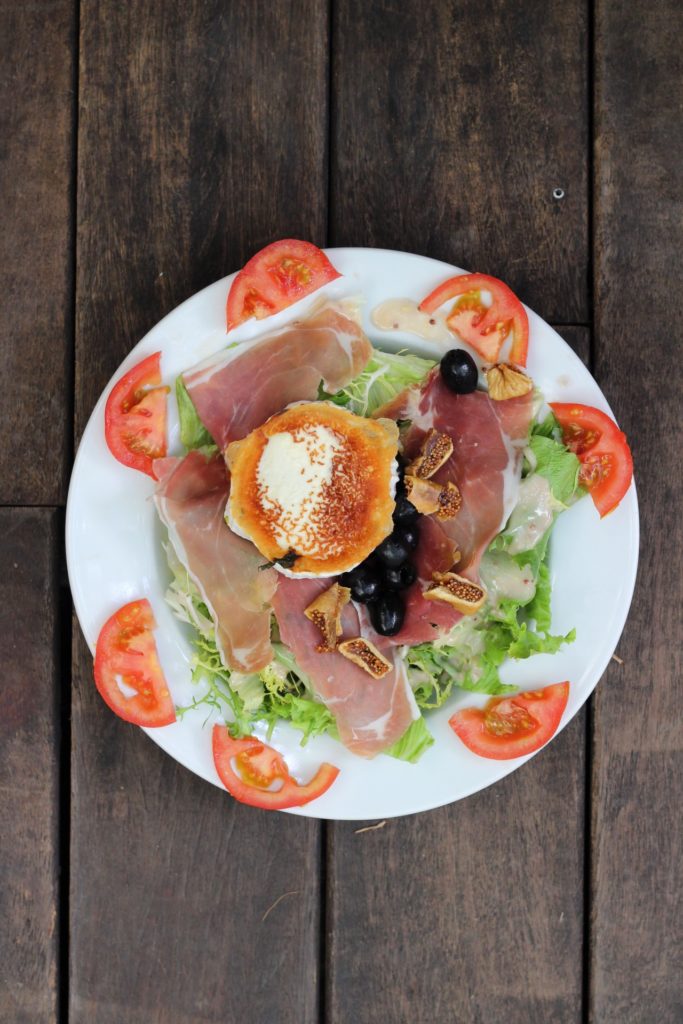 We took the metro over to the Luxembourg gardens and chilled some more after that. All the French people could be found here, just relaxing, eating and drinking! La dolce vita. We wandered more around the Marais that evening and tried to go to l'Avant Comptoir for dinner but there was also a long line (sensing a trend here?). The food looked AMAZING though, and I want to try to go back.
Just a gratuitous pastry shot because they're everywhere.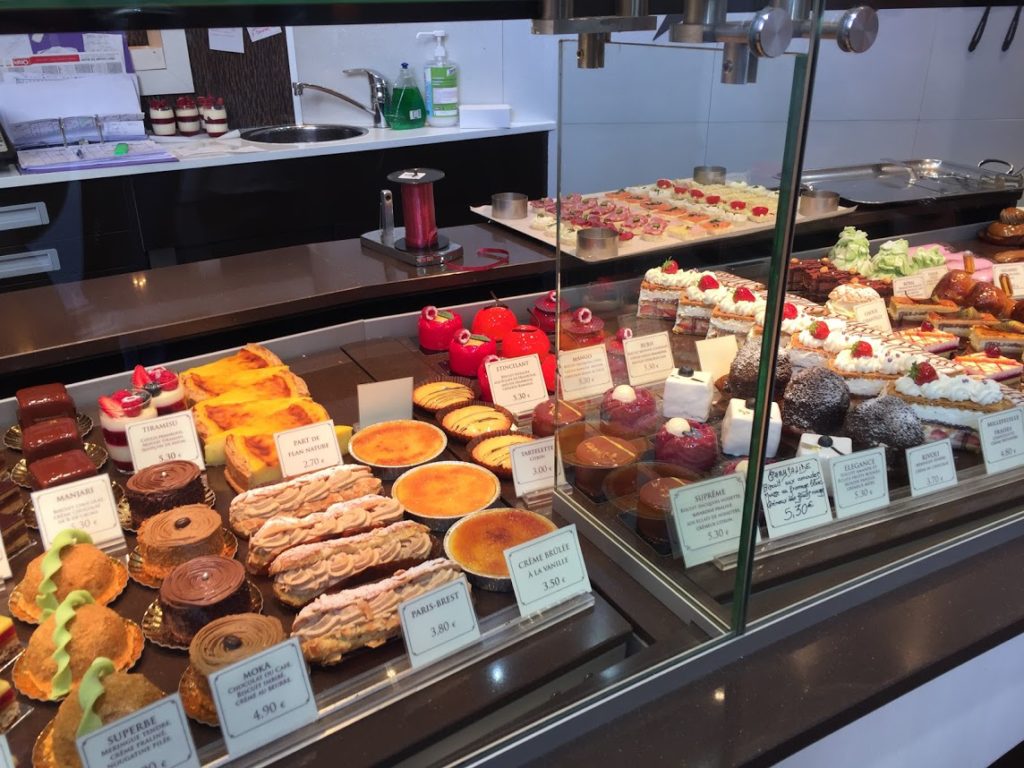 We had a great weekend, eating good food and staying active while walking lots. Here are some of my other tips for staying active/balanced while in the city of delicious food!!!
Stay near a park so you can go for a jog, do yoga or do a bodyweight workout. It's the easiest option in Europe since gyms are bit harder to find and get into!
Stay in an AirBnB or hostel so you can cook and prepare some healthier (and cheaper) meals - fresh produce will go a long way and it's a lot better in Europe where things are more local!
Stay near the center so you can walk or bike different places! I found that I end up walking more so I don't end up buying metro passes (just single tickets here and there).
Look for places that look more local and have big salads 🙂 I ended up getting salads most meals and takin bites here and there of other things I wanted to try.
Check out what free things are going on - it was free museum day on the first Sunday of the month that we were there, and many things like Notre Dame, Montmartre are free entrance all the time. I think strolling around Paris and just sitting at cafes is my favorite part so you don't have to feel pressured to "do" all the things.
We were off to La Rochelle for a night and then Bordeaux to visit with some more friends. More adventures to come!